November 2, 2019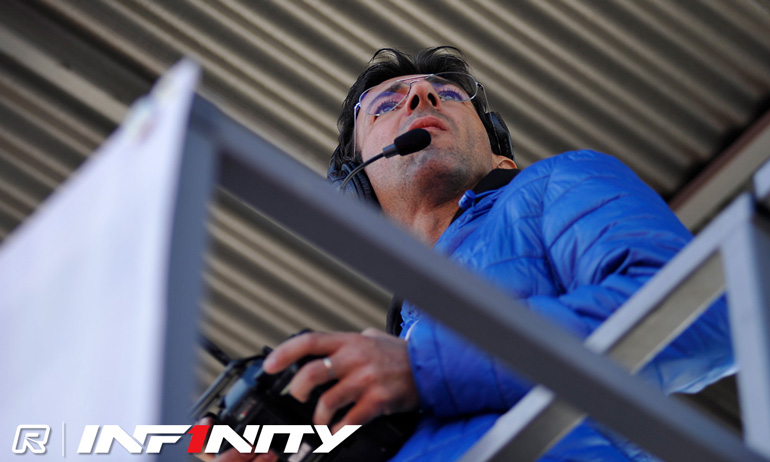 After a morning of some intense racing the line up for the Semi Finals at the 22nd running of the IFMAR 1:8 Onroad World Championships are set at Steel City RC Speedway.  In the first of the 20-minute Quarter finals, two former Champions battled for the win with 9-times Champion Lamberto Collari getting by pole sitter and long time race leader Robert Pietsch in the final stint of the race.  Bumping up from the 1/8 Final, Patrick Schaefer would work his way through the field surviving a moment in the pitlane and benefiting from some key retirements including former finalists Teemu Leino and Robin D'Hondt.  Finishing 4th, the race was the end of road for 1:10 Worlds podium finisher Alessio Mazzeo.  In the second of the Quarter Finals, there was heartbreak for Steven Jovanovic who was comfortably leading but with just 3-laps to go ran out of fuel.  This meant Jonathan Gandin, a driver who had his own run time issues in qualifying, would take the win to go to the Semis along with former Champion Tadahiko Sahashi and American Bryce Butterfield.
22nd after qualifying putting him 3rd on the Quarter Final grid, on progressing to the Semi, his 2017 Worlds ending with a plug failure while leading the 1/8 Final, Collari said, 'Now the car is much better.  Yesterday I couldn't push without flipping but today we found a good set-up that the car doesn't want to flip'.  Looking to make his first final since 2009 when he won his last World title, asked about the 30-minute Semi the Infinity driver said, 'The car is fast.  I hope I can push without problems'.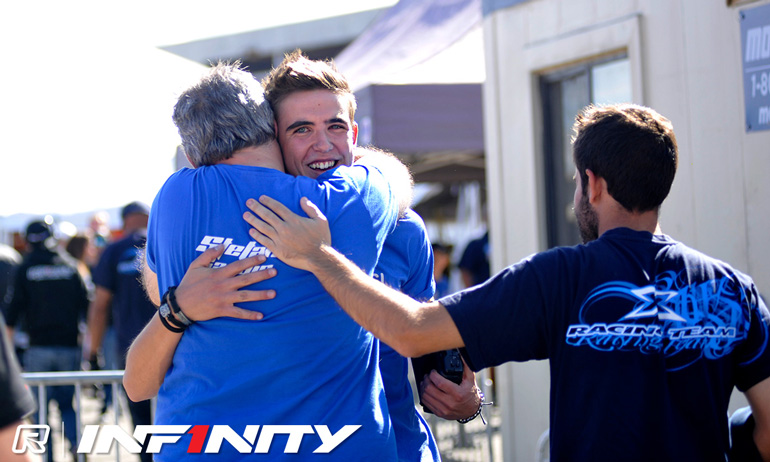 One Italian driver starting the rise of what looks like a promising career here at Steel City RC Speedway, 16-year-old Gandin was very happy to make his first Semi final, this only his second 1:8 World Championship. Getting as far as the 1/64th Final in France, here in California he quickly established himself as a front runner putting his ARC in the fastest heat for qualifying. Unfortunately run time issues hampered him from translating that speed into a good qualifying. Lining up 6th on the grid for his Quarter Final, making the bump up to the Semi he said, 'the Semi was our goal and after practice went better than expected we kind of expected to be in the Semi but our fuel consumption caused us problems.  In the Quarter Final we better understood how to manage it and now we are in the Semi so I am very happy.  We will leave the car the same for the Semi and try our best to make the final'.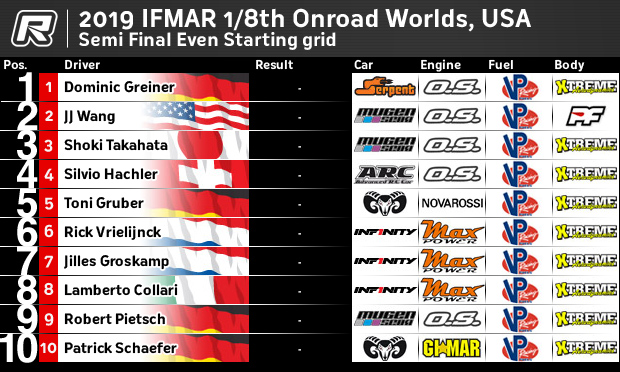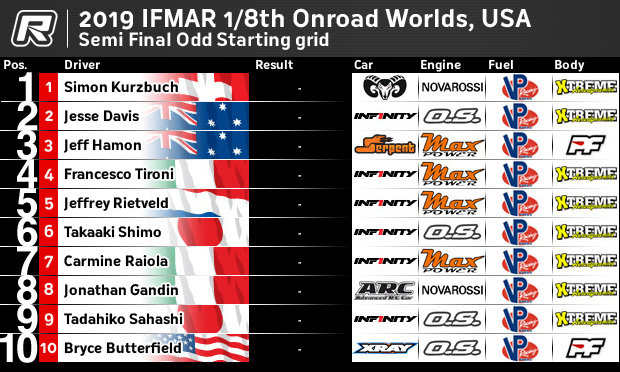 View the complete event results here.
View our event image gallery here.
---