January 27, 2020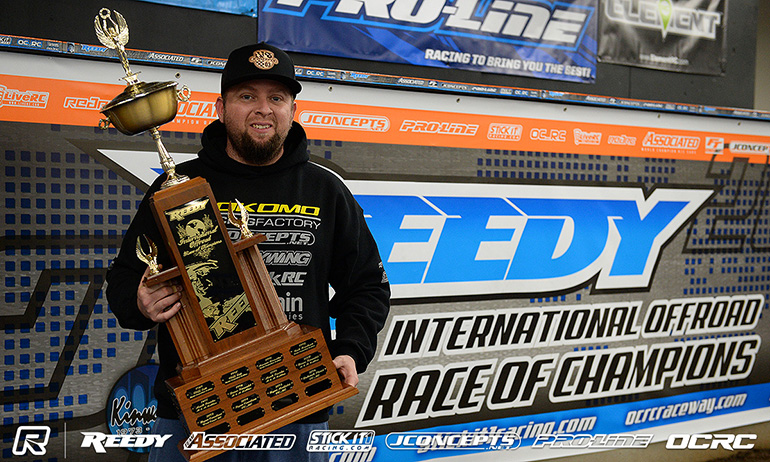 Ryan Maifield has claimed the Reedy Offroad Race of Champions title for a second time, the Yokomo driver becoming the 7th driver in the famed race's history to become a multiple champion. While Maifield would set out his stall early in the event and leading the points at the end of each day, the 26th running of the event would go down to the 12th & final round of racing with Spencer Rivkin in with a stab at his first win. Needing to win the final round to keep the pressure on Maifield to perform, the World Champion was held at bay by CJ Jelin meaning Maifield's final result didn't matter but after a 5-year wait he wanted to regain his title in true champion style clocking up win No.6 of the weekend.  Coming away with his best Reedy Race finish, Rivkin would end the event 4-points down on Maifield with the podium completed by Ryan Cavalieri who wrapped up the 2020 event with a win in the 36th & final heads up race.  Maifield's closest challenger at the completion of 4WD, former champion Dakotah Phend would claim fourth ahead of Broc Champlin, the teenager putting in some very strong showings against the establishment.  For last year's champion Jared Tebo, what had the potential to be a good day didn't turn out that way and he dropped to 7th behind Ty Tessmann in the final standings having started the day in a fighting second.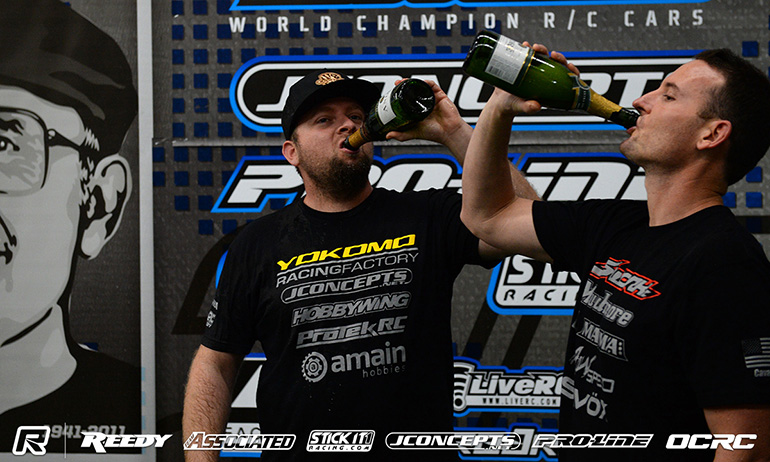 Reacting to his win, Maifield said, 'It has been a good week. My cars felt great all weekend, we just made small adjustments here and there. It was a great win for the team'.  Yokomo's first Reedy title since 1999, he continued, 'We have been busting our asses to get the car easier to drive.  They have always been fast.  We applied a few things this weekend that we have been working on and they worked'.  Reflecting on the race, which given the amount of heads up racing is not just about being fast, he said, 'This is a hard race to win.  I had a lot of luck on my side but I also had the fastest cars all week.  It's also my first race with Hobbywing so it's nice to win it for them too'.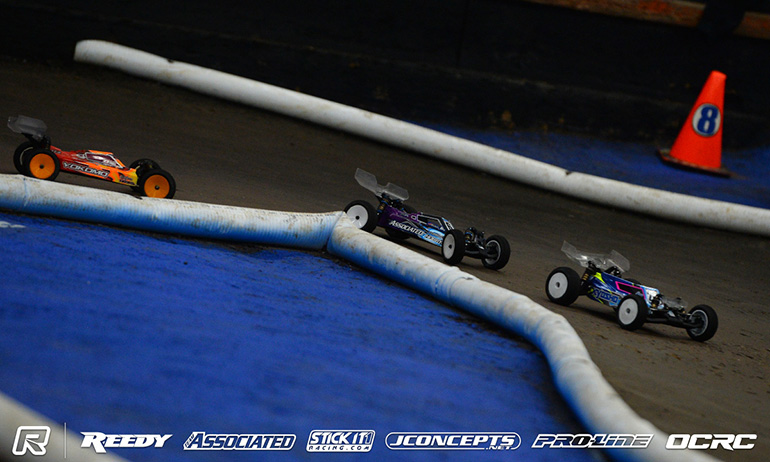 Rivkin said, 'It was awesome I had a shot at the title. It made it interesting with Ryan going into the last round'.  The Team Associated driver continued, 'I'm definitely going to have to wait another year but I think it took Maifield five or six years to get his first title. Congratulations to him, he drove the best this week'.  On his final encounter, for which he lined up 6th but unable to get by pole sitter Jelin, he said, 'It was an awesome race with CJ. I gave all I had. He drove really good. That was all I had'.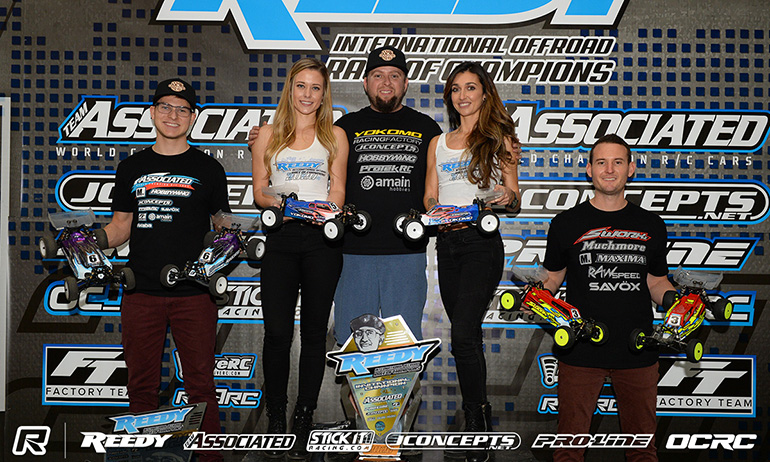 Returning to the podium having finished 6th last year, 4-time Champion Cavalieri was pleased with the result saying, 'It was a good weekend of racing'.  The Sworkz team driver, who ran a TLR in 2WD, continued, 'I could have had a couple of races go better and I could have finished even better but it's a good start to the year'.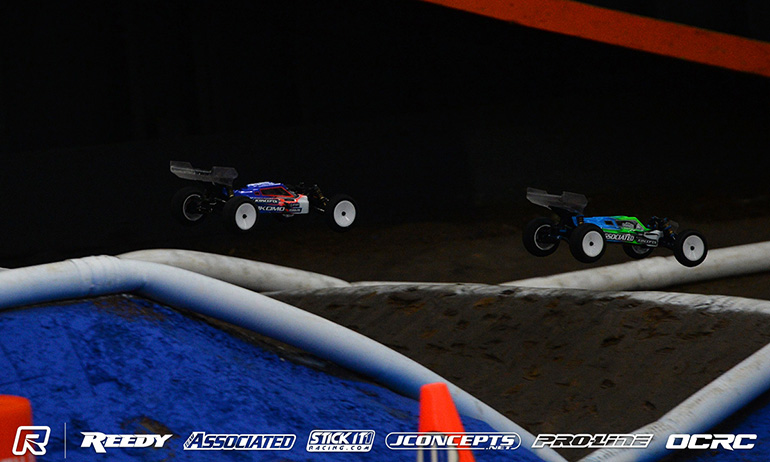 One of the big talking points of this year's Reedy Race after some impressive performances, Champlin summed up the event saying, 'The weekend was good. I drove as good as I could and my cars were as good as they could be'.  Sitting second in the points half way through 2WD, he continued, 'My luck was out with some of the starts I got and I was really unlucky today, that capped off any chance of a podium but 5th overall was good. I finished 10th last year'.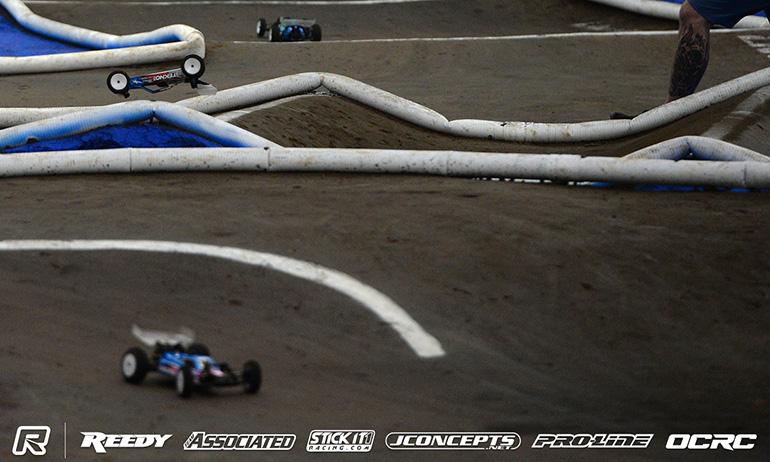 Summing up his weekend, outgoing champion Tebo said, 'Overall it was pretty good, I just had a really rough day today'.  The Tekno driver continued, 'I made a few errors from my own side but also got caught up in other's crashes. It was a really tough day. Before that it was going alright'.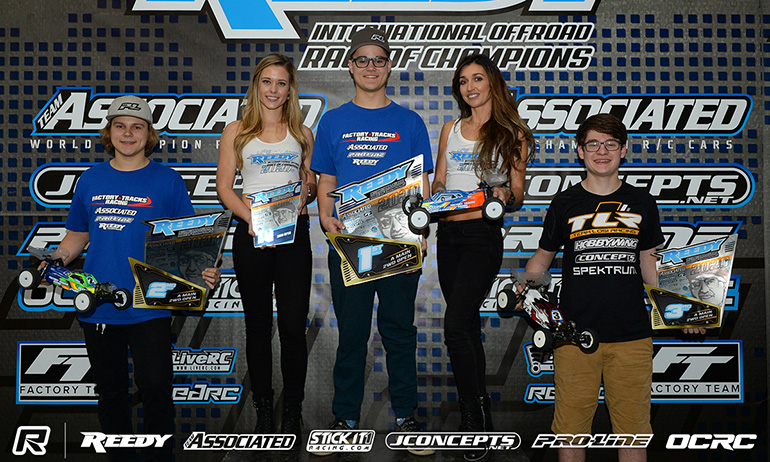 Booking the opportunity to race the world's best drivers in Invitation next year, both 2019 Open Champions registering wins this weekend, Team Associated driver Aydin Horne took the 2WD honours over his brother Austin with Tom Rinderknecht third.  In 4WD it was TLR's up and coming star Rinderknecht who took the win to book his place on the grid for the 27th running of the legendary Reedy Offroad Race of Champions.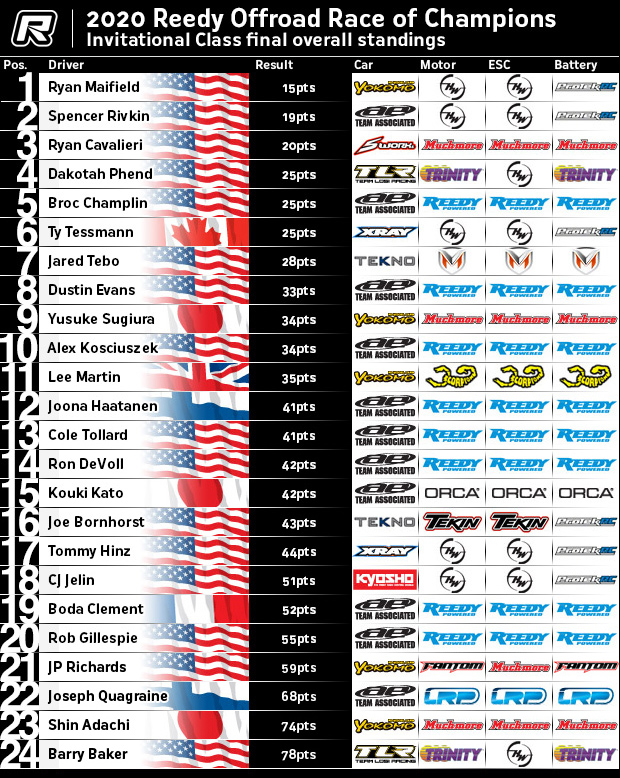 View our event image gallery here.

---