September 18, 2022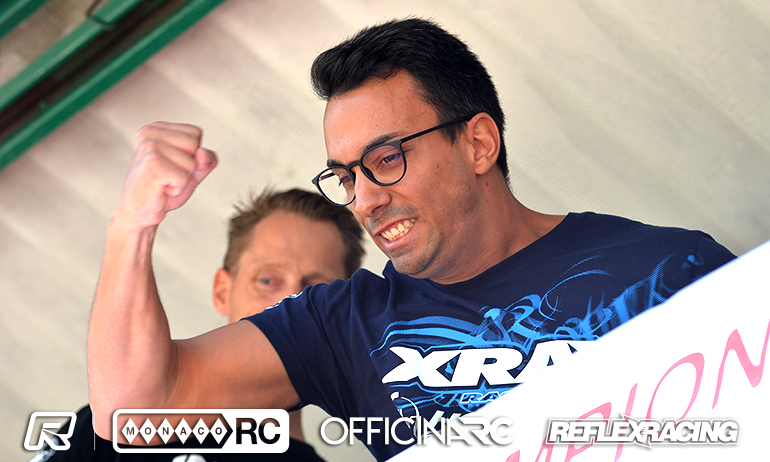 Having waited 4-years, Bruno Coelho has successful defended his ISTC World Championship Title with yet another dominant drive in A-Main No.2 in Gubbio, Italy.  Topping the time sheets from the first time cars hit the track on Wednesday and right through the event, Coelho again won A2 from Christopher Krapp to become to retain the crown he won in South Africa in 2018.  A driver who has faced much allegations regarding his speed advantage on this track, the Portuguese driver took shot at his detractors saying, 'It is a huge relief not only for the World Title but almost for all "the haters" who are not able to understand the hard work behind this result'.  Winning A3 from 9th place starter Marc Rheinard, Christopher Krapp would finally get his much deserved first World Championship podium finish with the Top 3 for the 11th running of the championship being completed by Akio Sobue.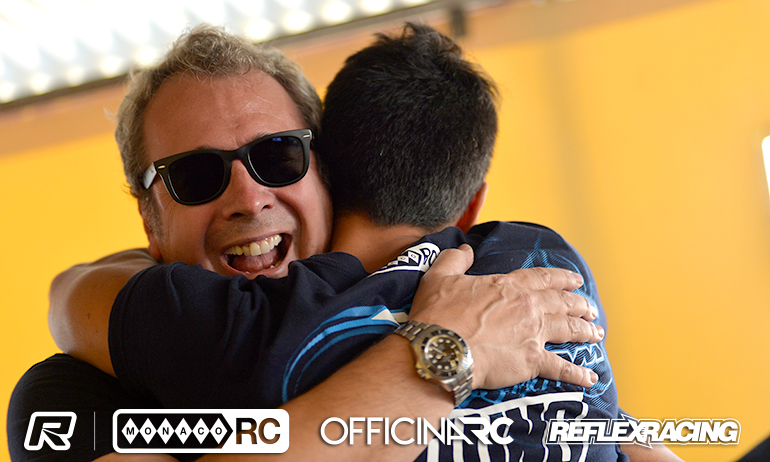 Taking the Title as a result of his 4-second win over Christopher Krapp in A2, the Yokomo driver the only one to present any challenge to the Top Qualifier, Coelho said, 'It's a shame people don't understand that I have talent as a driver.  They somehow don't expect this and think it is not normal but we work very hard for it'.  He continued, 'they say you haven't made it until they call you a cheater and then you are on the right way'.  Wanting to put this negative aspect to bed and enjoy the victory for what it is, he said, 'Really I have all of the team to thank for this, this was a team effort'.  Asked about his A2 drive, he replied, 'it was very weird at the start again because the tyres were too cold but once they came in I was able to force a gap over Krapp'.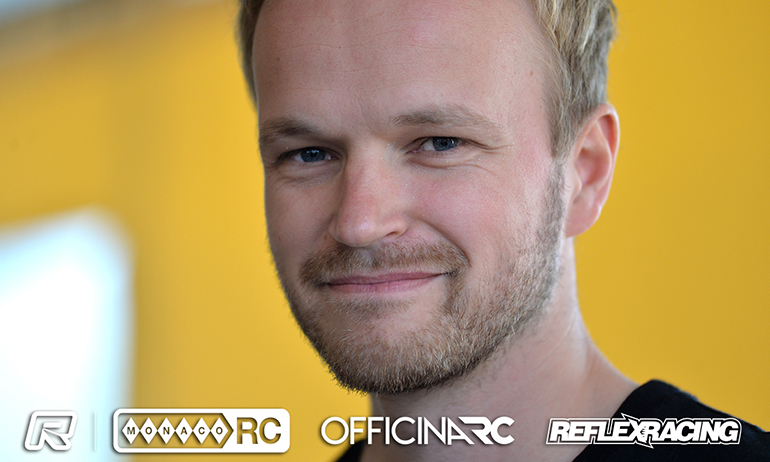 Living up to his form coming into the event, Krapp was both disappointed and equally pleased at making the World's podium. After A2 the German said, 'I had a chance on the first lap but at the second corner I messed it up. I was too excited at the first corner when Bruno went wide and then I went wide the next corner and that was my chance gone'.  A driver who has missed the World Championship podium, twice finishing 4th, on his A3 win he said,'My car was awesome in the last one.  I was in cruise mode like Bruno was in the previous ones'.  Summing up his feelings of finally making the podium, he said, 'I need 1 or 2 days to get all the emotion of the result. It has been a really busy week but I am happy to end up with second place.  2nd is amazing and I am sure I will really appreciate that in the days to come'.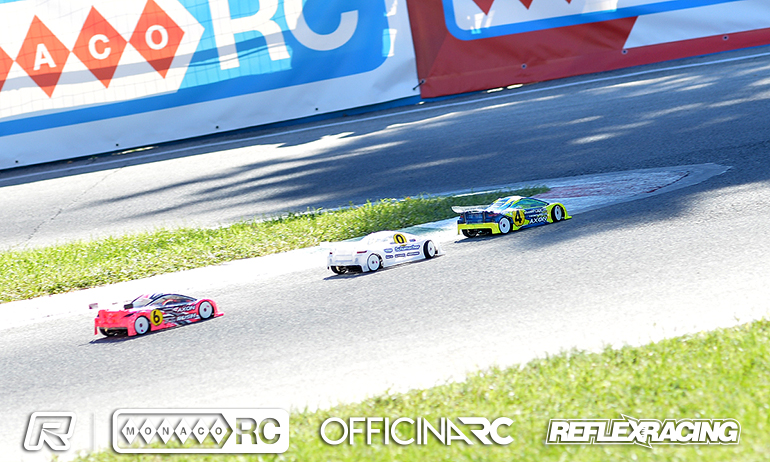 Also making his first ISTC World Championship podium, Sobue was especially happy for his new Axon team.  The Japanese driver said, 'I am happy with the result but I think there could have been more.  Bruno was super fast and Krapp and Alex had good pace too so my focus was on the podium'.  He continued, 'this is first time for Axon to come (to WC) so to get a podium together is good for the company. I am very happy for this'.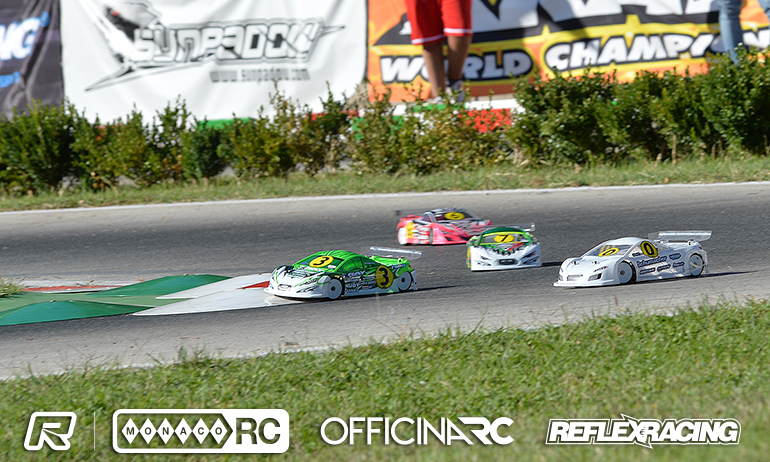 'I'm a little bit disappointed', was Hagberg's reaction to missing out on the podium despite it being the Nitro Touring Car World Champion's best ISTC finish.  The Swede, who qualified third after two impressive runs in Q1 & 2 despite seeding in the second fastest heat, continued, 'missing the podium is disappointing but I'm happy I showed good pace and got my best result to-date. I'll try again next time'.  Summing up his A3 performance, the change of a podium very much still on the cards as he took to the grid,  he said, 'I spun out on the 1st lap and had another spin a few laps later so I couldn't fight for the top spot'.  While his Xray improved mid run, 'Akio was already gone' and with it the hopes of a podium.  Behind Hagberg, multiple Champion Marc Rheinard would return to the World Championship after missing South Africa with 5th place overall in front of A-Main debutant Michal Orlowski who lined up 10th on the grid.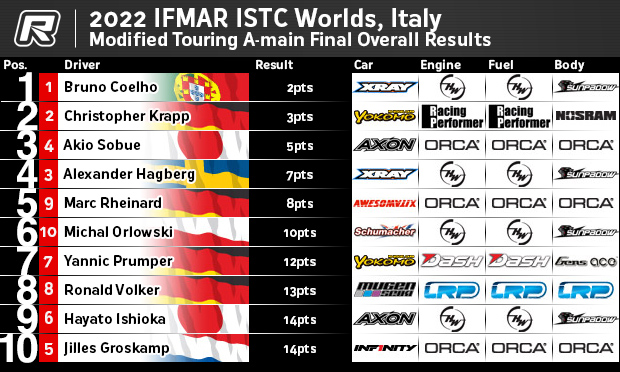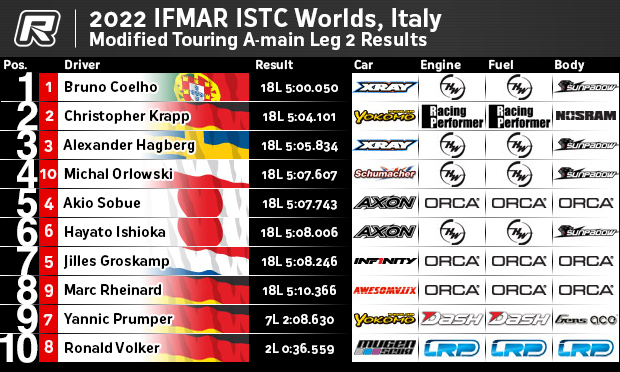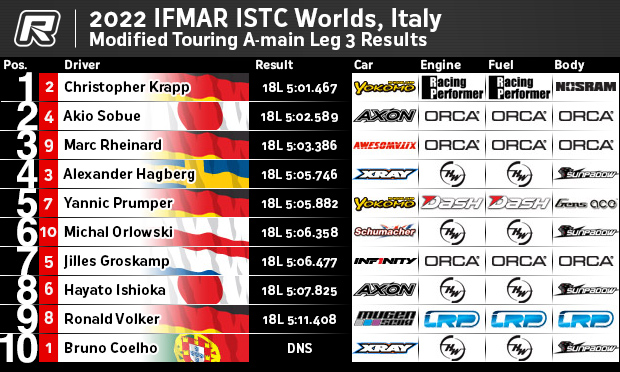 View our event image gallery here.

---