November 4, 2023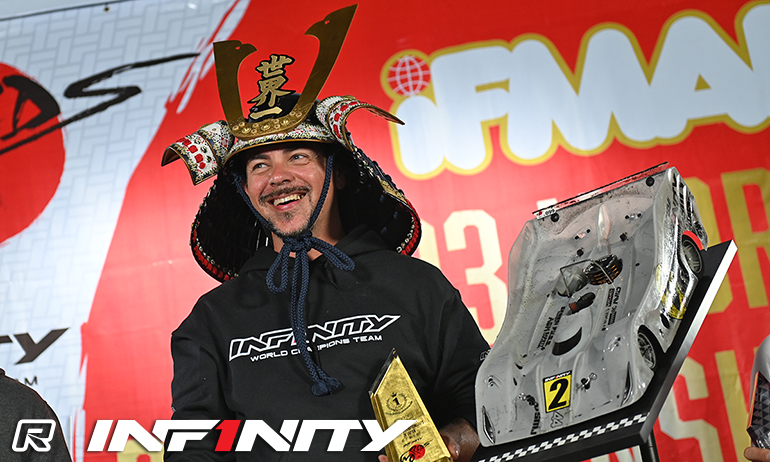 Infinity's Dario Balestri is back on top of the World after taking victory at the 1:8 Onroad World Championship in Japan.  Having relinquished the title to Mugen Seiki's Shoki Takahata in the USA in 2019, after a forced 4-year-old wait, the Italian took the title back today and becomes one of the greats of the sport.  Having often been referred to as the fastest onroad nitro driver in the World without a World Title before he finally got his breakthrough win in France in 2017, today's win see him join legendary 9-time World Champion Lamberto Collari as the only other driver to hold the title more than once in the 23 editions of IFMAR's original World Championship class.  Unfortunately for Takahata after a brilliant Semi final win that put him 3rd on the grid,  his title defence came to a very premature end in the final when his engine broke after just two and a half minutes.  Having enjoyed a good stint as leader of the race, Capricorn's Toni Gruber would finish 2nd just 7.5-seconds behind Balestri after the one hour of intense racing.  Top Qualifier Simon Kurzbuch, who lead for the first 10-minutes until his first tyre stop, would complete the podium for Mugen in a dramatic end of race battle with Infinity's Jesse Davis that led to a long delay in the prize presentations as it was reviewed by the officials.  When the prize giving did get underway Takahata, who changed engine and finished the final, gave himself a better reason to remember his home World Championship by using the opportunity to propose to his girlfriend and she said yes.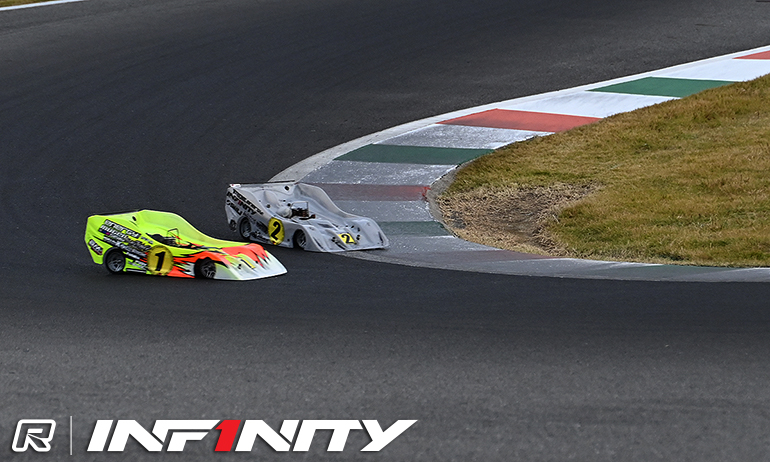 Commenting on his second World Championship win, Balestri was very clear that it came down to his tyre management.  Now simultaneously the World and European Champion he said, 'the main point of this race was finding the right window with the tyres 3-times.  The first 5-minutes you can't push, you have to manage the engine on the big tyres.  Then you have 10-minutes to get the best out of the tyres and you have to repeat this three times'.  Asked about his tyre strategy, he said, 'Actually we had to change it in the race.  Originally we planned two but the I didn't expect the pace to be so much.  I had to push a lot to catch Toni and destroyed my tyres.  So then we had to make the change to three stops'.  Asked how he handles his nerves over the closing minutes of the race, his crew calling him in for an extra precautionary fuel with a minute and a half to go, he said, 'I never think about it being a World Championship I just treat it as any other race and focus on my driving.  Actually it was a really enjoyable race.  It would have been easy to touch with Simon but he is such a fair driver we never touch.  It was a really nice battle with him.'   A debut race for both the IF18 III and his Max Power engine, Balestri said, 'everyone saw how fast and consistent the car and engine were.  It is the best car I've ever driven.  Thank you to Kenji and everybody who made today possible'.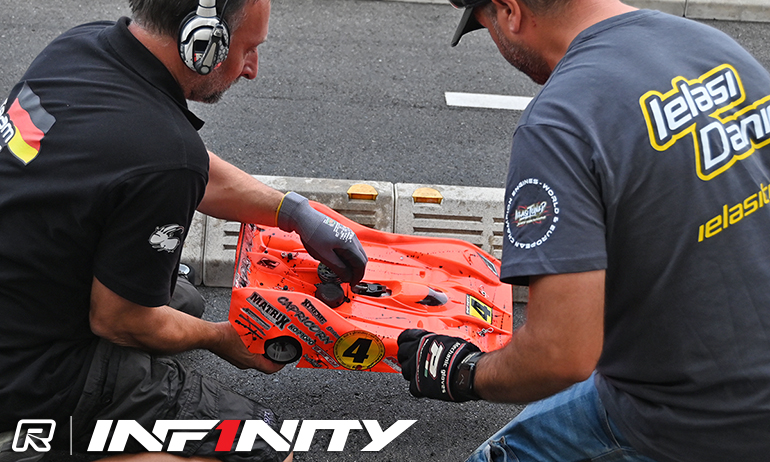 'I'm extremely happy with my performance', was recently crowned 1:8 GT World Champion Gruber's thoughts on his second place.  Only his second 1:8 Onroad World Championship final appearance, he said, 'I was there and on point but to catch Dario was really difficult.  I think we had the fastest tyre stop so my crew was great and also on point.'  Explaining his race, the German said, 'In the end we didn't change anything on the car after the Semi Final.  In the 10-minute warm-up we ran each of the four sets we had for the final and they all were very consistent so I think maybe what we had in the Semi was softer and that was why the car was not what I expected. Overall the car and engine were good throughout the final.  Dario and Simon were in a fight for position and I was behind but I started to get closer and could see I have the pace to race with them.  I didn't ever think I could drive 1-hour this way.  I'm really happy.  2023 has been a amazing season.'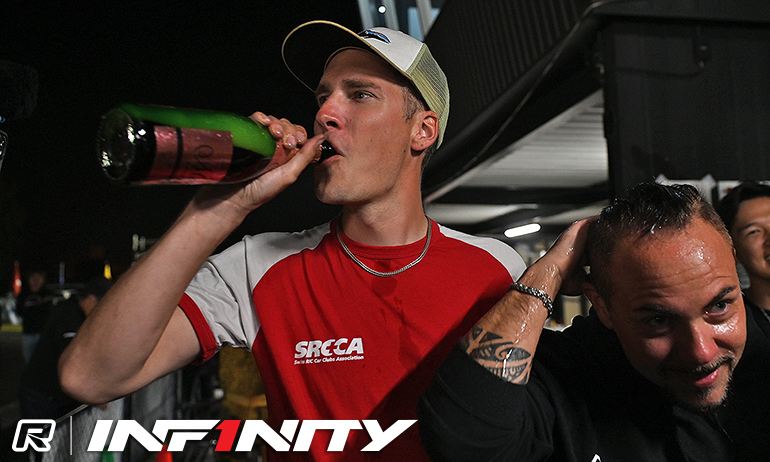 Kurzbuch summed up the final with, 'It was a tough race'.  He explained, 'We went on the safe side with the engine setting and I could not pull away.  Dario was always on my back'.  The 2015 Champion continued, 'We changed the outside tyres at 10-minutes but somehow during the stop the wing moved and was lower on one side and the car was difficult after that.  We adjusted it the next stop and also adjusted the engine but then I had a mistake on my side'.  Having shown a return to his former form in qualifying here at the Infinity International RC Speedway, he said, 'I feel we could have done better.  I am super happy with my pit crew who did their job really well.  Dario was amazing today.  He was 100% on it, maybe 110%.  It was well deserved.  He drove an amazing race.  I gave my all but know it could have been better, still I am on the Worlds podium and I'm happy for that'.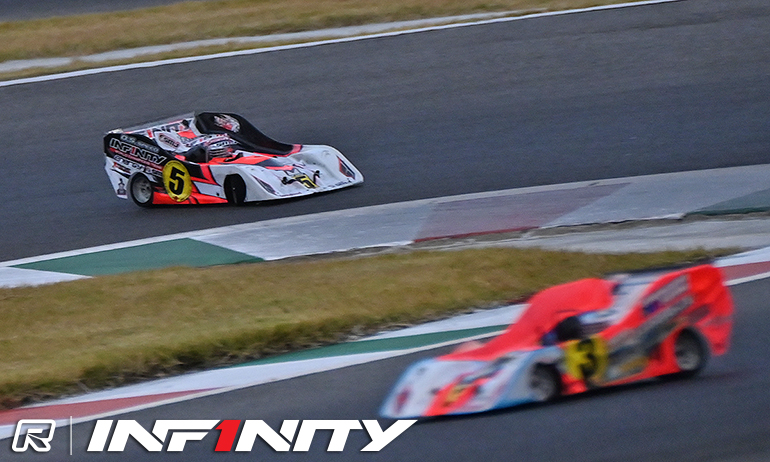 A somewhat dejected Davis said he missed out on the podium because of 'too many mistakes by myself'.  The Australian, who out on the missed third place by 0.003 of a second continued, 'the car and engine worked really well.  It was a nice fight with Tadahiko and Simon in the end with but the result is what it is.  Even if everything was fine I didn't have the pace to run with Dario and Toni.  Where I finished is probably where I deserved pace wise'.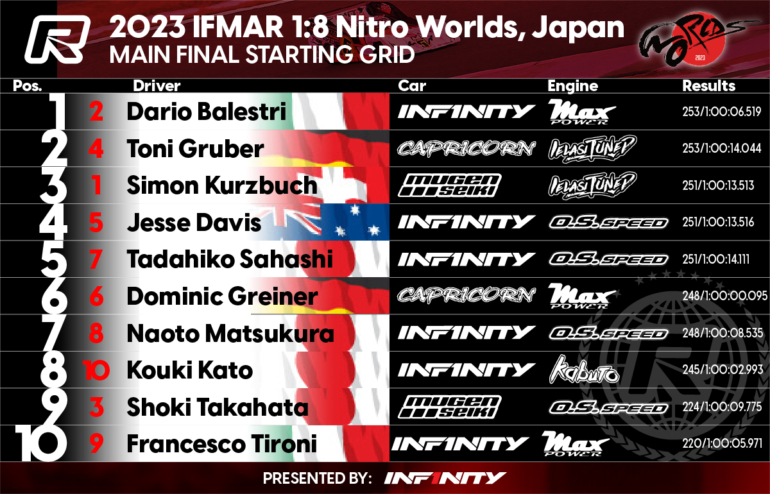 View our event image gallery here.

---