July 1, 2008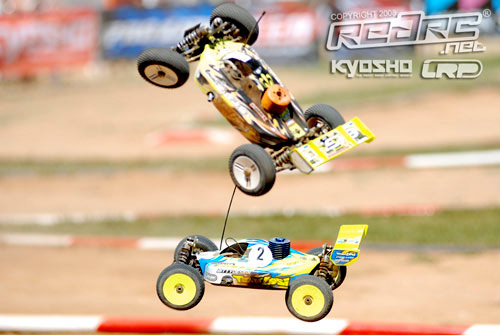 The opening day of the 2008 EFRA European 1:8 off Road Buggy Championships has come to a close and as the dust settles here in Crete the drivers had little to report as they eased themselves in to the event over the single 15 minute practice session that made up today's timetable.
The track was the biggest talking point today with many of the top drivers saying the surface was their main concern. It would appear from drivers who took part in the Warm up race earlier in the year that the track surface has remained largely untouched since that event.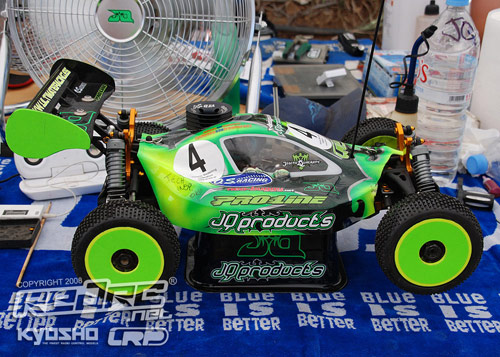 One interesting story in the pits is Joesph Quagraine is back running a Habao 8.5 that has been given the JQ touch with a number of modifications, the biggest of which is the placing of the receiver over the steering servo. Quagraine is also running his own shock towers on the car along with JQ Products lower suspension brackets.
Two times European Champion Davide Tortorici said after his run that his car was OK.  The Crono team leader has reverted to standard kit shocks saying he prefers them to the prototype big bores and the Italian is also running a new front shock tower on his RS7. Top Kyosho driver Daniel Reckward said his first run went off OK but said while the track looked easy it was in fact quite challenging mainly due to the surface conditions. The German will make some changes to the diffs on his MP777 for tomorrow's timed practice.
Top British driver Neil Cragg had a steady run but was another who reckoned the track is not as good as the Warm-up. The leading Team Associated runner now has Big Bore shocks on his RC8, which he didn't have at the Warm-up, and is running new V2 Proline wheels which he says smooth the car out over the bumps. American star Richard Saxton has crossed the Atlantic to support the Associated team and was busy in the pits giving driver tuition to one of the team's top drivers on the best lines to take.
Adrian Bertin is here supporting Team Orion drivers running the new CRF .21 engine and is also mechanic for electric touring car ace Teemu Leino. After the Finn's run Bertin said the Xray/Orion combination was working really well and Leino was putting in really good lap times. Asked by Red RC about the dust levels, Bertin told us this is normal for off road saying 'welcome to Buggy racing'.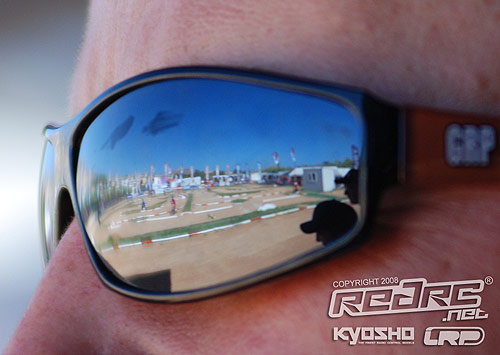 Drivers will start Day 2 of the 2008 Euros with two timed runs tomorrow which will determine the reseed ahead of the first qualifying round in the evening.  We will bring you more coverage, which is sponsored by Kyosho and LRP, throughout the day.
Check out our event image gallery here.
---