July 2, 2008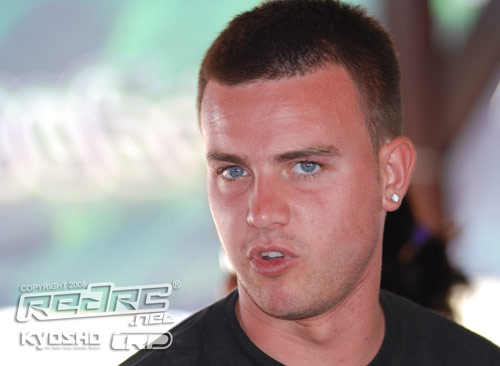 British driver Darren Bloomfield has made his intentions known as the young Team Losi topped the overall practice times with a great second timed practice run. Switching to softer tyres inserts for the 2nd session he set a time of 8 laps in 05:23.854 to head the 167 car field who have travelled here for the 2008 Euros. 'That was a really good run. The soft inserts made the car feel better, said Bloomfield afterwards.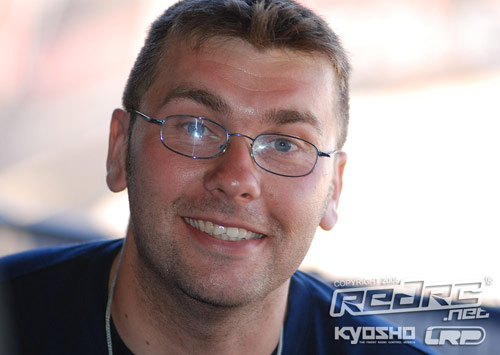 Second fastest in the second session and third fastest overall was former World and European Champion Alessandro Laffranchi. The Xray driver had problems in the first run when his back pressure pipe came off. Running softer PMT tyres for the second run the 8 time Italian National Champion was right on it and with a CV like his will be one to watch as he knows a thing or two about winning.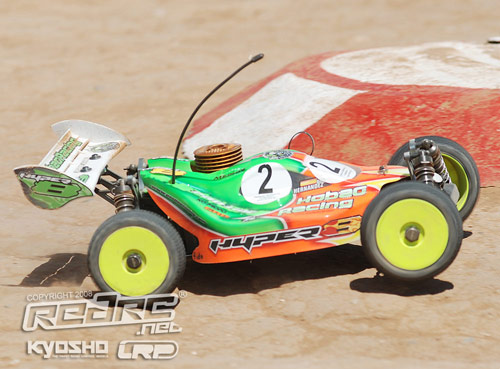 Second fastest overall thanks to his practice topping run in opening practice was Borja Hernandez. The Spaniard failed to improve on his time and was quick to put up his hand up and say he made too many driver errors which resulted in a bent front shock rod.
Having not had a car inside the Top 10 this morning, Austrian driver Peter Pinisch put Team Associated's challenge on track with the fourth fastest time. Commenting on his car he said, 'The car is working really well since I switched to the Hole Shot tyres which have made it easier to drive and the softer clutch has helped too. I will make a few small adjustment now for the first heat but I am happy with the car'.
Completing the Top 6 is Raul Peris and Hupo Honigl both of whom failed to improve their morning time. News on defending champion Robert Batlle is that he is not well and was taken to hospital for checks after suffering with his balance. The young Spaniard is back at his hotel and hopefully should be able to take part in the first heat tomorrow.
The drivers will now be reseeded for the qualifying heats based on the times set in the timed practice sessions. The opening ceremony will now take place in the next hour.
Here is the complete ranking after Practice Round 2 (PDF). Thanks to Aebi RC progress for providing Red RC with the results.
Check out our event image gallery here.
---