October 11, 2007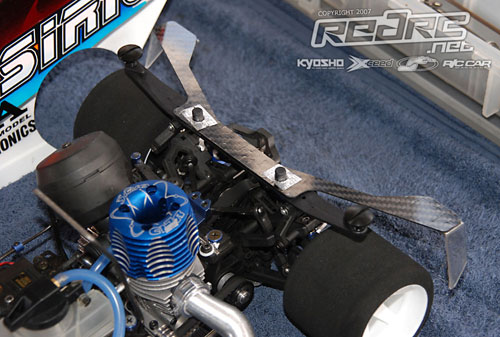 With the rain still coming down, we now have a chance to write about a number of new items in the pits that we have seen in the last few days. The first is this CAP spider from Capricorn RC, which was seen on Chris Tosolini's Kyosho in the pits and used to help him claim his 4th position in the overall standings. Essentially its a carbon fibre rear body support that prevents the sides of the body shell from folding in under high speeds and also part of the set, which it not all on Toso's car, are carbon side body stiffeners, but aren't being used because IFMAR allows the use of normal lexan stiffeners.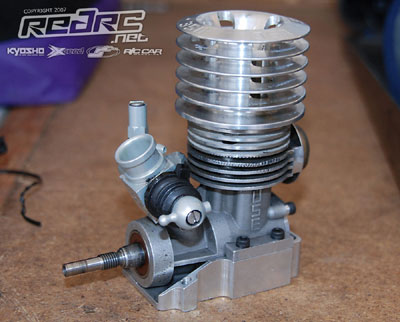 Also new in the pits, seen on the bench of Roelof Tooms, is a small engine project from a Dutch company called USE, who currently make optional metal parts like pinions and cooling heads. Made using moulds from an old engine project to have a basis with which to begin development, this 3.5cc engine features some innovative thinking inside its rather old fashioned crankcase. Similar to the Sirio engines, the liner and the top part of the external crankcase are combined, while the cooling head features an integrated combustion chamber and the crankshaft has also been developed to be very small and light. There is a lot of work still to be done and it is currently being made as a side project outside of office hours, we will keep you informed on any further developments.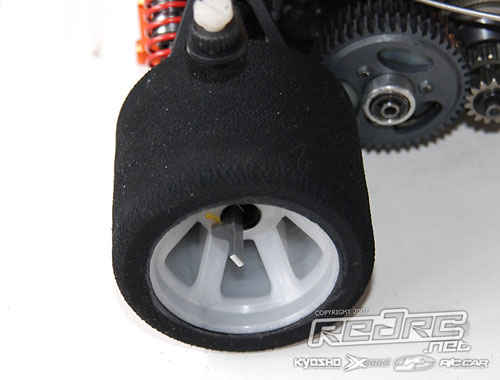 Tires are one of the most critical pieces of equipment at these races and all the top drivers are experimenting with different wheels and foam combinations. Seen on a number of racers cars are new lightweight wheels from ATS, Enneti and Kyosho, which have been made using a lightweight and opaque material which provides huge benefits for the car due to reduced rotating mass, but they are difficult to glue the tires to and are in very short supply, with some teams taking to removing the old foam from the wheels to use them for a new set.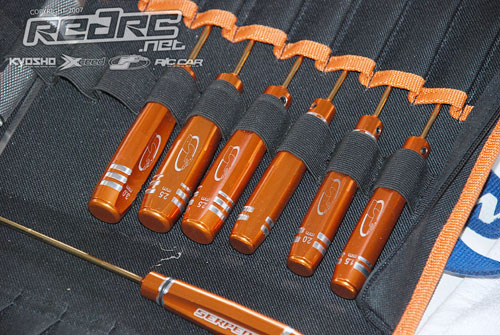 Seen on the work bench of Michael Salven is Serpent's new tool set which seems pretty complete in the amount of tools provided and it comes in a handy carrying case which has not yet been finalised. The tools feature hardened tips and orange handles and they are expected to be released before the end of the year.
More to Follow
---