July 4, 2008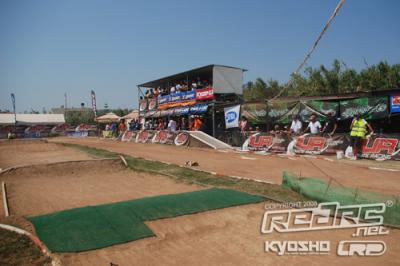 Renaud Savoya may have TQ'd the 2008 EFRA European 1:8 Off Road Championships already with his three heat wins yesterday but the French driver is not throttling back and this morning he set the fastest 5 minute run of the event so far with just one qualifier left to run.
The current record holder for a 5 minute run at the Crete track, which he set during the Warm Up race earlier this year, the Mugen driver knocked 2 seconds off his best run but was still 2 seconds shy of his record.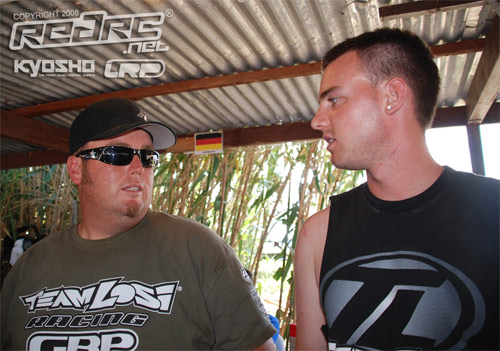 Closest to the clear favourite for the 2008 title was Darren Bloomfield. The Losi driver put in his best run of the event but returning to his hotel afterwards for a swim would prove costly. With the heat order rescheduled the young British driver missed his marshalling slot, the penalty for which is the loss of your fastest run. Bloomfield said, 'The change of the running order caught me out but now that I am mad I should be able to go quicker in the next run.'
Hobao driver Borja Hernandez was again quick posting the third fastest time for Heat 4. The Spaniard ran the same car as yesterday and will make only a small adjustment to the rear shock arm for the last heat.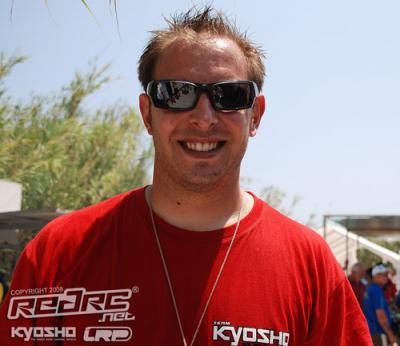 Jerome Aigoin enjoyed his best run to date and the best run for Kyosho with fourth fastest time. Big changes to the set-up of the Sirio powered MP777 appear to be working and the French driver was very happy with the run. His brother Yannick, who was a leading runner yesterday, didn't have such a good run. Trying a different set-up on his Losi the car was slow and difficult to drive so he only posted the 17th fastest time. He will revert to Thursday's set up for the final heat.
Fifth fastest was Italy's Xray driver Alessandro Laffranchi who seemed please with his run. Rounding out the Top 6 was Associated driver Neil Cragg who ran his car lower and found it better. The UK driver says he now just needs to driver better.
Elsewhere Daniel Reckward lost a lower Shock pin in the warm-up for his heat and so didn't get a run but the former World & European Champion says the overnight changes have worked really well. The car is now the same as Jerome Aigoin. Daniel Vega also had an improved car but was out of luck for his heat which was re-run. A timing problem caused the heat to be halted and in the re run his receiver aerial broke.
Defending Champion Robert Batlle was only 24th fastest as he tried some different driving styles over the wooden ripples to see if he could find a better line through that section of the track, which is catching out a lots of drivers.
Drivers have just one more heat to set a time with the current Qualification Ranking being Savoya from Batlle, Hernandez, Bloomfield (before penalty is applied), Laffranchi and Yannick Aigoin.
Top 10 after 4 rounds
1. SAVOYA Renaud (FR) – 8 Laps in 05:17.839 / 519pts
2. BATLLE Robert (ES) – 8 Laps in 05:20.606 / 509pts
3. HERNANDEZ Borja (ES) – 8 Laps in 05:23.597 / 508pts
4. BLOOMFIELD Darren (UK) – 8 Laps in 05:22.255 / 501pts
5. LAFFRANCHI Alessandro (IT) – 8 Laps in 05:25.304 / 500pts
6. AIGOIN Yannick (FR) – 8 Laps in 05:22.120 / 498pts
7. BOERO Fabio (IT) – 8 Laps in 05:25.290 / 495pts
8. CRAGG Neil (UK) – 8 Laps in 05:26.443 / 485pts
9. BOOTS Elliott (UK) – 8 Laps in 05:22.832 / 465pts
10. BAYER Martin (CZ) – 8 Laps in 05:20.708 / 462pts
Check out our event image gallery here, including lots of new action shots.
---