October 10, 2007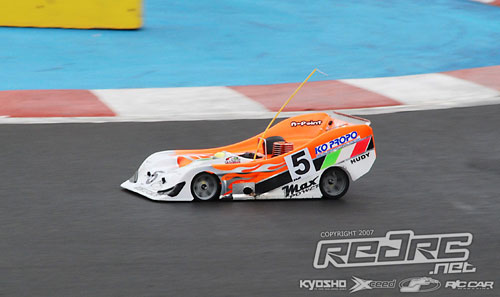 Todays qualifying is under way and it running in dry but cool conditions and after the 3rd round for heats 7-12, its Serpent racer Massimo Fantini that has stamped his authority on proceedings by putting in a ballistic 34 Lap 10:14.908, shattering his previous pole position time by some 9 seconds. Lamberto Collari who also runs in the same heat managed to better his time by an equally large amount, to a 34 lapper in 10:18.015, and goes 2nd quickest, however over 3 seconds behind.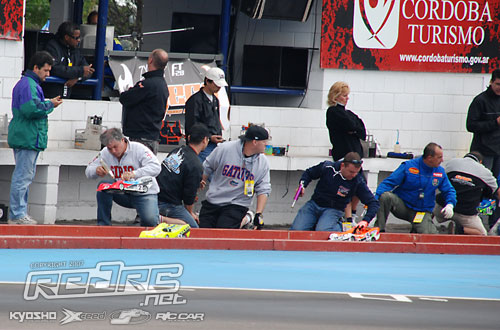 Completing the new top 4, and the first of the non 34 lap club, is Adrien Bertin who overcame his problems yesterday to put in a steady run of 33 laps in 10:02.087 to claim 3rd spot closely followed by his Kyosho team mate Danielle Ielasi in 4th on a 33 laps 10:02.136. All drivers that have gotten a solid run in this morning have improved their times and the current top 8 is completely reordered from yesterdays with new entrants to the group such as Salven who is now in 6th and Kitazawa in 7th as well as US racer Chris Tosolini who put in a great run to come from nowhere and go 8th.
Unofficial top 8 after 3 rounds
1. Massimo Fantini – 34Lap 10:14.908
2. Lamberto Collari – 34Lap 10:18.015
3. Adrien Bertin – 33Lap 10:02.087
4. Danielle Ielasi – 33Lap 10:02.136
5. Takaaki Shimo – 33Lap 10:03.188
6. Michael Salven – 33Lap 10:05.592
7. Hideo Kitazawa – 33Lap 10:06.500
8. Chris Tosolini – 33Lap 10:06.697
The 4th round for the top heats has now started and we will bring you more results as soon as we get them.
With the fast heats running early in the morning we wont have time to update the image gallery until lunch time.
---