January 13, 2008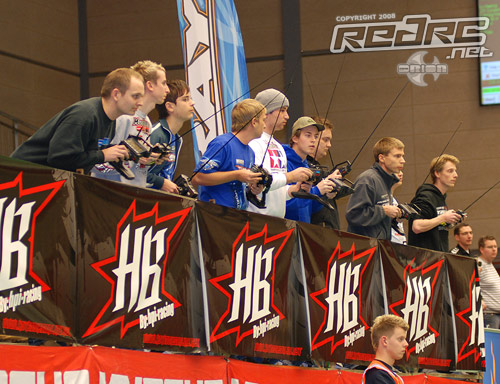 Viktor Wilck has won the second leg of the Modified A-main after early leader Teemu Leino hit some dots on lap 7 while leading, dropping him down the order. While allowing Wilck through, it also allowed Steen Graversen through up into 2nd and a fast starting Marc Rheinard into 3rd spot. Despite this mistake Teemu could continue and in doing so he set the fastest lap of the final once more, a 15.83 second lap. The very start of the race saw Andy Moore roll coming out of the first corner and then on the following esses, which put him out of contention. The overall positions are now still wide open with Wilck now leading the standings by 2 points from Leino with 1 round left to be run.
A Final Modified – Leg 1 Result
1. (2) Vicktor Wilck – 19L 308.17
2. (3) Steen Graversen – 19L 311.13
3. (9) Marc Rheinard – 19L 312.38
4. (1) Teemu Leino – 19L 312.70
5. (8) Juho Levanen – 19L 316.33
6. (4) Jilles Groskamp – 18L 299.32
7. (7) Martin Hudy – 18L 300.85
8. (6) Alexander Hagberg – 18L 303.05
9. (5) Andy Moore – 18L 309.04
10.(10)Ronald Volker – 1L 31.22

A Main Standings after Leg 2
(best 2 of 3 Results to count)
1. Vicktor Wilck – 19pts
2. Teemu Leino – 17pts
3. Steen Graversen – 13pts
4. Marc Rheinard – 13pts
5. Juho Levanen – 13pts
6. Ronald Volker – 9pts
7. Alexander Hagberg – 9pts
8. Jilles Groskamp – 6pts
9. Martin Hudy – 6pts
10.Andy Moore – 5pts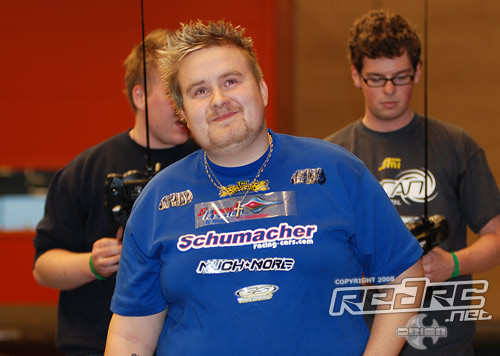 Jimmy Maddison has secured the 2008 DHI Cup stock title by winning the second A-main in great style. Having found a motor problem just before the first A-main he was confident that the car would be quicker in the 2nd race and it was. After the start he managed to get by Thiele half way through the first lap and never looked back pulling out a large gap before slowing just before the finish line to take the win by 2 seconds from top Serpent racer Tommy Bergfeldt. Meik Niemann ended the race in 3rd.
A Final Stock – Leg 2 Result
1. (2) Jimmy Maddison – 17L 307.72
2. (6) Tommy Bergfeldt – 17L 309.23
3. (8) Meik Niemann – 17L 312.41
4. (3) Bastian Hennig – 17L 312.60
5. (1) Christoph Thiele – 17L 313.11
6. (4) Florian Ring – 17L 314.42
7. (5) Dennis Fadtke – 17L 314.63
8. (7) Marcus Horn – 16L 302.20
9. (10)Marc Assman – 16L 308.23
10.(7) Marcus Horn – 16L 311.03

A Main Standings after Leg 2
(best 2 of 3 Results to count)
1. Jimmy Maddison – 20pts (Champion)
2. Christoph Thiele – 14pts
3. Meik Niemann – 14pts
4. Bastian Hennig – 14pts
5. Dennis Fadtke – 13pts
6. Tommy Bergfeldt – 13pts
7. Florian Ring – 7pts
8. Marc Assman – 7pts
9. Marcus Horn – 6pts
10.Luke Hobson – 2pts
---