October 9, 2007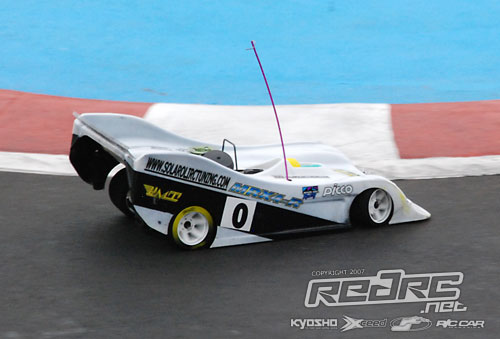 Todays final, and only, practice round has been completed under dry but cool conditions with Italy's Stefano Solaroli coming out out on top with the fastest laptime of 17.725 seconds. With not all of the drivers pushing hard and still using the session to test, fastest laptimes are a better indicator for showing pace than the practice heat results, yet also take into account that some racers are going to have to make 2 stops and so their pace would need to be quicker. The 2nd fastest today is the Motonica racer and pre Worlds runner up Dario Balestri with a 17.750 second lap with Michele Romagnoli ending up with the 3rd fastest time.
Mondays fastest practice laps
1. Stefano Solaroli – 17.725
2. Dario Balestri – 17.750
3. Michele Romagnoli – 17.790
4. Francesco Tironi – 17.829
5. Lamberto Collari – 17.858
6. Robert Pietsch – 17.880
7. Adrien Bertin – 17.884
8. Takaaki Shimo – 17.887
9. Andrea Cristiani – 17.906
10. Yuya Sahashi – 17.912
11. Michael Salven – 17.950
12. Andrea Pirani – 17.963
13. Massimo Fantini – 17.977
14. Hideo Kitazawa – 18.050
15. Steven Cuypers – 18.073
Qualifying begins tomorrow with all drivers getting 2 rounds of 10 minutes to set their best times and after each qualifying round the event organisers have confirmed that they will update the results on their page on MyLaps (see the new link on the right side of the page). We have also received the updated heat listing (see the new link on the right side of the page) which has been re ordered after todays practice sessions and will be the format that qualifying will start with tomorrow.
View our event image gallery here.
---