July 24, 2008
Michael Salven produced the fastest lap time in the opening two practice sessions this morning with the Serpent driver producing a lap time of 17.480 to head team-mate Massimo Fantini at the top of the time sheets.
Salven said his first run was very good with his 960 08 working really well, but the German said his times may be fractionally too fast as he crossed the timing loop at 4:59. This would mean doing an extra lap and with fuel run time so marginal here at the Autet track that may not be possible. In the second of his runs Salven tried a different engine but the Mega unit was not as quick as the previous one and was also heavier on fuel consumption.
Fantini is also pleased with his car but run time remains a problem for the man behind Max engines. A late delivery of engines and parts, which arrived this morning, will give the Italian more options to try and get a 5 minute run.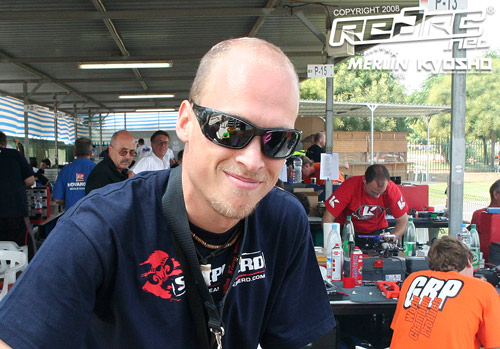 Robert Pietsch and his Shepherd Volex are third fastest, just 1/100th of a second off Fantini. Pietsch had a problem with his engine which he believes was caused by dirt in his fuel line but says the car is still good. The German has returned the steering servo saver back the rear hole setting having found the grip levels had increased this morning and the car had too much turn in. For Run 3 Pietsch will try softer rear springs and lighter oil.
Fabio Domanin who was the unofficial pace setter yesterday was next up in terms of out right lap times as he continued to try different body options. Also running Max engines, the 2006 Champion is making less run time than team-mate Fantini but will be hoping too to benefit from the late shipment.
Posting the fifth fastest time is former European B finalist Philip Eberle at the controls of his Mugen, while Shepherd owner Patrick Schaefer completes the top 6 however not all drivers are running transponders yet. These will be mandatory for the final two runs todays as 5 minutes run will be used to seed tomorrow's qualifying heats.
Mark Green had a mix up with front tyres in the first run this morning with a 33/35 combination being fitted to the front of his car in error. Due to the high grip this caused the front to twitch and initially the English driver thought he had a radio problem. In the second run Green used the session to make sure that the tyres were in fact the issue and to complete a 5 minute run.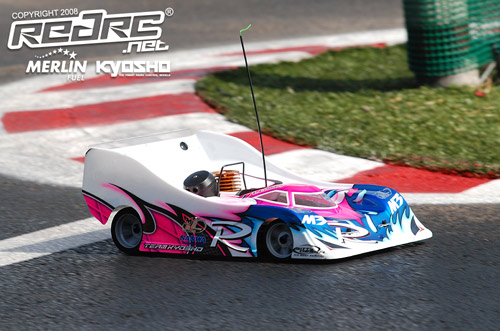 Current Champion Lamberto Collari continues to struggle with his Kyosho again complaining of no steering. The Italian star will try a shorter wheelbase and different shock positions to try an cure the problems which also plagued him yesterday.
View our image gallery here.
---