August 16, 2007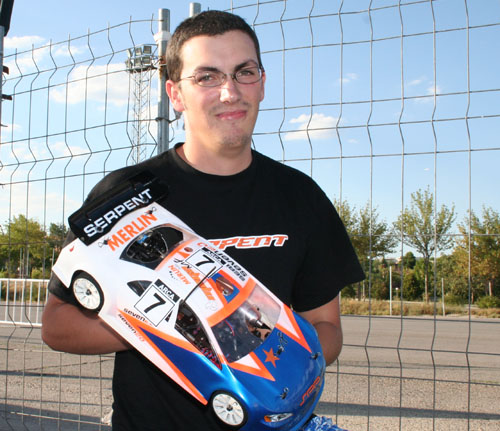 Serpent's rising star Oscar Cabezas topped official timed practice today as the real action got underway at the European 1:10 200mm Championship in Madrid. The 20-year-old Spanish racer posted a time of 18 laps in 5:10.563 bettering the fastest time from Practice 1, set by Finland's Teemu Leino, by almost 5 seconds.
'I am very happy with the car and engine. We had a gearbox problem in the first session but this time the car was perfect. I think though we will have to change the car a lot for the first heat tomorrow morning to prevent grip roll but it is nice to end today fastest.'
After a problem in the first session Adrien Bertin showed its business as usual for him with the Team Orion driver recording the second fastest run. 'The car is good and we ran a good set-up so that we did not have too much grip'.
Fastest after the first round of timed practice Xray's Teemu Leino ended the day in third but was still pleased with his package. ' I am happy with how the car is running, it is working well for me and we are running at the front so all is good.'
Leading Sirio driver Francesco Tironi was fourth fastest with his Kyosho while Xray's Martin Hudy was fifth. Young Alessio Mazzeo completed the Top 6 with all three drivers making 18 laps on their second 5-minute run.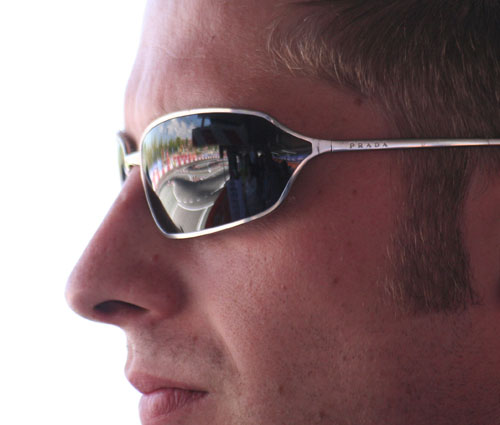 While only 17th on the time sheets, Germany's Michael Salven was fastest man on the track today posting a 17.000 lap time during his second outing. Unfortunately the factory Serpent driver ran out of fuel at 4:53 otherwise the 2007 1:8 EC Top Qualifier would most certainly have produced a Top 3 time.
Contact with Darren Johnson destroyed Rick Vrielijnck's second run but despite this the Dutch driver was feeling good about his car, 'Johnson hit my car which caused the engine to go rich and this ruined my run but the car feels good and I was able to do fast laps consistently'. Darren Johnson drops to 35th with his team mate and reigning European Champion Dario Balestri only 37th after a difficult day for the talented Italian.
Jilles Groskamp who was second fastest in the first timed practice tried large diameter tyres in the second run but this caused his NT1 to roll when he touched the curbs and as a result he did not improve his time. The Dutch driver will revert to a running a lower diameter tyre tomorrow.
Qualifying gets underway in the morning when things in Spain will start to get really serious.
Timed Practice Result (Overall)
1. Oscar Cabezas – Serpent – 18 laps in 5:10.563
2. Adrien Bertin – Kyosho – 18 laps in 5:11.053
3. Teemu Leino – Xray – 18 laps in 5:11.753
4. Francesco Tironi – Kyosho – 18 laps in 5:14.008
5. Martin Hudy – Xray – 18 laps in 5:14.148
6. Alessio Mazzeo – Serpent – 18 laps in 5:14.202
7. Guiseppe D'angelo – Mugen – 18 laps in 5:14.612
8. Niki Duina – Xray – 18 laps in 5:14.920
9. Daniel Tomaschko – Serpent – 18 laps in 5:16.168
10.Helge Johannessen – Xray – 18 laps in 5:16.346
11.Jilles Groskamp – Xray – 18 laps in 5:16.367
12.Josue Artilles – Mugen – 18 Laps in 5:16.518
13.Borja Hernandez – Mugen – 18 laps in 5:16.565
14.Rick Vrielijnck – Mugen – 18 laps in 5:16.821
15.Sebastien Wartelle – Kyosho – 18 laps in 5:17.336
16.Carlos Peracho – Xray – 18 laps in 5.31.174
17.Michael Salven – Serpent – 17 laps in4:53.875
18.Mario Spinello – Team Magic – 17 laps in 5:00.433
19.Daniel Vega – Mugen – 17 laps in 5:00.717
20.Andreas Myrberg – Xray – 17 laps in 5:01.018
View our image gallery here.
---