August 17, 2007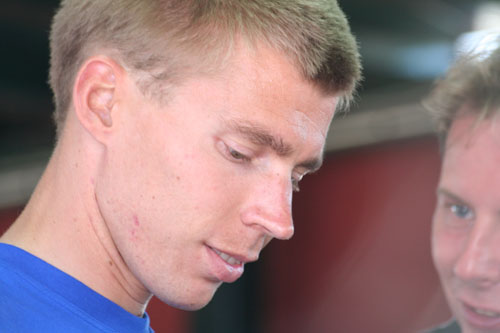 Finland's Teemu Leino is the provisional pole sitter here in Madrid after the first round of qualifying for the 2007 European 1:10 200mm Championships. The Xray team driver who is making his Nitro Championships debut posted a time of 18 laps in 5:07.684 making the most of the cooler track conditions at the ARCA track with the weather being noticeable colder today.
Alessio Mazzeo was second fastest proving his European B Championship win was well deserved. The young Italian Serpent driver ending up just under 2 seconds shy of Leino. It was another Italian Francesco Tironi driving a Kyosho who was third making it three different makes of car in the top 3. Martin Hudy, Niki Duina and Helge Johannessen complete the Top 6.
Adrien Bertin with a time of 16.842 but the Team Orion driver Adrien Bertin was fast setting the second fastest lap time but ran out of full at 4:50. Serpent's lead drivers Michael Salven and Mark Green also ran out of fuel while on target for a top position. Oscar Cabezas, the fastest man in yesterday's timed practice, had engine trouble at the beginning of his run and currently lies 96th of the 146 runners but once the young star got going he set a new track lap record of 16.712 .
Drivers have two more qualifying rounds today.
Qualifying Round 1 (Provisional)
1. Teemu Leino – Xray – 18 laps in 5:07.684
2. Alessio Mazzeo – Serpent – 18 laps in 5:09.569
3. Francesco Tironi – Kyosho – 18 laps in 5:11.911
4. Martin Hudy – Xray – 18 laps in 5:12.270
5. Niki Duina – Xray – 18 laps in 5:12.276
6. Helge Johannessen – Xray – 18 laps in 5:12.328
7. Jilles Groskamp – Xray – 18 laps in 5:12.680
8. Mark Gilliland – Xray – 18 laps in 5:12.697
9. Andreas Myrberg – Xray – 17 laps in 5:12.707
10.Rick Vrielijnck – Mugen – 18 laps in 5:13.701
---