August 15, 2007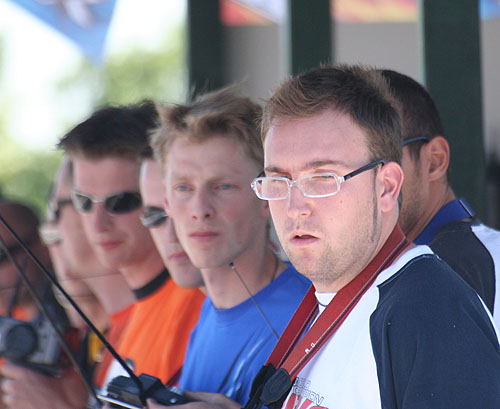 Team Xray driver Jilles Groskamp is fastest after the third round of today's free practice for the 2007 1:10 200mm European Championship in Madrid. The Dutch driver posted a lap time of 17.108 with his Sirio powered NT1, bettering Oscar Cabezas' previous fastest time of 17.189. Local star Cabezas did improve slightly on his time but the Serpent driver now sits 5th fastest on the unofficial time sheets.
The biggest improvement on the time sheets is Swede Roland Strom. After a difficult day yesterday in which he complained about both his car and engines, the Kyosho/RB driver seems to have got the combination working well today and is wearing a much happier face today as a result.
Next up, while bearing in mind Balestri, Salven, Tironi, Bertin and a few other leading drivers have not yet run with transponders, is Englishman Darren Johnson who has been on the pace from the start with his Team Magic. Johnson, a podium finisher at last year's Euros, posted a best time of 17.150 and is closely followed by local Mugen racer Daniel Vega on 17.154.
Rounding out the Top 6 is another Mugen racer, Rick Vrielijnck, who is focused on finding a good set-up for the runs in the middle of the day when the track is at its hottest. Others starting to get on the pace are Spaniard Diega Palacios, Finland's Teemu Saarinen and UK driver Mark Gilliland. A late arrival to the event is top Portuguese driver Ricardo Nogueira who had his first taste of the track today and despite missing the opening two days could be one to watch.
Drivers still have one round of free practice today and we will bring you full coverage later in the day.
---