August 1, 2010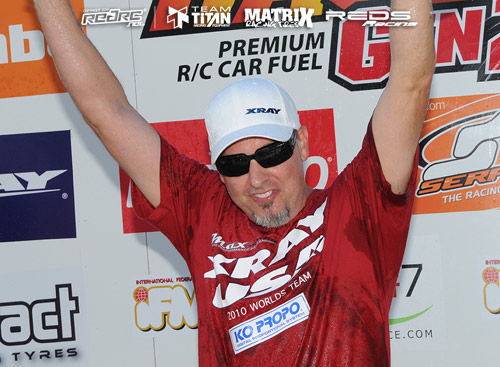 He was last after the first corner but Ralph 'Smokin Fast' Burch didn't let the opening drama get to him as the Texan climbed his way back through the field to take a convincing victory at the Gulf Coast Raceway to become the 2010 Nitro Touring Car World Champion.  Starting from fourth on the gird, the 43-year-old American got spun out at the first corner and was hit by most of the pursuing field dropping him down to tail of the pack.  Taking a few laps to regain his composure he set about a stunning recovery that would see him hit the front just before 10-minutes after a thrilling battle with the then leader Marc Rheinard and the sensation of these championships Takumi Matsuda.  Although he was running shorter fuel stops to his rival, pitting every 4:45, Burch took control of the hour long race once in front only loosing the lead to fellow Xray driver Dirk Wischnewski when he pitted for tyres on 32 minutes.  Such was his pace he was able to lap the entire field with only Takehiro Terauchi managing to get back on the lead lap with 12 minutes to run. After the race, the first American Onroad World Champion for 9 years said he knew after the practice session for the Top 4 Direct Qualifiers that he had the pace to win and throughout the race was always within his limits.  Asked about his early fuel stops, the RC America front man said having watched the earlier finals he had told his pit crew he wasn't letting an empty tank be the reason for him not winning his first World title. The result also marks the first ever World Championship success for Slovakian company Xray and Italian engine company Max Power.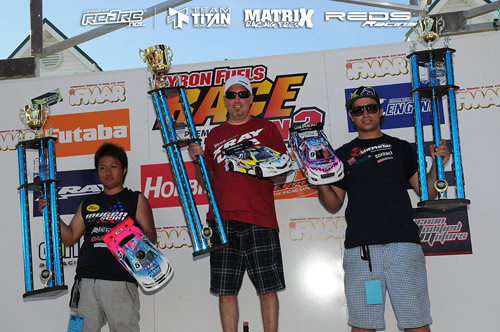 Finishing second, factory Mugen driver Terauchi said his race went to plan but admitted he found the hot conditions very tiring.  Having been able to unlap himself, the 18-year-old Japanese driver said he pushed 100% right till the end for the win but there was noting he could do about Burch. His first World Championship final appearance he said finishing second was quite good but he is already looking forward to going one better in two years time.
Having lead the race following the demise of Top Qualifier Robert Pietsch, Marc Rheinard said he was just unable to match the pace of Burch. The three times Electric Touring Car World Champion said other than a flame out after his scheduled tyre stop the race went to plan with his Velox V10 working well.  Only his third ever nitro touring car race, the German said Top 3 at a World Championship is 'not too bad' and he is pleased that he was able to give Team Shepherd a podium placing on their 200mm Worlds debut.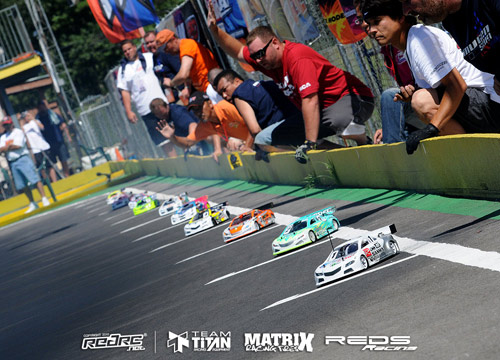 The man everyone was talking about in qualifying Shinnosuke Yokoyama finished fourth after a troubled run. Running out of fuel just before his second stop the Xray driver also broke a rim but once fitted with new tyres, and with his OS engine tuned to make the five minutes, he was very fast, recovering to finish as the top rookie of the championships.  Running the entire race on one set of tyres European Champion Wischnewski's gamble looked like it was going to reward him with at least a podium finish until with a quarter of the race to run he got radio interference.  Sending his Orcan powered NT1 around in circles on the main straight, marshals brought it back to pits from where he was able to rejoin the race and continue with out any further issues, eventually finishing fifth.  The very disappointed German said afterwards his no tyre stop strategy was a good call but no one could plan for something like radio interference.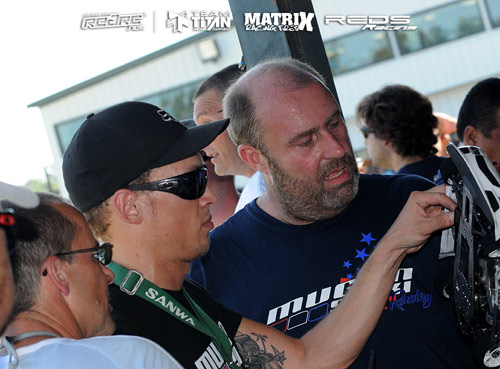 Wischnewski was not the only driver to hit problems.  Fellow countryman Pietsch was leading the race until his  Novarossi powered Mugen went crazy in the pitlane after fuel got into the receiver during the first round of pit stops.  Driving out of control in the wrong direction down the pitlane it made contact with the No.2 car of factory Kyosho driver Takaaki Shimo.  Shimo was to hit bigger problems 34 minutes into the race when a clash with another car broke the rear wing of his shell. With his car impossible to drive he had to make a stop for a bodyshell change but he retired shortly afterwards.  The only other American in the final Mike Swauger had the four screws holding his Novarossi into his Mugen come loose causing him to strip a gear.  With a new gear fitted and the engine screws tightened he got back on track only for his LiP o reciever battery to pack in just as the race entered the final 15 minutes.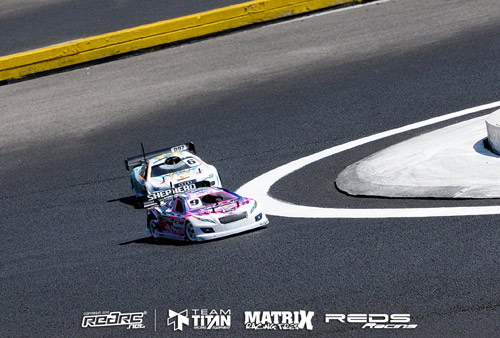 Even younger than we were originally told, 13-year-old Matsuda showed he is a potential future World Champion. Battling with established stars of the sport for a podium placing in the Main, the searing Texas heat was to catch out the Japanese kid.  Just after the second round of fuel stops sweat ran into his eyes causing him to crash his Mega powered Serpent resulting in a broken rim. Although he didn't feature strongly on the radar in qualifying the youngest ever 200mm World Finalist showed he is one name we are sure to hear a lot more of in the future after bumping up three finals to gain himself a ranking as seventh best driver in the World.  Starting from 10th on the grid Australian Champion Philip Woodbury was the big benefactor of the various drivers troubles bringing his Mugen home in sixth despite a number of flame outs.
So after Paul Lemieux came so close to doing it in Portugal, America finally has its first 200mm World Champion as Burch becomes the fourth different winner from the fourth different country to lift the crown.  We now have to wait 2 years to find out if he can become the first driver to defend that title when China is expected to host the fifth IFMAR 200mm World Championships.
Final Result
1. Ralph Burch – Xray/Max – 198 Laps in 1:00:09.28
2. Takehiro Terauchi – Mugen/Novarossi – 197 Laps in 1:00:02.71
3. Marc Rheinard – Shepherd/Novarossi – 196 Laps in 1:00:02.15
4. Shinnosuke Yokoyama – Xray/OS – 194 Laps in 1:00:19.54
5. Dirk Wischnewski – Xray/Novarossi – 191 Laps in 1:00:04.16
6. Philip Woodbury – Mugen/Novarossi – 188 Laps in 1:00:15.14
7. Takumi Matsuda – Serpent/Mega – 186 Laps in 1:00:05.67
8. Takaaki Shimo – Kyosho/OS – 146 Laps in 47:49.754
9. Mike Swauger – Mugen/Novarossi – 133 Laps in 45:54.425
10.Robert Pietsch – Mugen/Novarossi – 17 Laps in 4:52.354
The complete final results can be found here (PDF).
Red RC would like to thank Roger Bourland, Race Director Bob Ingersoll and all the crew at Gulf Coast Raceway for their support during are stay in Texas. One nice gesture during this event which we feel deserves a mention is that of title sponsor Byron Fuels.  The controlled fuel for the event, their 16% Gen2 blend, was supplied  free of charge to all 122 drivers for the duration of the event. Finally thanks to the sponsors of our coverage, Matrix tires, Team Titan and Reds Racing engines, without whom are trip from Europe to Texas would not have been possible.
View our event image gallery here.
---