November 14, 2010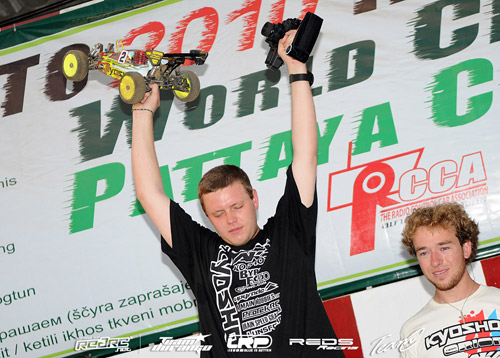 Cody King is the new IFMAR 1:8 Off Road World Champion after a thrilling battle with outgoing champion Atsushi Hara that ended with the pair separated by less than 2 seconds after an hour of intense racing.  Only his second World Championships, the 23-year-old from California was pushed right to line but kept his cool to claim the biggest prize in the sport ahead of Hara and his Kyosho team-mate Jared Tebo.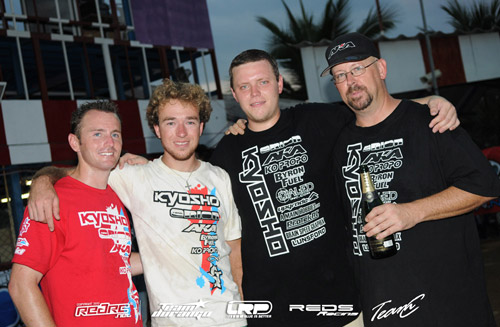 Commenting on the race of his life, the reality of which he doesn't expect to hit him until the morning, the factory Kyosho/Orion driver said he had always expected that if he was to lead the World Championships that he would be very nervous but he wasn't and when he landed off the table top just before the last corner when he knew it was job done did he started to think about the being World Champion.  Having come into this week's championship on the back of a great run of success in the US, King paid tribute to his dad and Tebo whom he said was responsible for making the MP9 so good here this week.  Bringing the tally of 1:8 Off Road World titles for Kyosho to eight, the King's victory secured the first  for Team Orion and it was a very proud day for Adrien Bertin who is the man behind the engines and who was also part of the new champions pit crew for the race.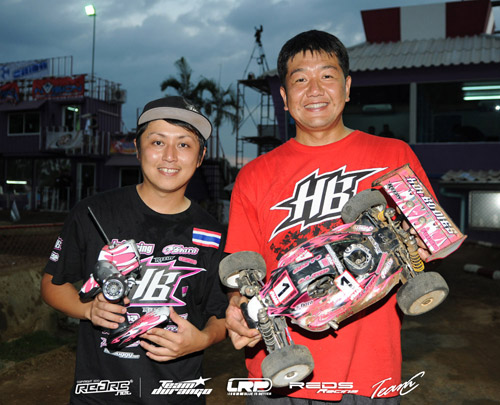 One of the sport's greatest all round racers, Hara said he wanted to put on a race people would remember and that while he was a little disappointed at not being able to become the first driver in the history of 1:8 Off Road to defend the World title he was very happy for Cody, a driver he believes has the potential to achieve such a feat in Brazil in two years time.  The Hot Bodies driver said his D8 was perfect but with all the cars so evenly matched in the final it was all down to mistakes something Cody made very few of. Unable to feel his fingers after the race, Hara admitted that unlike the last Worlds when remained super calm he got nervous for the first time today.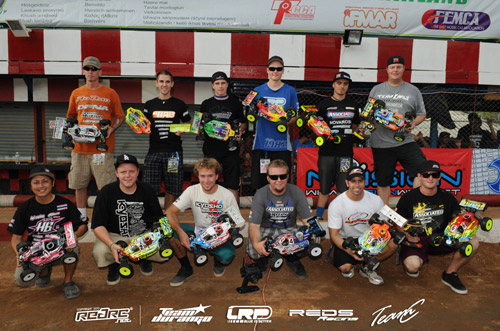 The Top Qualifier for the event and the pre-event favourite Tebo was clearly disappointed to only finish third.  The 23-year-old US Champion was in the hunt right up to the half way point but with 20-minutes remaining got the double single wrong and landed on a track marker which cut his engine.  Afterwards the Kyosho driver said he raced too hard in the beginning to try keep up with big rival Ryan Maifield and this left his front tyres like slicks.  Maifield ran a very fast pace at the start and was leading 1/3 of the way through the race but at the half way point when many of the drivers were making scheduled fuel stops his Reedy power Associated ran dry ultimately ending his chances of the World title.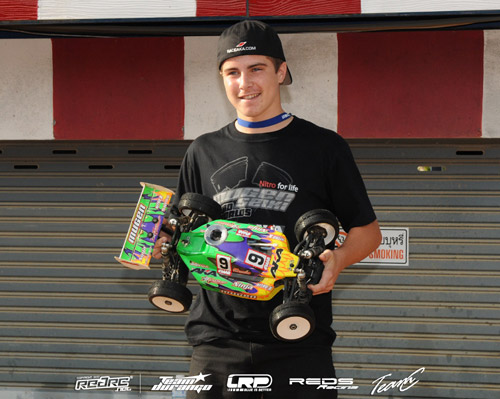 He was pretty much an unknown before the event but after today he is one of the hottest properties in Buggies, 14-year-old Kyle McBride finishing a stunning fourth overall just one and a half seconds behind Tebo.  Not phased by lining up against the biggest names in the sport, the Aussie Mugen driver said he just did his own thing in the race. Admitting that he never expected to finish in the Top 4 on his World Championship debut and said he is already looking forward to Brazil.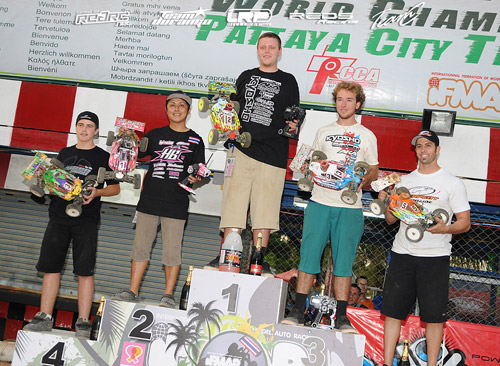 Finishing fifth Billy Easton helped debutant team Serpent to claim the honour of best new manufacturer with Hobao driver Jeremy Kortz completing the top 6.  It wasn't a good race for the Europeans with 2008 podium finisher Renaud Savoya the first to hit trouble, his steering servo going 8-minutes in.  Rejoining the race he broke a second servo calling it day with 19 minutes to run and was classified last of the 12 starters. Others failing to make the full distance were Maifield and team-mate Ryan Cavalieri who lost a wheel off his RC8B.  In the end Robert Batlle was the best placed driver from Europe in 8th position ahead of German Joern Neumann's LRP buggy.
Final Result
1.(2) Cody KING (USA) – 78 laps in 60:28.802
Kyosho MP9 TKI2/Orion ABI/AKA/Byron/Kyosho
2.(1) Atsushi HARA (JPN) – 78 laps in 60:30.727
Hot Bodies D8 Hara Edition/OS Speed/HB/Cosmo/HB
3.(3) Jared TEBO (USA) – 76 laps in 60:02.373
Kyosho MP9 TKI2/Orion ABI/AKA/Byron/Kyosho
4.(9) Kyle MCBRIDE (AUS) – 76 laps in 60:03.943
Mugen MBX-6/OS Speed/AKA/Byron/Mugen
5.(5) Billy EASTON (USA) – 76 laps in 60:13.829
Serpent S811/RB/Proline/Byron/Serpent
6.(7) Jeremy KORTZ (USA) – 76 laps in 60:38.027
Hobao Hyper 9/Werk B6/AKA/Werks Racing/JConcepts
7.(12) Adam DRAKE (USA) – 75 laps in 60:05.294
Losi 8ight/Novarossi/Losi/Nitrotane/Losi
8.(11) Robert BATLLE (ESP) – 74 laps in 60:18.355
Associated RC8B/Novarossi/Proline/Nitrolux/Proline
9.(10) Joern NEUMANN (GER) – 73 laps in 60:19.059
LRP S8BXR evo/LRP/LRP VTEC/LRP Energy Power/JConcepts
10.(6) Ryan CAVALIERI (USA) – 63 laps in 49:45.200
Associated RC8B/Orion ABI/Proline/Sidewinder/Proline
11.(4) Ryan MAIFIELD (USA) – 56 laps in 44:40.226
Associated RC8B/Reedy/JConcepts/Sidewinder/JConcepts
12.(8) Renaud SAVOYA (FRA) – 33 laps in 40:50.924
Mugen MBX-6/RB/Proline/RB/Proline

chassis/engine/tyres/fuel/bodyshell
Red RC would like to thank all the crew at RCP, particularly Charlie, for their hospitality during our stay in Pattaya and congratulate them on putting on a fantastic World Championships. Special thanks also to Team Durango, LRP, Reds Racing and Team C, for enabling us to bring you our live event coverage.
View the official event results here.
View the event photo gallery here.
---