February 26, 2012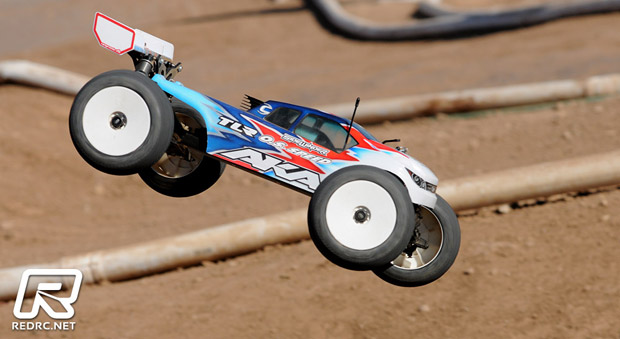 Mark Pavidis, Dustin Evans and Billy Easton will take up the final three spots on the grid for the Dirt Nitro Challenge Truggy final this evening after finishing 1-2-3 in the B-Main.  Starting the 20-minute final from pole AKA front man Pavidis made light work of the opposition cruising to victory with his OS powered TLR 8ight-T.  Afterwards the former Buggy World Champion described the race as his 'best drive in a long time'.  Due to line-up 13th on the grid for the 45-minute title deciding final he said his truggy feels really good however the track layout makes it very difficult to pass but added starting from the back might play to his advantage if there is a 'wreck' in the opening laps.
The joy of current US 2WD electric Buggy Champion Evans was clear to see as he came down from the rostrum following a great battle with Easton.  Starting the B-Main from 9th on the grid, this is Evans first proper attempt at contest a big 1:8 nitro event and the Colorado ace is delighted to make his first ever nitro A-Main.  Benefiting from an early wreck that moved him up the order, a 10-minute fuel strategy played to his advantage as the majority of the 15 truggy field stopped on 7 minutes.  Inspecting his Orion powered 8ight-T after the race it was discovered that the lower right kingpin had dropped cutting into his wheel leading team-mate Mike Truhe to make the suggestion that Evans go buy a lottery ticket.
Filling the final spot on the grid Easton's Serpent means 6 different manufacturers will battle it out for the 13th Dirt Nitro Challenge title this evening.  One big casualty of the B-Main was Buggy World Champion Cody King who flamed out at the start of the race ending the 2011 finalist's chances of playing any further part in today's action.
View our event image gallery here.
---