February 23, 2012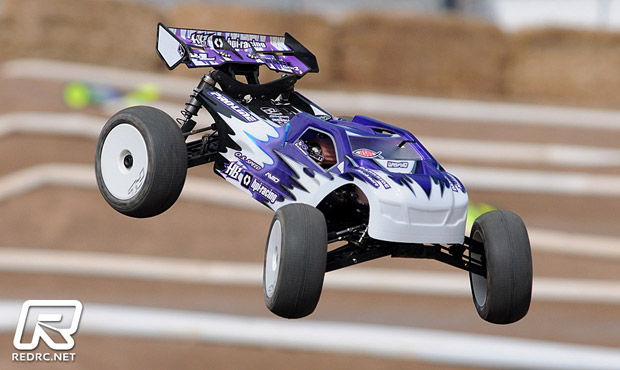 Hot Bodies' Ty Tessmann has topped the opening round of Truggy qualifying at the Dirt Nitro Challenge in Phoenix, Arizona, the 19-year-old setting the pace by just over half a second from TLR's Adam Drake with Associated's Ryan Maifield third.  Moving this year to the Fear Farm, this is the 13th running of the signature event of world famous track builder Joey 'The Dirt' Christensen with a record 700 entries set to race 4 class on three tracks over the next four days.
Tessmann, who has been on the road racing since setting out from his Canadian home back in January, was happy with his start to the event making no mistakes over the first of three 7-minute runs that make up today's schedule. Pleased with his OS powered D8T he said he will 'just leave as is and drive it' for Q2 but with that run due to take place in the hottest part of the day he will switch from Proline Holeshot M3 tyres to the harder M2 compound.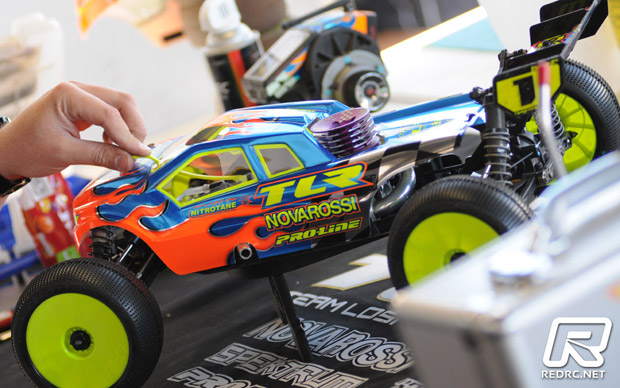 Drake was happy with the performance of his equipment in Q1 but said he had a tough opening 2 laps with traffic causing him problems through the whoops section. TLR drivers filled five of the Top 10 spots on the time sheets with 15-year-old Dakota Phend, who is making his 'Dirt' debut setting a strong 5th fastest time despite a couple of driver errors while Mike Truhe, Mark Pavidis and Matt Castellano managed 7th, 8th & 10th.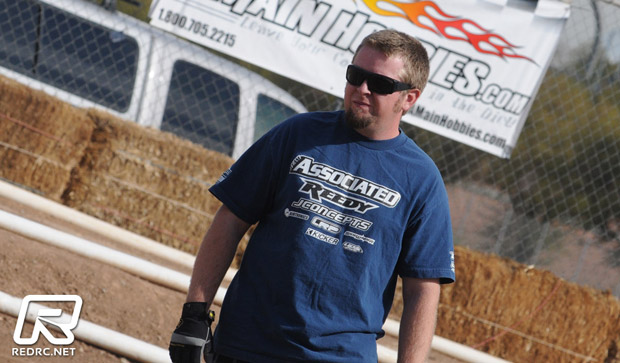 US National Truggy Champion Maifield described his run as 'safe'. Running Green compound JConcept Hybrid rubber on his LRP power RC8B he said the track is changing every run but overall he is happy with where he is at for now.  His team-mate Ryan Cavalieri was a lot less happy with his start to the event as he only managed 11th albeit just 7 seconds off the pace.  The electric offroad World Champion said if he was to describe how he truly felt after his run it wouldn't be a quote we could publish after traffic problems killed any chance of a TQ run for the opening round.  Happy with his lap times the Californian planned to go up a little with the shock oil on his Orion powered RC8 B for Q2.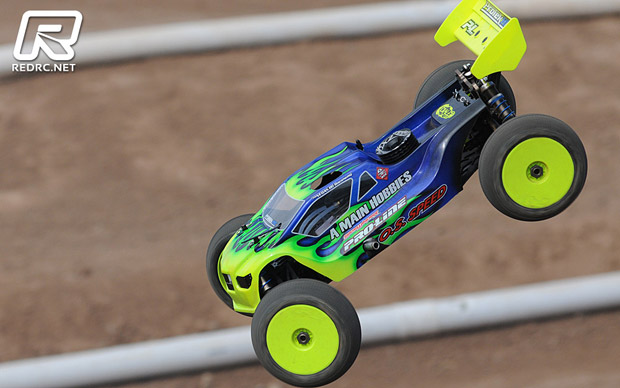 Fastest Kyosho in Q1 was A-Main Hobbies team driver Dylan Rodriguez. The 18-year-old took his OS powered example to the fourth fastest time with a good clean safe run'.  The only other Kyosho in the Top 10 with the 9th fastest time was that of last year's Dirt Nitro Challenge dominator Jared Tebo.  Setting the fastest lap time for Q1 with a 39.847 lap, he said he took a gamble on tyres which didn't work out.  Basing his call to run AKA City Block on the front and Ibeam on the rear based on yesterday's dusty track conditions he said the track was much cleaner today and after 2 crashes he over drove much of the run. Switching to Grid Iron all round for Q2 the World Championship Top Qualifier is confident he can rectify things next time out.
Having attracted some big names to their team for the 2012 season with top Europeans Renaud Savoya and Martin Bayer crossing the Atlantic for the event, it was long time team member Josh Wheeler who was the fastest XT8 with sixth for the round.
View our event image gallery here.
---