October 13, 2007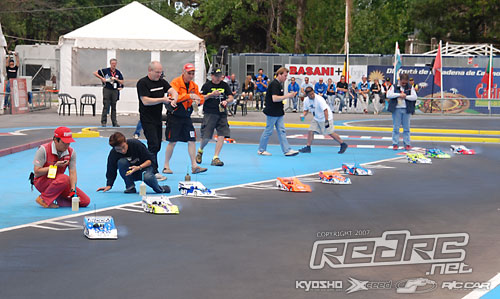 Now the second semi final is over and it was Serpent 960 racer Yuya Sahashi, who won the 1/4 final, that has taken the semi odd win and will now take his place in the main final. At the very beginning of the race Michael Salven crashed over a kerb damaging his car, he pitted to fix it and continued and managed to drag himself up to 4th after some great driving and helped by a number of retirements. Leader in the first few laps Daniele Ielasi, who was passed by Yuya Sahashi and the Japanese racer then managed to extend his lead.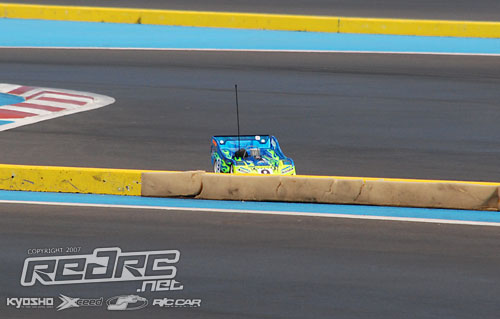 Mike Swauger and Takaaki Shimo were early retirements, both cars rolling to a stop on track ending their race and also Hideo Kitazawa retired from 5th place at the 16th minute ending all chances of O.S. getting an engine into the final. Michael closed on then 3rd place racer Walter Salemi when he managed to get 2 stop and go penalties for bad refueling but it wasnt enough for Salven to catch him and he finished 4th.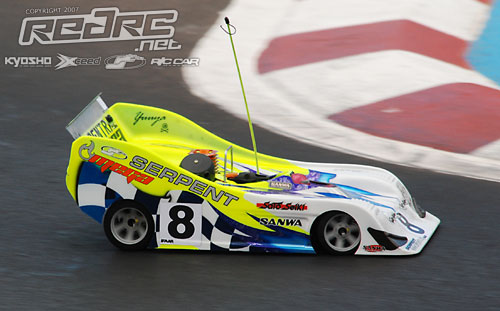 Semi Final Odd results (Official)
1. Yuya Sahashi – 97 Laps in 30:12.741
2. Daniele Ielasi – 97 Laps in 30:18.261
3. Walter Salemi – 96 Laps in 30:04.426
4. Michael Salven – 96 Laps in 30:17.307
5. Francesco Tironi – 91 Laps in 30:00.013
Your OFFICIAL final order:
1. Massimo Fantini – Serpent
2. Lamberto Collari – Kyosho
3. Adrien Bertin – Kyosho
4. Chris Tosolini – Kyosho
5. Yuya Sahashi – Serpent
6. Andrea Cristiani – Serpent
7. Danielle Ielasi – Kyosho
8. Walter Salemi – Mugen
9. Mark Green – Serpent
10. Dario Balestri – Motonica
There is a break now until 4pm local time when the main final will begin so that is in over 1 hour. We will be reporting on the final by the minute (or close to) and will have a report at the end so in about 1 hour come back and keep refreshing the page.
---