November 13, 2008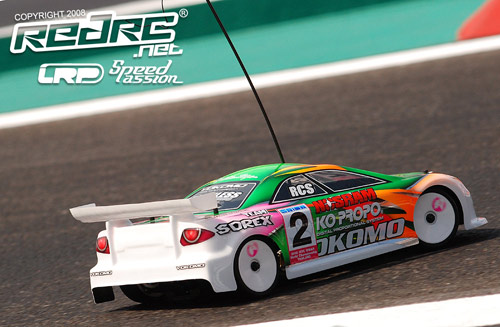 Masami Hirosaka has made his intentions clear here in Thailand by setting the fastest run in first controlled practice.  Having won multiple World titles in all the other electric categories the Japanese Yokomo driver wants this one badly and made this clear with an 18 lap run in 5:01.604 to beat fellow countryman & former Touring Car World Champion Atsushi Hara.
Hirosaka said the hotter conditions had made for less traction but he had made allowances for this by turning down the punch on his Nosram speedo which made the car more manageable.  Paying attention to every little detail, the sport's legendary driver has monitored the weather conditions over the past few days and charted it out by time allowing him to choose the best setting for the particular time of day he is running at.  For controlled practice no.2 he will 'turn on punch button' as the track will be much cooler for the last run of the opening day.
Hara described conditions as being a little worse than this morning's free practice runs but said his Hot Bodies was good.  The 2000 World Champion admitted Hirosaka was 'pretty fast' but said for the moment he was happy with his own pace.  Making it an all Asian Top 3 for the session Hara's team-mate Surikarn, who would love to regain the World title on home soil, said his car was fast but suspects his chassis is slightly tweaked.
Former European Champion Ronald Volker was fourth fastest with his Cyclone TC.  The LRP team driver, who is running a 4.5 version of the new Vector X12 motor, was not so happy with the set-up of his car but said it was consistent and his run to fourth was an OK start to the event.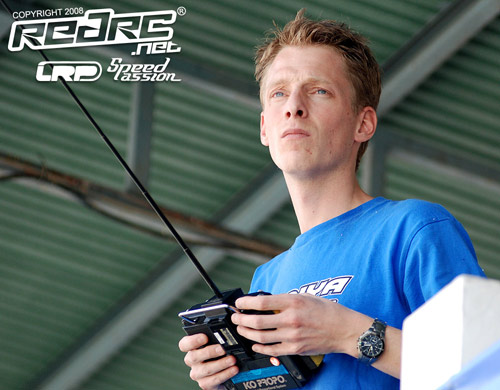 Heading the Tamiya challenge with the fifth fastest time was Jilles Groskamp.  A member the Tamiya Racing Factory team, the Dutch driver was pleased with what was only his second run, his first free practice lasting just one lap due to a speedo failure.  Groskamp's Speed Passion powered TRF416 World Edition felt good at the beginning of the run but then started to feel loose.  Having lost five minutes of track time to his rivals this morning he said he is still playing around with finding the best racing line.  Current 1:10 2WD World Champion Hayato Matsuzaki driving a Hot Bodies completed the Top 6 just ahead of Andy Moore.
Heading Xray's challenge is Teemu Leino, a driver many are tipping as a possible winner come Sunday evening.  The Finn said the track feels completely different to when the Slovak team tested here.  Running a 4.0 Orion motor in his T2 009, Leino says he is still playing around with the set-up but he wasn't going to make an major changes. His team-mate Alex Hagberg was tenth fastest running the set-up from pre-event testing but the Swede's car doen't feel nice to drive and he is unsure of what to change to improve it.
One of the stars of the 1:12 Worlds earlier this week, when he became Vice-Champion, Associated team driver Juho Levanen was happy with ninth fastest time.  The Finn's TC5 feels good over five minutes and with some fine tuning for the next outing Levanen is confident he can improve but the 23-year-old thinks we could see a repeat of the 1:12 practice when on Day 2 the track conditions changed completely and turned everything on its head.
Elsewhere the highest placed Kyosho was Shin Adachi in a lowly 22nd while top Corally was Australian Simon Nicholson who recorded the 28th fastest time.
View our event image gallery here.
---