July 26, 2008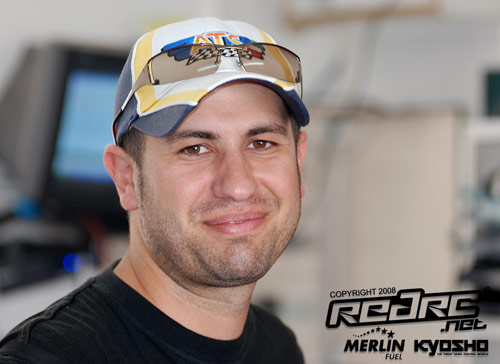 As predicted the second of today's two qualifier was slower for most of the leading runners but none the less Daniele Ielasi managed to produce a great time to top the round from Shepherd team-mate Robert Pietsch.
Ielasi's 05:02.155 run was just 1.5 seconds shy of the time he set this morning that put him 2nd overall in the provisional qualifying order. Commenting on the run the Italian said, 'The car was great, for sure the track was slower but my car worked good and the tank has lots of fuel left. I think later the track will be even slower but I will try to go faster'.
Pietsch was very upbeat with second fastest time for the run. Running the engine slightly richer than this morning he was very happy with the performance of his Novarossi. Currently just over 2 tenths of a second off direct qualification to the Main final, the Warm Up race winner says he will go all out to improve his time but thinks the higher temperature will be against him.
Third fastest after a really impressive drive was top Spanish Championship contender Josue Artiles. The Mugen/Max driver was collected by other cars in Rounds 1 & 2 of qualifying but had a trouble free run on this occassion. Recording the third fastest time he was best improver for the Round and now moves into 8th position. 'I think my first heat was my fastest but I hit a slower car. I am really pleased to get a clean run finally and to be in a Semi Final position is very good for me. I will try to improve on this in the last heat.'
Another Spanish driver who found pace despite the extra heat was National Champion Oscar Cabezas. The Serpent Driver Development program recruit was setting a good pace but had an off at the end of the main straight which he believes was the result of debris getting under the front of his 960. Once back on track and obviously pumped up following the off, he went on to set a new track record of 17.379 bettering the previous time set by Italy's Andrea Pirani in Round 2 of Qualifying.
Bad news for Michael Salven and Lamberto Collari is that they have both lost their appeals against failure to be at the marshalling points when the track open for the heat following their own runs. In the final instructions issued by EFRA to all the team managers this ruling is clearly stated so both drivers will now loose their fastest heat times.
Top 10 after Round 3 of 4
1. Massimo Fantini (IT) 17 Laps in 05:00.214
2. Daniele Ielasi (IT) 17 Laps in 05:00.679
3. Andrea Pirani (IT) 17 Laps in 05:01.195
4. Oscar Cabezas (ES) 17 Laps in 05:01.287
5. Robert Pietsch (DE) 17 Laps in 05:01.505
6. Dario Balestri (IT) 17 Laps in 05:01.735
7. Michael Salven (DE) 17 Laps in 05:02.580*
8. Josué Artiles Santana (ES) 17 Laps in 05:02.866
9. Robin D´hondt (BE) 17 Laps in 05:03.388
10. Marco Muller (CH) 17 Laps in 05:03.926
* Subject to penalty
Full results can be found on the official timing site here.
View our image gallery here.
---