July 23, 2008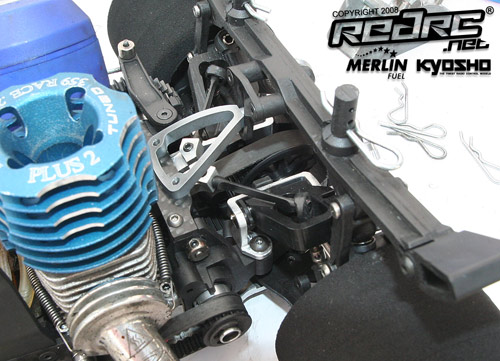 As the drivers continue to get their laps in, in a bid to find those extra few tenths of a second and improve their run times, we took a look through the paddock to discover more new products and developments. Current European 1/10th scale Champion, Dario Balestri, is testing a new rear end on his Motonica. The car is using a prototype aluminium rear upper wishbone mount as well as prototype upper wishbones and the Italian is pleased with resulting changes in handling.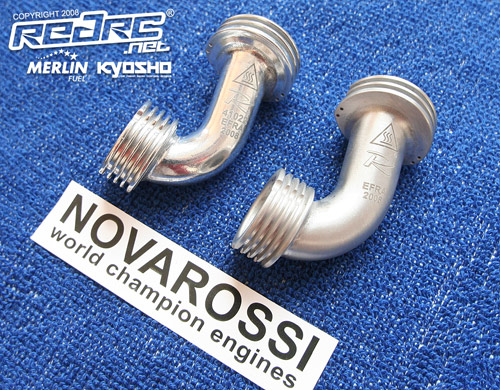 In the Novarossi cabin we were shown some new products that the company is testing, including a manifold. At the 1:8 Off Road Euros two weeks ago there were problems with the interputation of the new EFRA on manifolds and following clarification at the meeting on the Crete Island, Novarossi have been quick to exploit the new terms of the ruling which states the diameter of the inlet and outlet of the manifold should be 13mm. The prototype part complys to this regulation but uses a larger 15mm diameter tube (right) in an effort to gain more power. The company has seen some improvements but they say it needs further testing before they decide whether it should go into production.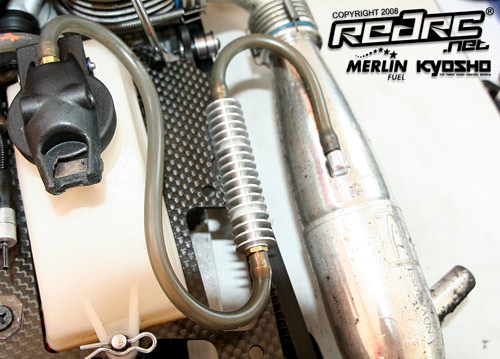 Also new from Novarossi is this back pressure radiator that their team drivers are currently running on their cars. Mounted inline with the back pressure tubing, it helps cool the gases that are flowing through it with the device measuring upwards of 80 degrees celcius when measured after a 5 minute run. Early indications from their drivers show that it does help and using it gains them a small advantage in run time, however the Novarossi team are still coming up short in this area.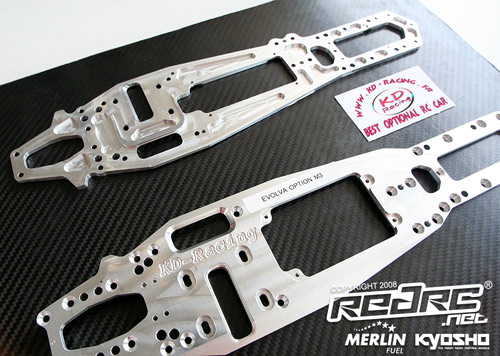 Also shown to us by French company KD Racing, are these machined aluminium and titanium parts. Available for Kyosho, Mugen, Serpent and Shepherd cars, these new chassis come in two versions, light and ultralight, with the difference being the amount of machining that has been done to it. The light chassis gives a saving of 50 grams, while the ultra light version, which is noticably lighter when holding it, saves 80 grams. KD Racing also have a number of other option parts including titanium mid axles, brake discs and and 2 speed oneway carriers, as well as full sets of ceramic bearings. Racers wanting custom machining can contact them with their request, with contact details being found on their website here.
View our image gallery here.
---