July 31, 2008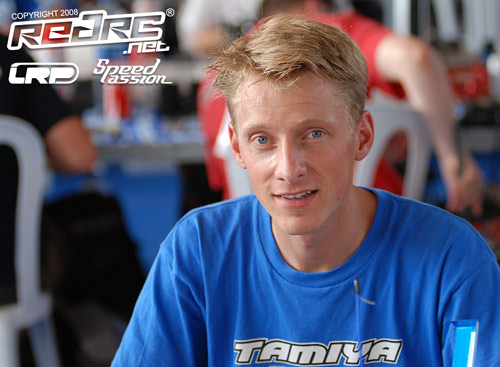 Drivers have had their first official practice run at the 2008 EFRA Euros here in Vila Real with most drivers reporting an incident free run.
Jilles Groskamp suffered the biggest drama of the morning when he lost a front wheel off his Tamiya. 'I adjusted the front camber just before my run and when I put on my front wheels I tightened the nuts by hand and then afterwards forgot to do them up properly. It was a novice error but then I am a novice driver.' With all four wheels on his car, the Dutch racer said his Speed Passion powered car felt pretty OK.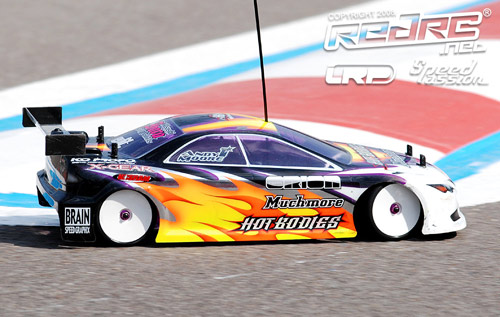 Current World Champion Andy Moore had to interupt his run. Having reset the speed controller on his Hot Bodies Cyclone TC he forgot to set the brakes. The UK racer was however pleased with his car which has been fully rebuilt since testing here two weeks ago. For the next run Moore will make some adjustments to reduce roll as the track appears to have more bite than during pre event testing.
The man everyone wants to beat, Ronald Volker, appears very relaxed and said his LRP powered Cyclone has the same good feeling as it did in testing. The German driver won Euro title last year in France and like most of the drivers was here two weeks ago testing in preparation for this event.
Top Xray hopeful Teemu Leino reported his car was good and traction was better than his last visit to the Nitro 15 track. The Finn will try a second car for the second practice run.
Kyosho Factory driver Steen Gravesen, who has Shin Adachi on hand for support, said the track already feels as good as the best run during testing. The Danish ace will change the front wishbone angles on his car for the second round but overall is happy with the handling of the Shin prototype chassis.
If the number of countries represented here at 2008 Euros is a sign of the health of the sport, then electric touring cars is looking very healthy with drivers from 23 different nationalities taking part in the event with host nation Spain topping the table with 27 drivers. At the other end the Greek team is made up of just one driver – Nick Nikolakopoulos.
Drivers have three more practice outing today which will be followed by the official opening ceremony at 18:15.
View our image gallery here.
---