January 24, 2014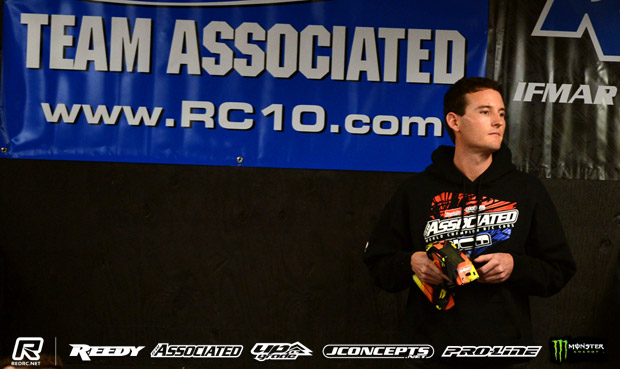 Ryan Maifield and Ryan Cavalieri have ended Day 1 of the 20th running of the Reedy Race of Champions top of the time sheets, the Team Associated pairing posting the fastest times of 2 and 4WD respectively over today's three rounds of practice.  Taking place for the first time at OCRC Raceway in Huntington Beach, California, Maifield set his best 2WD lap of 19.595 in P2 while defending champion Cavalieri topped 4WD in the final practice of the day with a time of 18.549 seconds. Former champion Dustin Evans would be the closest challenger in 2WD with his TLR22 while in 4WD veteran Barry Baker showed he still has some speed left in him as he took his Associated to the second fastest 4WD time.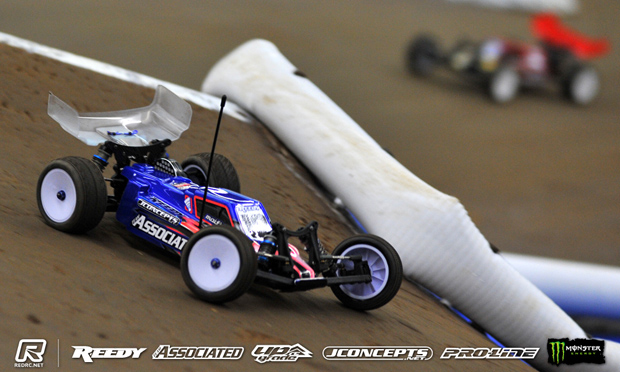 While the practice times count for little in the Reedy Race format which will see drivers race head to head in 12 races over the next three days, Maifield was pleased with his day.  The Arizona driver said his Reedy powered B4.2 Centro was 'really fast' and the car feels good for tomorrow's four rounds of finals.  Making 'a bunch of changes' to his 4WD for P3 he said the B44.2 felt good but was lacking power.  Running a 6.5T motor he will change to a 6T for the first of the 4WD races which get underway on Saturday.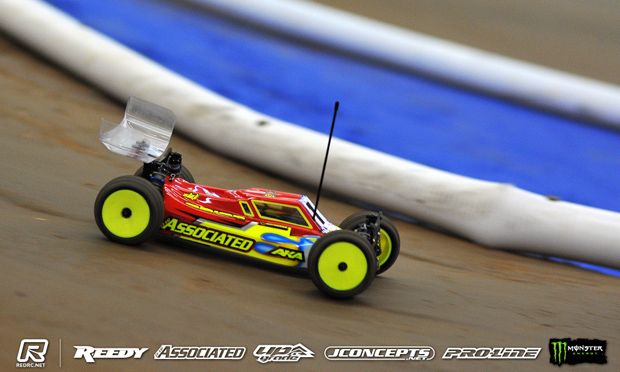 Switching over to a ball diff for his final practice together with changing the front shock oil on his Orion powered B44.2, Cavalieri said this was a 'good combo'.  Also changing the set-up on his 2WD, going from a 2mm to a 0.5mm washer under the ball studs, he said this made the Centro converted B4.2 better through the corner at the end of the straight.  The only multiple winner since the resurrection of the Reedy Race in 2009 after a 7-year break, Cavalieri said he 'feel(s) comfortable driving both cars' and is looking forward to going racing tomorrow.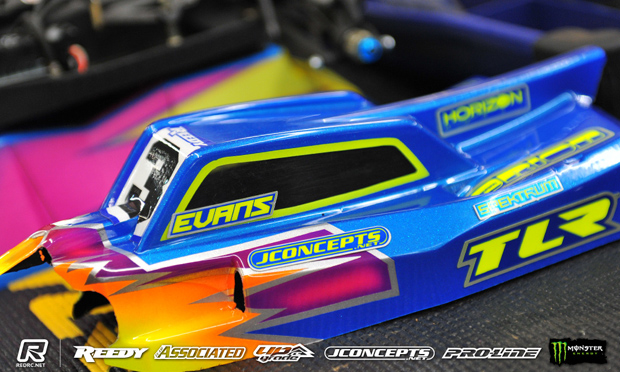 Second fastest in 2WD, 2011 Champion Evans said he 'couldn't be happier' with how his day went.  Making changes to his Orion powered buggy for the final practice he said they 'improved it a lot' and the car feels 'awesome'.  Using the final practice to scrub in a fresh set of the controlled Pro-Line tyres on his 4WD, which this weekend features a new body design from TLR, he said on used tyres his TLR 22-4 is 'pretty good'.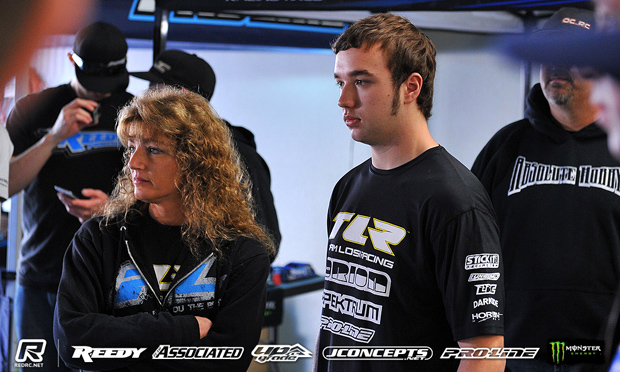 Team-mate Dakotah Phend said rear end changes to his 4WD made a big improvement to the performance of his TLR22-4 which he took to the 3rd fastest time.  The Michigan driver said the dirt here is a lot different to what he runs on back at home, the traction here being much higher, and so it took him a little longer than his rivals to sort his set-up.  Commenting on his 2WD, the reigning US National Champion said his TLR22 was really easy to drive which is 'good for the format' adding it is good to go for tomorrow.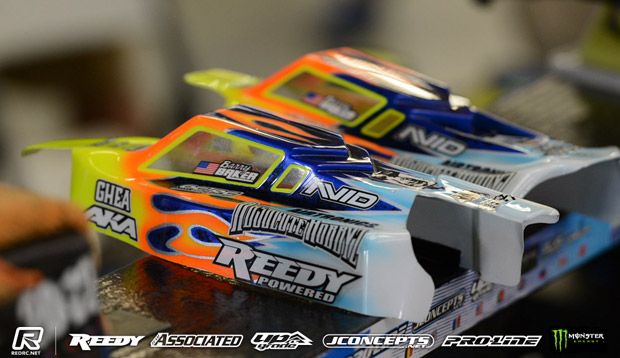 Quote of the day goes to Baker, the veteran racer saying 'Today you saw both glimpses of the old Barry and glimpses of Barry being old'.  Happy to end the day with the second fastest time in 4WD, he changed to a harder front spring on his B44.2 which he said helped keep the front end down on the step downs.  7th fastest in 2WD, he said he is 'pretty happy' with how he has been able to run today and he thinks he should be able to race strongly.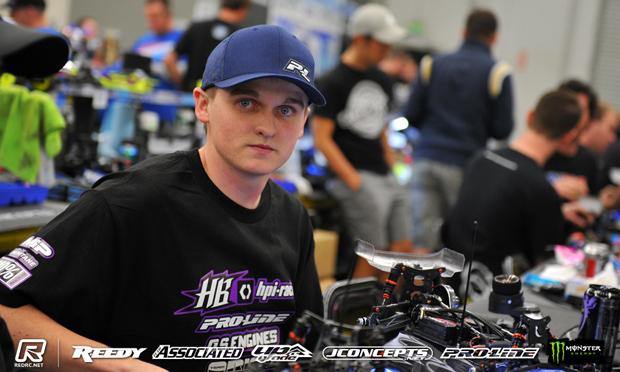 Fourth fastest in 4WD, factory HB/HPI driver Ty Tessmann said his D4-13 was 'awesome'.  Struggling with traffic in his final run, which featured a practice start for the drivers, the current US Champion said the 180 degree corners made it hard to get by.  Predicting that the racing will be 'interesting & rough', he said his prototype 2WD was starting to get there adding the tyres are taking a lot longer than in 4WD to come in.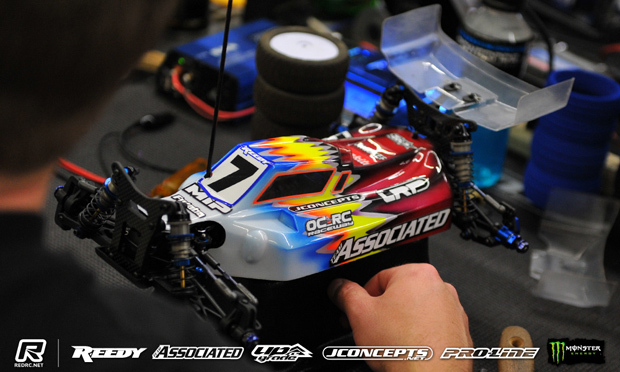 Ending the day with the fifth fastest lap time in 4WD, World Champion Steven Hartson said he left his cars the same all day and instead just focused on maximum track time so as to scrub in tyres.  With both his Associated's 'ready for tomorrow', like Tessmann he predicts passing will be an issue.  Trying to pass drivers in the final practice, he said it was 'just impossible' adding you'll just have to wait for those ahead to crash to get by.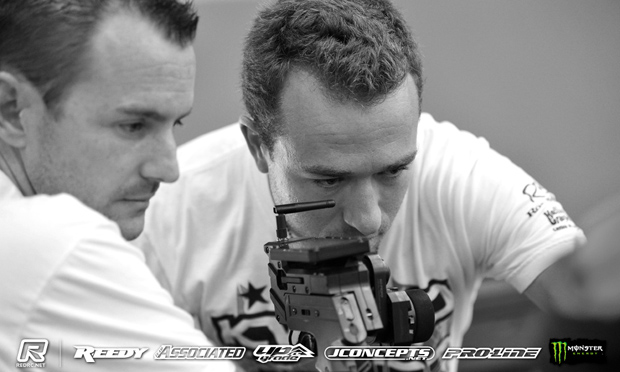 Heading the Kyosho challenge, Jared Tebo was 'happy with (his) day' describing both his buggies as 'pretty good'. Third fastest in 2WD, he said at the Reedy Race you don't need to be fastest but rather be the cleanest driver over the 12 races.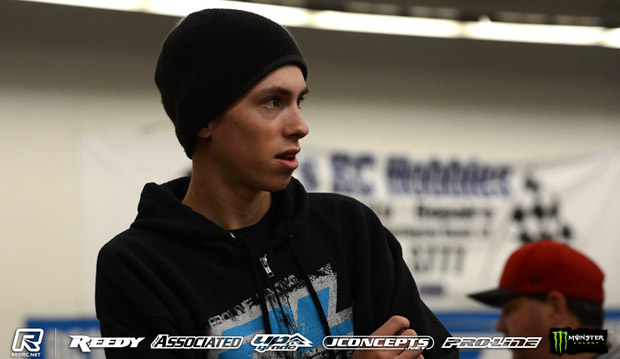 Champion of the Open Class in 4WD last year, which got him an automatic entry into the invitation class, Rob Gillespie posted the fourth fastest 2WD time.  The 21-year-old Associated supported driver said tightening the rear diff on his B4.2 for P3 improved the buggy a lot and now he has a 'good consistent race car'.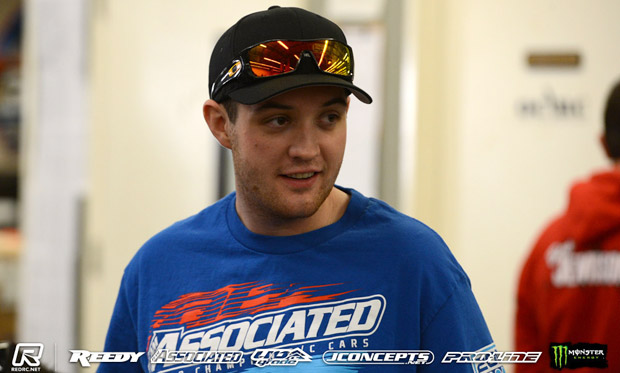 Just 3/1000th off his lap time, Associated designer Kody Numedahl said his pace came from just running used tyres. Having run fresh tyres in each of the opening practice rounds he changed nothing on his Centro B4.2 all day.  Responsible for working on the Associated B5, asked why they aren't running the new car he said it was down to simply a lack of cars to distribute to their team drivers with only one full car currently in existence.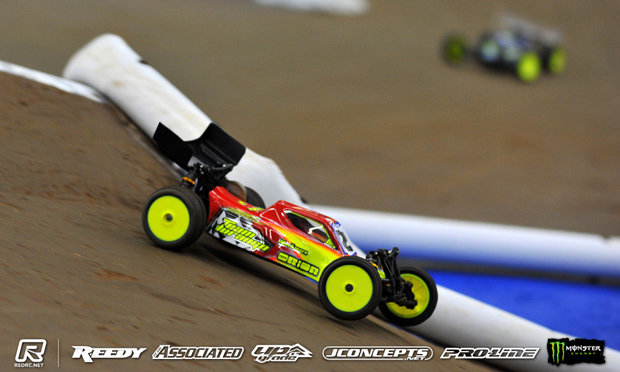 Elsewhere Team Durango's Joern Neumann said he used the third round to break in new tyres but with both his cars easy to drive everything 'should be good' for racing.  Lee Martin summed up his day as 'not too bad'.  The World Championship Runner-up said his 2WD is good but his 4WD still needs more steering.
View our event image gallery here.
---