January 10, 2014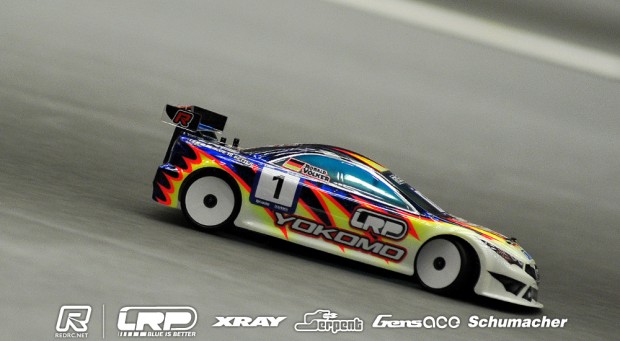 The opening round of qualifying threw up no real surprises as Team Yokomo's Ronald Volker TQ'd the opening round of qualifying ahead of defending Champion Adrian Berntsen and Marc Rheinard.  Bringing the first day of action at the 14th running of the famous Danish event to a close Volker topped the first of the four scheduled qualifiers with a time of 25-laps in 5:11.289 with Bernsten just over 1 second adrift. Despite setting the fastest lap of Q1, Rheinard could not make a 25-lap run finishing with a time of 5:00.764.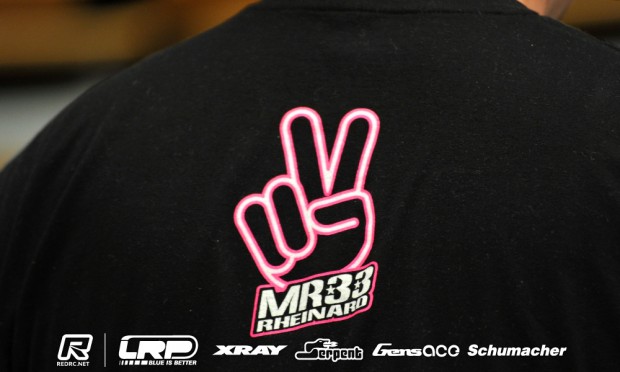 While it was pretty much plain sailing out front for Volker, Rheinard said his Tamiya is just sliding around with the lack of overall grip appearing to be getting worse for the German.  Admitting he is not far away from his arch rival and ETS title nemesis, he said unlike Volker for him to do that kind of pace every lap is just not possible.  Running his 'soft' TRF418 in Q1, the Much More powered car fitted with a more flexible chassis plate, he said for tomorrow's second qualifier he might switch back to his 'stiffer' chassis again but first he plans to think about his set-up options overnight before making that decision.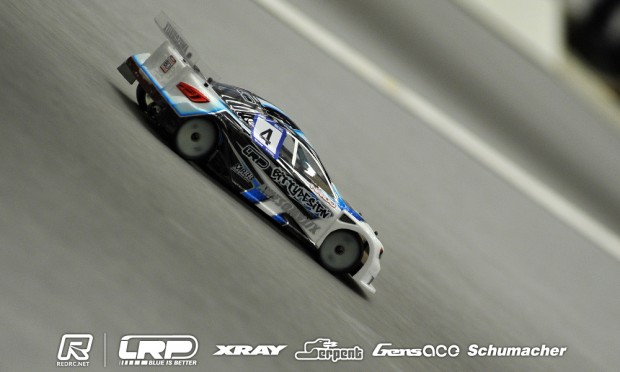 Setting the fourth fastest time Awesomatix factory driver Viljami Kutvonen described his first qualifier as an 'ok start to the event'.  The rapid Finn said he changed his tyre preparation for the run and that was a wrong decision.  This resulted in him losing time at the start of the run but once the tyres came in he said the car was good and he feels the pace is there to mix it with both Rheinard and Berntsen. Planning to go back to the tyre prep he used in practice he said he will fine tune the set-up on his LRP powered A700 EVO as he feels he can get a little more speed out of him by getting a better balance between having more steering without bringing on traction roll.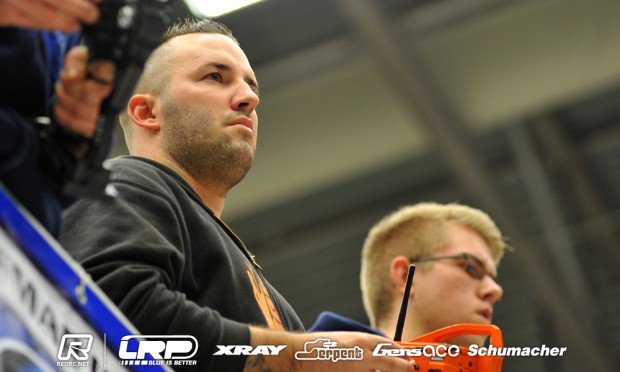 Serpent's Marc Fischer kicked off his qualifying with the fifth fastest time.  The German said his Viper powered S411 was good in the beginning but a combination of mistakes that got bigger and bigger cost him a lot of time.  Feeling the car started to push as the run progressed he said without the mistakes he believes he is pretty close to Rheinard.  Not sure yet what he will change for the morning's second qualifier he said he hopes to cure the car from developing as much understeer but ultimately he needs to cut out the mistakes for a good run.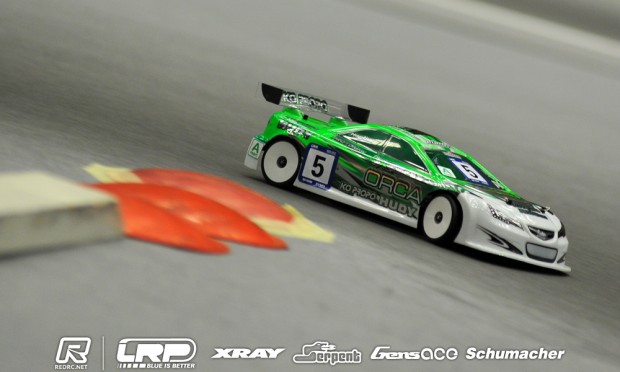 Completing the Top 6 was Xray team leader Alexander Hagberg.  The Swede said he had a couple of mistakes over the 5-minutes adding he is not entirely comfortable with his ORCA powered T4.  Planning to work on it tomorrow, when asked about the possibility of trying a similar set-up to Berntsen he said their driving styles are completely different as he found out when he previously tried to run the Norwegian's set-up.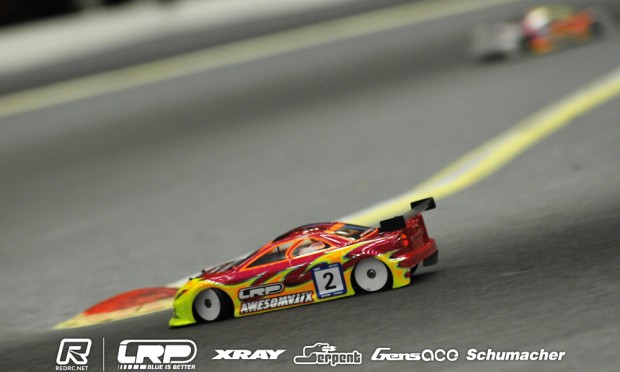 In the Pro Stock class Oliver Franke got his debut for Awesomatix off to a great start by taking his A700 EVO to the fastest time in the opening qualifier.  The German TQ'd the round by just a little over 2-seconds from reigning ETS Pro Stock Champion Marek Cerny, the Xray driver having topped practice earlier in the day.  The Top three for the class which runs a controlled LRP X20 13.5T motor was completed by German driver Jan Ratheisky.
View the complete TC event results here.
View our event image gallery here.
---