July 9, 2015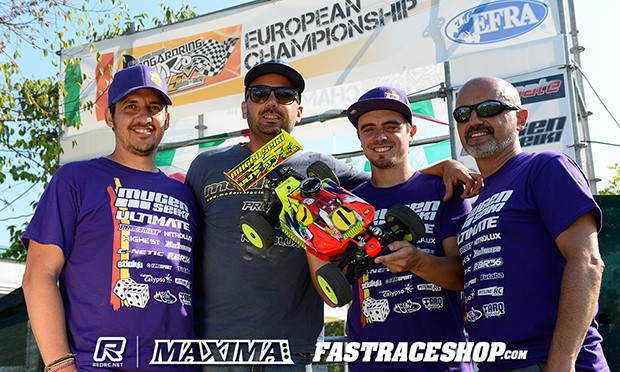 The first day of qualifying at the 1:8 Offroad European Championships produced TQ runs from three different drivers with Robert Batlle the latest driver to top the time sheets around the Ongaroring.  Running the fastest 5-minute time of the day, the Mugen driver topped Q3 from Elliott Boots and defending champion David Ronnefalk both having topped the earlier rounds.  Fastest in the opening qualifier it is Boots who leaves the track holding the provisional overnight TQ with the remaining two rounds of qualifying scheduled for tomorrow.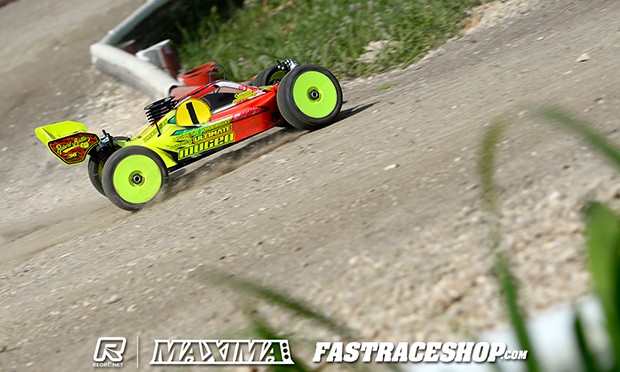 Having crashed in both of the earlier qualifiers, claiming a 7th & a 5th, Batlle said no mistakes was the key to his TQ run.  Having run the same set-up on his Mugen in all three rounds, the 2-time Champion said it was 'super nice' to drive and in Q3 he did not have to push a lot to achieve the time.  Describing it as having 'good speed and consistency', the Spaniard said thre track is starting to get more bumpy now making it difficult adding these are the type of conditions he prefers.  Sitting third in the provisional qualification ranking, he said with three good runs he can tomorrow use the remaining two rounds to work on a set-up for the finals.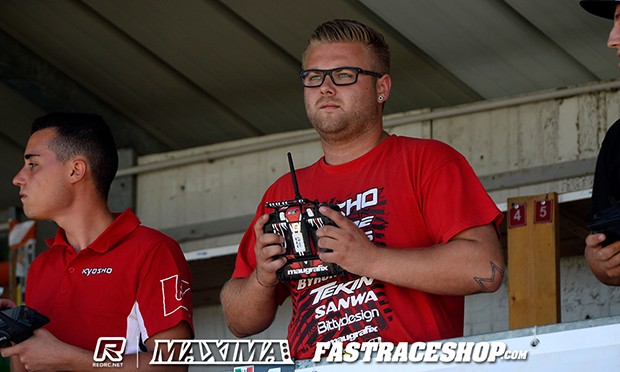 Close to backing up his Q1 performance in the second round until late mistakes, Boots described his third qualifier as 'better'. With 'no mistakes as such', the Kyosho driver said he was 'not quite as quick on a few laps' and had to roll over one jump due to a backmarker.  1.3-seconds off Batlle's pace, the British driver was 'pleased there was not much in it because (he) was very comfortable with the car'.  Another driver who hasn't changed his car's set-up over the day, he plans to 'keep going with it the same' for tomorrow.  Making a big impression in practice and the opening two qualifier Boots' Kyosho team-mate Riccardo Berton didn't have a good third qualifier, after just one lap he crashed in the chicane and broke a steering arm.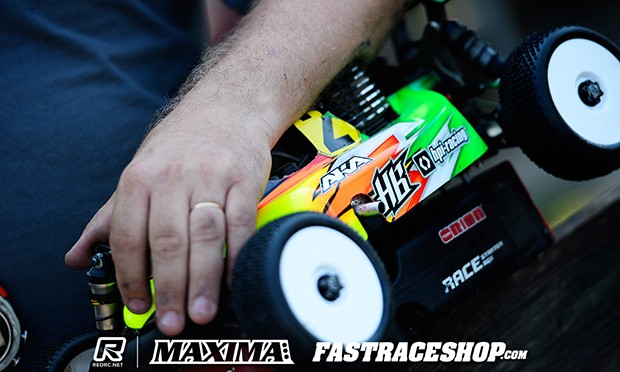 'Once again I guess', that was Ronnefalk's reaction to again tangling with a backmarker.  Happening halfway through the run and costing him around 2.5 seconds, said with Boots and Batlle running before him he knew he needed a good run and that the incident had cost him the TQ.  Like in the previous round which he TQ'd despite getting spun round by a backmarker, he would finished the run off with a last lap that was a new fastest time for the track, posting a 37.345.  With a 3, 1, 3 for the three qualifiers he said this already gives him a good starting position for the Semis allowing him to run a second Orion engine tomorrow and test tyre options in preparation for Saturday's finals. In terms of his D815 set-up he said the buggy is really good and he doesn't need to change anything for the finals.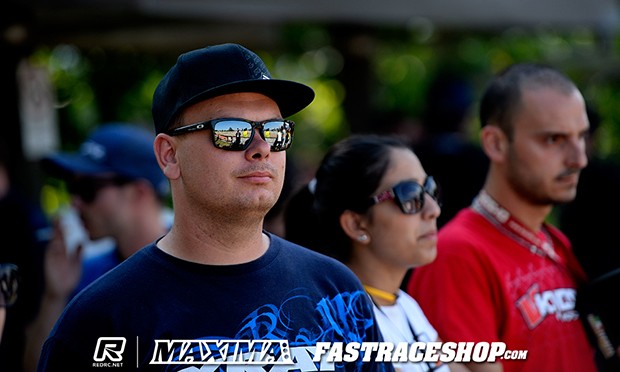 Backing up his Q2 Top 3 pace with fourth, Martin Bayer said the run was 'pretty good'.  Making a small set-up adjustment to his FX powered Xray, he didn't like the change and will revert back for the morning.  Running Pro-Line Surburb X2 tyres, he said while they felt ok they were sliding a little on the growing number of exposed rocks and so he will try something different for Q4.  Only 14th in Q1, the two time podium finisher said he just needs one more good run to book himself directly into the Semis.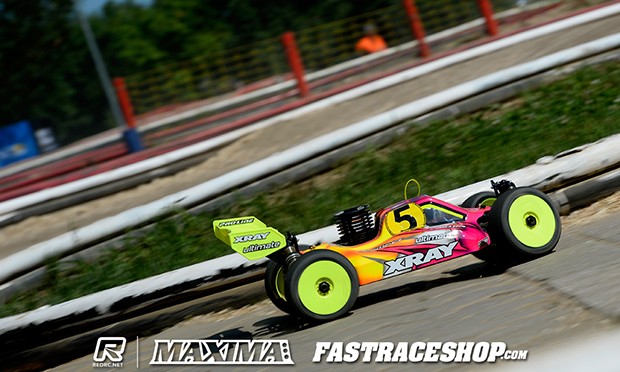 Behind Bayer, it was his Xray team-mate Yannick Aigoin who posted the fifth fastest time. Making a 'bad tyre choice in Q1' and then suffering from a combination of poor driving and his XB8 not having a good balance in Q2, the former Champion said he 'went back to basics'.  Running his standard set-up and switching to Pro-line's X2 compound Bow Tie tyre he said things were much improved.  While he had 'no big crashes' he said for Q4 he would try to further improve his driving and with the car now having a good base set-up he would just make some small adjustments.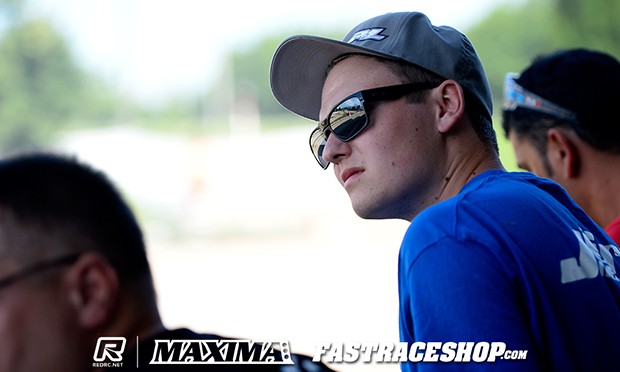 Finishing ahead of 2012 Champion Darren Bloomfield, Joern Neumann was happy to complete the Top 6.  Having been 8th in Q1, the Serpent driver would crash in the second qualifier leaving him 14th fastest.  Describing his Maxima powered Cobra 2.2 as feeling alright, the German is looking for a little more steering in the bricks sections.  To try improve on this he will further reduce the car's rear toe-in. Getting out of shape half way through Q3 losing over 2-seconds, the multiple electric offroad European Champion said his lap times are 'OK' and he feels with a clean run he has got Top 5 pace.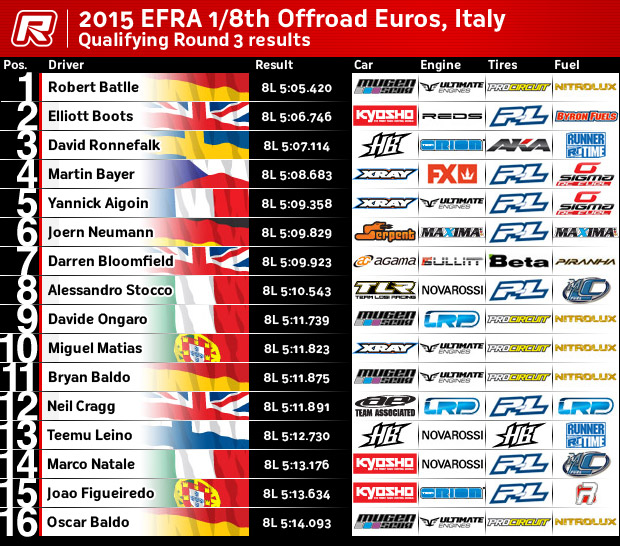 View the complete results here.
View our event image gallery here.

---