July 11, 2015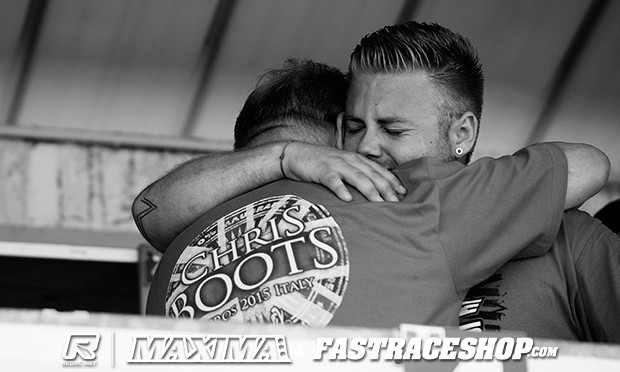 Elliott Boots is the 2015 1:8 Offroad European Champion, the driver renowned for his outright speed finally coming good to claim the first major title of his career.  Top Qualifier at the 35th running of the championships, the Kyosho driver would end the reign of former team-mate David Ronnefalk by leading home the HB driver by almost half a lap of the Ongaroring.  In front of a hugely supportive Italian crowd Alex Zanchettin would complete the podium in Sacile ahead of home hero Davide Ongaro.  Unfortunately for Ongaro's Mugen team-mate Robert Batlle his race would end before it had even started when his front centre driveshaft came out during the final countdown to the cars being put down on the grid.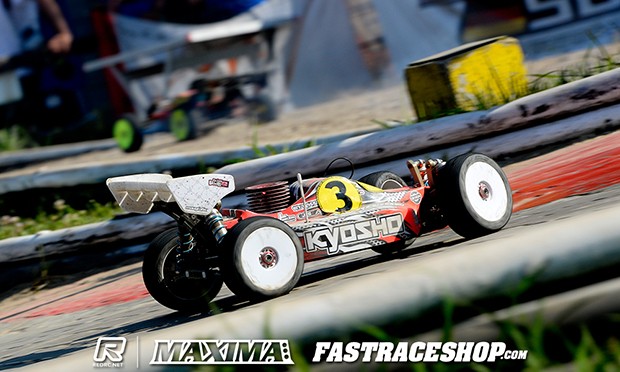 Finding his first big title 'quite emotional' and struggling to hold back 'tears of joy', Boots said he was 'unbelievably happy' as he has 'never won anything like it before'.  Top Qualifier at the 2012 World Championships, but failing to make it into the Main in Argentina, Boots came into the event with a new approach saying he has been working on his consistency and being 'less erratic'.  Describing beating Ronnefalk as a 'surreal feeling', the 22-year-old said 'no mistake basically' was the key his victory.  Starting 3rd on the grid behind Ronnefalk and Ongaro, he said he knew he needed to stay with Ronnefalk at the start as 'its when he gets away that he is dangerous'.  Admitting Ronnefalk was able to pull away slightly he said he just kept at it and when the leader made mistakes he was able to catch back up.  Not realising Ronnefalk was on one stop less he said his pit crew of Michael Cradock and Marco Rossi did a superb job of updating him and talking him through the race.  Giving Kyosho their third consecutive Euros title, the win marks the first title for Reds Racing, the Italian engine being the dominant brand of the event.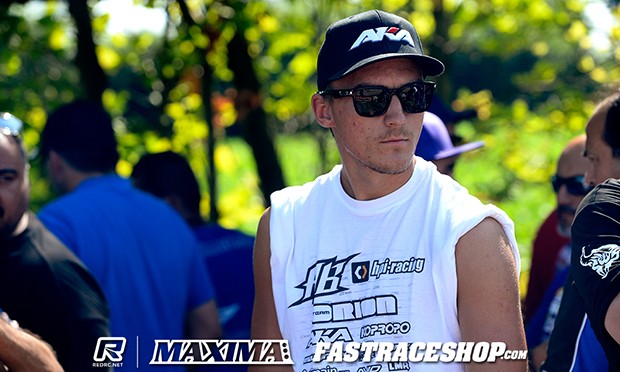 Ronnefalk said he wasn't disappointed with second.  His first year into a four year contract with HB/HPI Racing, he said 'I'm still learning and every race is a new experience but we will be stronger next year for it'.  The 19-year-old said he felt overall the pace was there and had he ran a clean race it would have been a very close finish.  Having not had the right compound of the AKA City Block front and iBeam rear he had used in qualifying available to him for the final he said having run Impacts in Q5 knew they should be ok.  Running the new 'long wear' soft compound he said they proved to be a little slower and around 20-minutes got soft making his car twitchy to drive leading to mistakes.  Initially stopping for fuel at 6:40, he said with Boots having a little more speed they switched to 7:30 to make up the time by saving a stop.  With his Orion powered D815 coming to an abrupt stop on a landing at the back left corner of the track due to a rock and ending up on its roof this negated much of the benefits of the long runs but Ronnefalk said while risky it still helped him to stay ahead of Zanchettin for second.
With this his first time to make the final at the Euros, 2014 World Championship finalist Zanchettin was delighted to finish on the podium a result that got him a huge cheer as he took the chequered flag.  Describing the race as 'amazing', he said while it was great racing in front of a home crowd, just like at the Worlds, it also brought a lot of pressure.  Starting the race undecided on whether to stop at 9 minutes or 7:30 he said when he saw others stopping at 7 he went safe. Suffering 'two really bad mistakes', the 20-year-old Italian Champion said his Reds Racing powered 8ight 3.0 was 'really good'.  A late push would see him close in on Ronnefalk until a mistake on the last lap.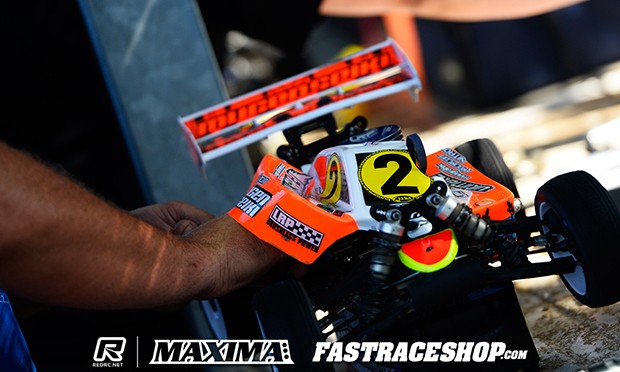 Managing to snatch the lead just as the field came around to complete the first lap, Ongaro said while the result could have been better finishing fourth was still a great result.  Admitting the crowd played a bit on his mind over the race, ever pass or bobble he made getting a huge reaction from the packed grandstand, the 14-year-old said a couple of mistakes cost him time that he couldn't recover.  Pleased to be in the mix with 'some of the best in the business' he said overall it was a great week for him.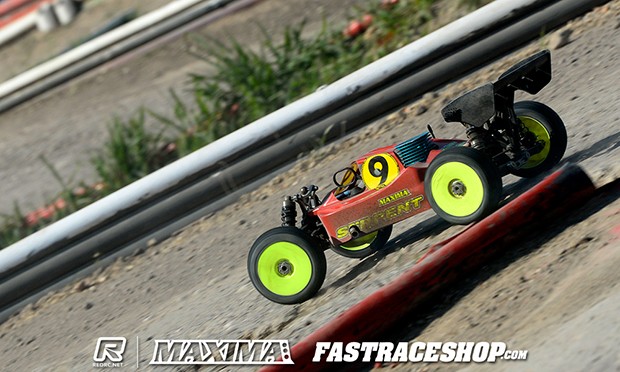 Setting the fastest lap of the 45-minute final Joern Neumann would finish 5th ahead of another of Italy's emerging talents Riccardo Berton.  The Serpent driver had a 'pretty bad start', a crash losing him half a lap and dropping him to last.  Describing his Maxima powered S811 as running 'perfect', the German said after that it was a good race and he was able to work his way back up to the front.  While happy with his driver's race, Neumann's pitlane & Serpent designer Gerd Strenge was frustrated about having his Pro-Line fuel gun 'robbed' at the end of yesterday's qualifying.  With all the guns individually number Strenge said he hopes who ever took it will return it to its rightful owner.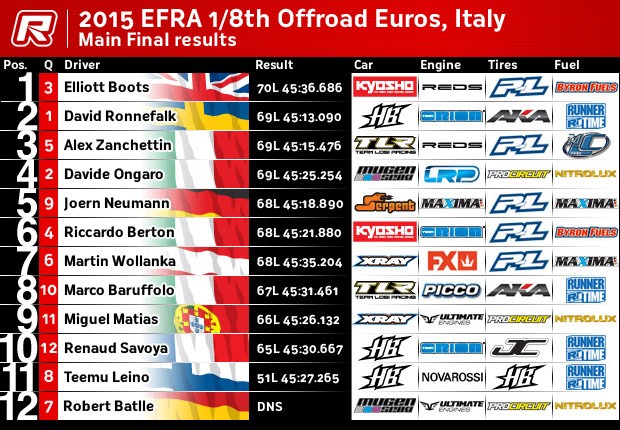 View the complete results here.
View our event image gallery here.

---