October 2, 2016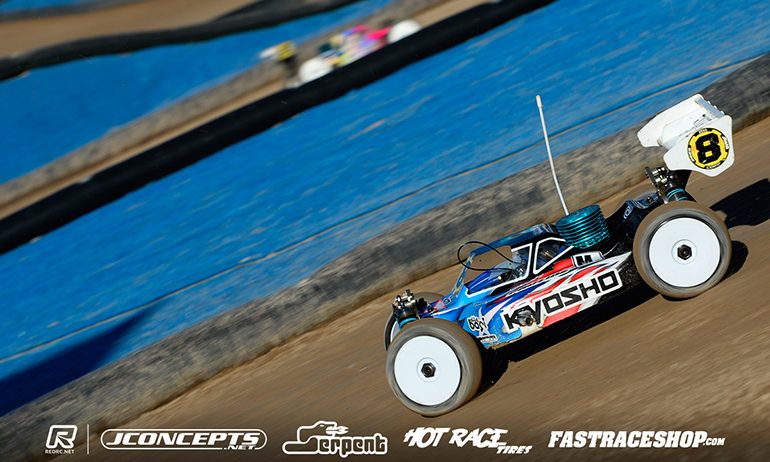 On what can best be described as a very leisurely opening day to the 1:8 Offroad World Championships in Las Vegas it was Jared Tebo who set the pace as drivers ran just a single 10-minute practice run each around the RC Tracks of Las Vegas track.   Posting a best three consecutive lap time of 1:42.818, Tebo led a Kyosho 1-2 from Elliott Boots with the separation less than 1/10th of a second.  Behind, Mugen's Cole Ogden would post the third fastest time while on a complete 10-minute race time it was his team-mate Adam Drake who would top the time sheets. With the focus of the first practice being to learn the track, something most drivers reported as not taking long, reigning champion Ty Tessmann would post the 15th fastest time summing up the track as 'not challenging yet'.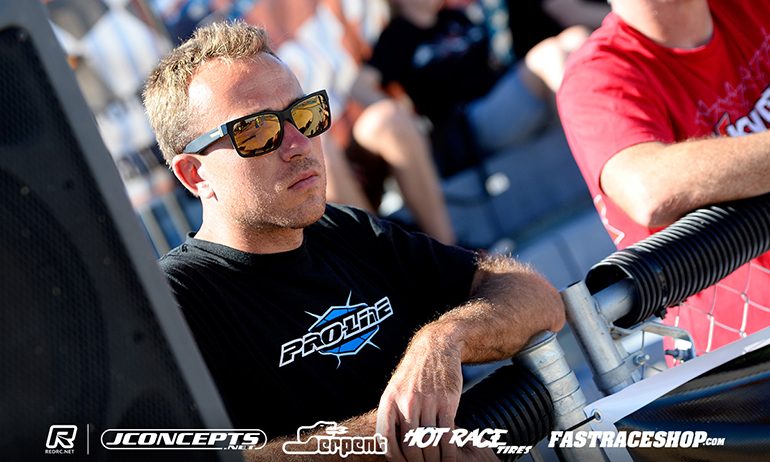 Running in Heat 13 of 16, the track conditions later in the round appearing to be more favourable for a quicker time, Tebo was pleased with his opening run saying, 'I couldn't be happier with my first run out there'.  Opting to run Proline Holeshot M3 tyres on his MX powered MP9 he said 'it felt awesome' and for the second practice in the morning he 'will not change anything'.  A good friend of track owner Chris Tocco, the former Worlds Top Qualifier said, 'I thought it was a great layout.  It flowed really well. Its fun and the best since the track opened'.  Describing the conditions of the first practice as 'loose & smooth', the American expects the track to get better as it roughs up adding as a positive that 'when it breaks up its not going to get crazy'.  Asked if any sections could effect a lap time he felt getting the corner before the brick section right would give a better run through the bricks and also on the following section leading on to the main straight.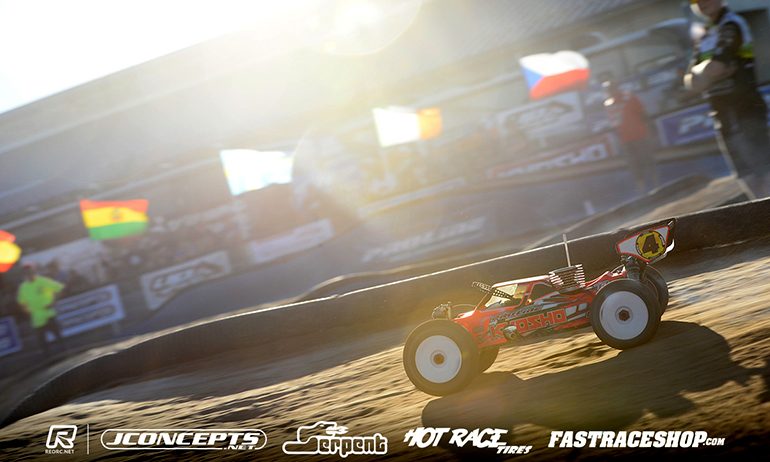 Boots was pleased with his first run saying 'I went out to learn the track and felt in the groove pretty much straight away'.  He added, 'Its a flowing fast track, I like it but we've only had 10-minutes on it so will change'.  The reigning back to back European Champion said with the 'cars pushing a little' in the loose conditions he just tried to focus on keeping tighter in the corners.  Running Proline M3 Electroshot tyres on his Reds Racing powered example of the MP9, the British driver plans to change a few things for the morning saying 'its practice so we need to use the track time to try things'.
Tessmann described his first run as 'OK' saying it was 'just about getting first laps in'.  The Canadian said while the shocks on his HB Racing D815V2 were 'a little heavy', he focused on getting a feel for the tracks option line adding he doesn't yet know which is better 'but going around the hump is easier'.  Running Proline's Electroshot tyre he will switch to a Holeshot for FP2 to 'see if its any better'.  While he said the track is 'not challenging yet', he predicts 'its going to get more difficult' but sharing Tebo's views concluded 'but its not got to get impossible'.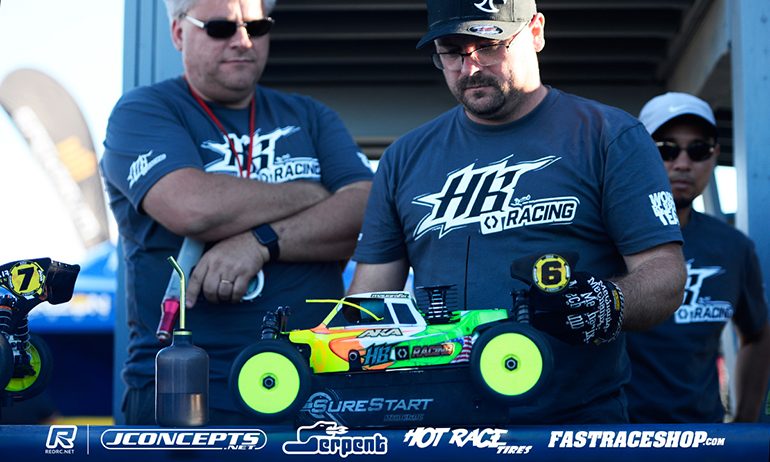 HB Racing team-mate David Ronnefalk was pleased with his opening run, the Swede slightly faster than Tessmann with the 13th fastest time.  Running on AKA Grid Iron super softs, the former European Champion summed up the opening run with 'it took a couple of laps to get used to the track but the balance (of his D815V2) was nice and it was super easy to drive and we know this set-up is pretty good when it gets bumpy'.  His only negative was that the car  'was pushing too much for my liking' and for tomorrow they will try to get 'more natural steering'.  Describing the track as 'super nice' and having a 'good mix of easy (sections) and places to lose or gain time' he said he prefers a rough track adding 'it will get there'.  Running a 7-port Orion engine in the first practice, Ronnefalk plans to test his preferred choice of a 3-port tomorrow.  While the 7-port has more speed he said the 3-port has a really good feeling on the bottom end adding he likes his engine to be 'snappy'.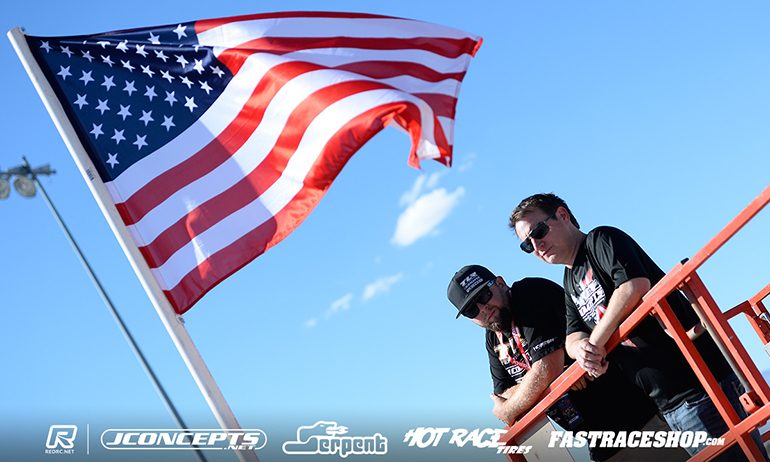 Leading the TLR challenge, Ryan Maifield would end the opening practice just ahead of Ronnefalk on 3-consecutive lap pace.  Having led the final at the 2014 Worlds before suffering a steering servo failure, he summed up his first run on the track by saying, 'everyone is doing the same times and when the track gets more character it will be better.  Right now it is simple to drive'.  Running JConcepts' new Teaser tyre on his 8ight 4.0, he said 'the track is going to dramatically change and its going to get a lot harder to go fast.  There are holes in the track already after one run'.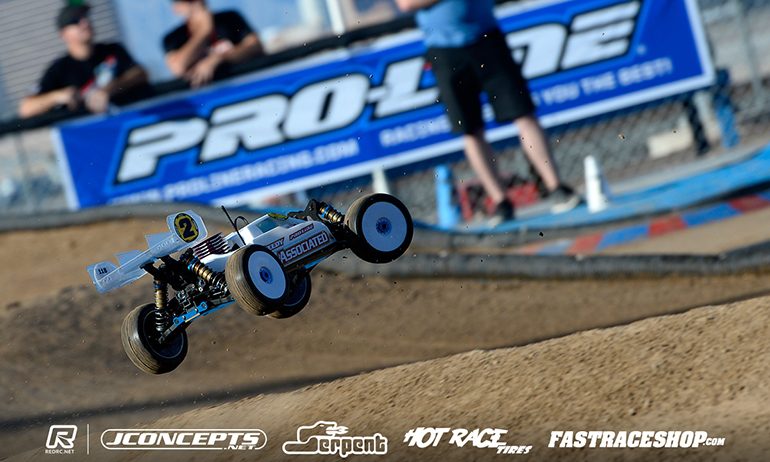 Setting the 6th fastest time behind Drake and Tekno's Ryan Lutz, Lutz setting the fastest lap of the practice with a 33.3, Team Associated's Kyle McBride was happy with his RC8B3 describing it as 'easy to drive'. Running a new prototype Pro-Line body for the run, the Aussie added that they need to work on getting more corner speed for tomorrow.  Describing the track as 'pretty simple', he said 'the layout is fun' but expecting it to get rougher he expects it will also get harder.  Asked if any elements of the track presented an opportunity to make up time he said 'sticking to tight lines was important as it was easy to get pushed wide'.  Team-mate Ryan Cavalieri, runner up at the 2014 Worlds, would manage only the 25th fastest time saying they need to run less front end camber to make his RC8 more responsive mid corner.  Describing the track as having a 'really good flow' with the 'jumps spaced pretty nice', the multiple electric offroad World Champion said the track needs to groove up more to start getting a good racing line to follow.
View our event image gallery here.

---