October 8, 2007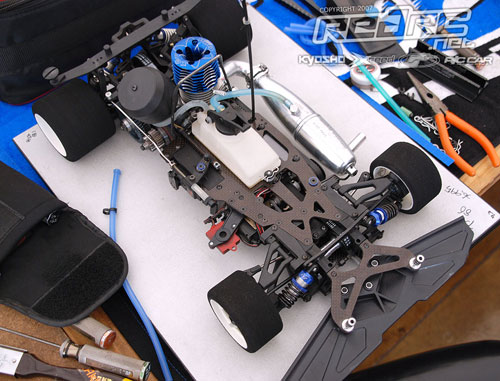 With everybody waiting for the track to dry, I took the opportunity to talk to Takashi Miyashita, head designer of the new Evolva M3 about his creation. Essentially a completely new platform in 1/8th scale from Kyosho, one of our event site sponsors, the new M3 has been designed to fix all the issues that the team had with the previous Evolva through strengthening and optimising the cars construction. When asked to explain what was new on the car, Takashi replied "only a few of the parts are existing parts", with the main new part being the chassis which has been designed to accept a smaller receiver pack, making for a narrower chassis plate.
The geometry of this car is however the same as on the previous chassis but the car has just been made narrower, lower and lighter. Other changes are the use of a rubber foam seal for the fuel tank to prevent fuel leaking from the tank, and new eccenters in the front and rear steering blocks and uprights to allow the height of the axle to be adjusted easily, thus changing the cars roll centre.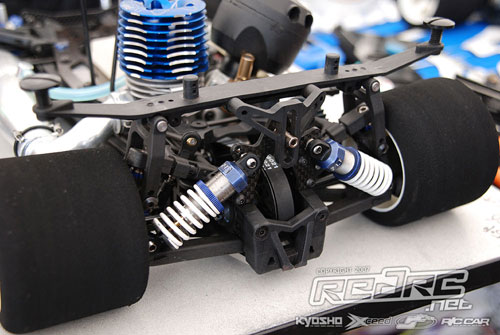 The rear of the car features completely new stronger plastics which also offer more adjustability than on the previous car, while as an additional feature, the car allows the rear wheelbase to also be adjusted through the use of spacers, similar to the front. The rear of the car now also has the rear body mount A-arms mounted to the centre of the rear upright, similar to that seen on both the new Serpent rear end and Mugen MRX-4X, of which you can find images of in our gallery.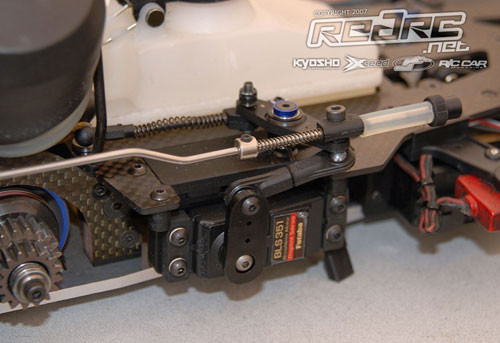 Another new feature of the car is the ability to mount the throttle servo in the stand up position, as well as the laydown position, something that offers great flexibility and choice to the racer. Finally the car features carbon side stiffeners on both sides which, combined with the front chassis stiffener, allows the racer the ability to completely change the cars characteristics by mounting or removing these parts. The car will soon feature a new 2-speed clutch shoe which hasn't yet been completed, but it will be ready in time for the cars release in December.
View more high resolution images of the car in our event gallery.
---