October 9, 2007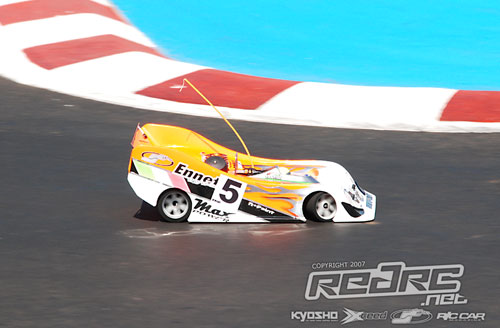 Heat 12 kicked off the 1st round of qualifying for the second group which has just taken place under very warm and sunny conditions. Making 5 minutes is proving to be a problem and in this, the quickest heat, a number of quick drivers came to a stop before 5 minutes like Ielasi and Swauger, while in a lot of cases just to be safe the racer took on a 2 stop strategy. This the quickest heat has seen Serpent racer Massimo Fantini go quickest after the round with a controlled 33 lap pace that saw him finish 2 seconds ahead of Kyosho ace Lamberto Collari in 2nd, while a further 2 seconds back was Shepherd Velox racer Robert Pietsch. The top 3 came from Heat 12 while the next 2 places came from racers in the 10th heat that saw 1/8th scale newcomer Jilles Groskamp put his Sirio powered Kyosho in 4th less than a second ahead Serpent racer and current Japanese National Champion Yuya Sahashi, who is now sitting in 5th.
Top 5 after round 1 (unnofficial)
1. Massimo Fantini – 33Laps 10.10.475
2. Lamberto Collari – 33Laps 10.12.229
3. Robert Pietsch – 33Laps 10.14.506
4. Jilles Groskamp – 33Laps  10.15.759
5. Yuya Sahashi – 33Laps 10.16.421
Heat 7 are still running their 1st round but round 2 will start soon and we will bring you a full report and driver quotes at the end of this round as well as the full results list.
---