May 24, 2019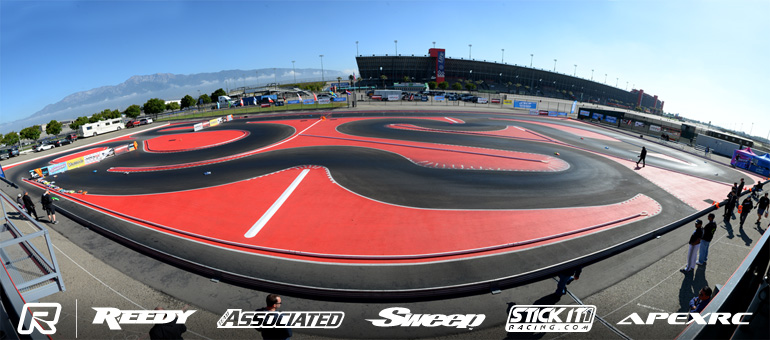 Track Name – Steel City RC Speedway
Owners – Phil & Kyle Goodwine
Country – USA
Location – Auto Club Speedway, Fontana, California
Direction – Clockwise
Surface – Asphalt
Opened just a little over a year ago, the brand new Steel City RC Speedway located at the full size Auto Club Speedway has quickly risen to prominence after being chosen as the replacement home of the legendary Touring Car Reedy Race of Champions and also securing the 2019 1:8 Onroad World Championships.  Following the announcement that the 21st running of the Reedy Race would be the last at one of the sport's most iconic tracks, Tamiya Raceway, the search was on to find a suitable new home for the most prestigious touring car race to be held on American soil.  Step in Phil & Kyle Goodwine, the father and son creators of Steel City RC Speedway, a track that is very distinctive in its red coloured infield.  With the small Tamiya track's super popular layout and infamous kink always going to be a benchmark that would be hard to replace, the nitro oriented Steel City track would not seem the most logical choice.
Build on an area 250ft wide by 150ft deep for a track length of 1000ft, the track has been reduced by about 25%.  To put the scale of that in to prospective, the piece they have cut out of the track layout is the size of the entire Tamiya track.   The story behind the track name and its coming to be is an interesting one.  Originally the land on which the track is build was part of the Kaiser Steel, the 2nd largest steel producer in the world during World War 2.  The company eventually went bankrupt and was bought by Penske who built the full size motor speedway.  Running an electric touring car race in one of the parking lots during the Indycar weekend at the track, that was the start of the relationship between the real track and  Goodwines who then negotiated a lease to build the impressive looking track that is now Steel City RC Speedway.
With rain on Thursday limiting drivers to just one damp practice, and just two dry 4-minute practices this morning (Friday) before the first of the heads up races, defending champion Marc Rheinard's first impressions of the track layout was, 'its ok, but for Reedy Race I thinks it is too open and too fast'.  Former multiple Champion Ronald Volker echoed those thoughts saying, 'it's not a difficult layout however it is high speed, so for heads up racing it's going to be tricky. I'm not sure what to expect for racing'.
Image Gallery
---