August 26, 2016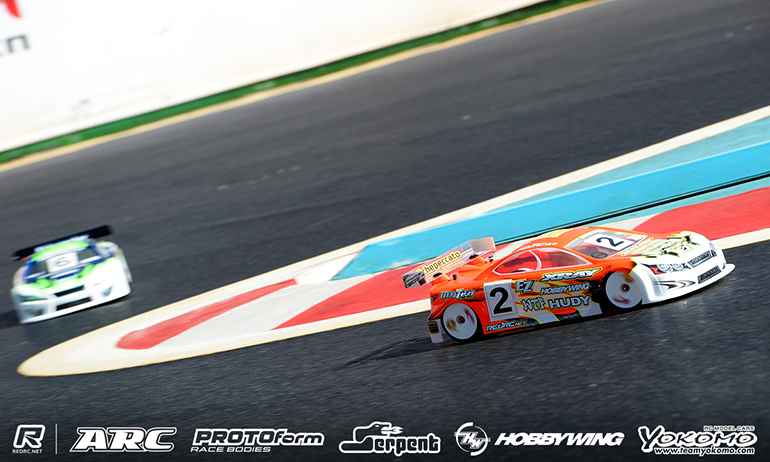 Having conceded Q3 to Ronald Volker with a series of driver errors Bruno Coelho jumped back into control of qualifying at the Touring Car World Championship in China.  Claiming his third TQ run, the Xray driver was to top the fourth round ahead of Marc Fischer as his so far closest rival Volker crashed on the final lap breaking his Yokomo when a P2 was on the cards.   Running in the same heat as Fischer, heat 14 of 15, Akio Sobue would get a third followed by Alexander Hagberg, both drivers not happy with the cars for the round.  Having broken into the Top 6 for the first time in the previous round, Marc Rheinard would again post a P5 run ahead Yokomo's Nicholas Lee.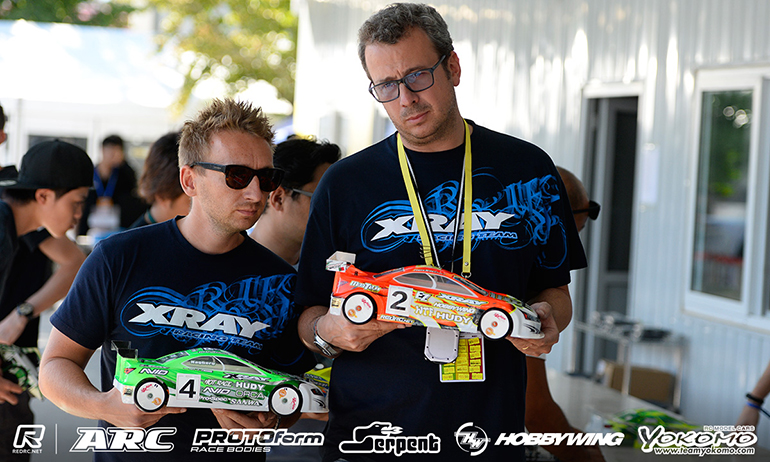 With only Volker now able to deny him the overall TQ in Beijing, Coelho said his latest qualifier was 'very good' but added 'the set of tyres was not good'.  Making sure not to repeat the mistakes that left him P3 in the previous round,  the 2014 Vice Champion said his Hobbywing powered T4 2017 'had super steering one side and not good other side' something he said was down to the new set of tyres, Q4 designated a new tyre round.  With the rear end getting loose a number of times at the end of the straight he said the way the car ran was 'super strange'.  Having to use the same set of tyres for the penultimate qualifier which will bring Day 3 of the Worlds to a close, he said he will have to 'be careful'.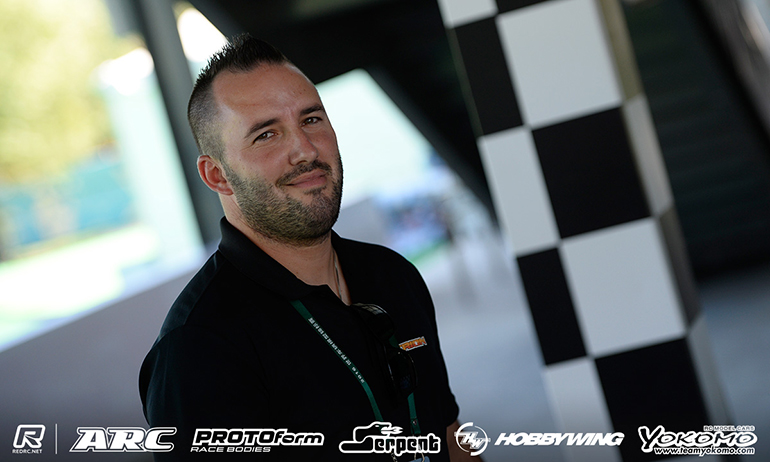 Having a previous best of a P7 in Q3, Fischer said 'for sure it was something with the tyres, maybe I got lucky with my set'.  Driving for the Italian manufacturer Capricorn, who are better known for their onroad nitro achievements which include the TQ at this year's 200mm World Championship, the German said, 'I also changed the car (set-up) and it was better but the biggest point was the tyres'.   On his own driving he said, 'at the beginning I take it a little bit easy expecting the car to push but it was better than before'.  He continued, 'I got lucky Ronald crashed but I'm happy with second'.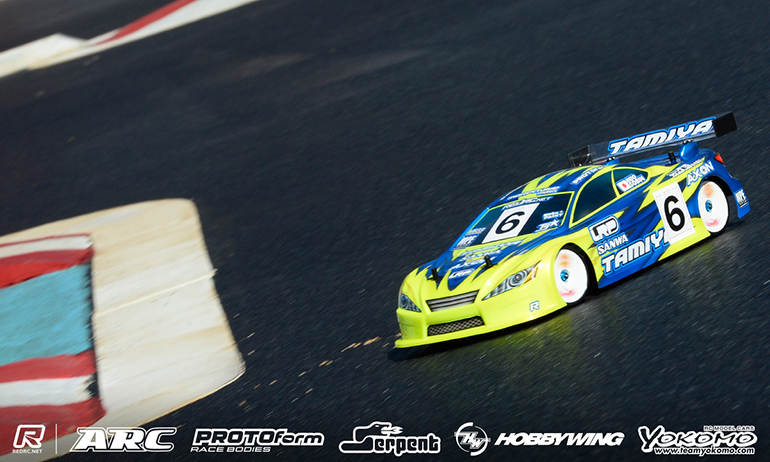 Having spun on his opening lap in the previous round missing out on a TQ run by just under 1/10th of a second, Sobue joked, 'this time no spin'.  The Tamiya Racing Factory driver continued 'we made a small change, not good, the rear was loose and I can't push'.   With his car competitive in Q3, the 2014 Finalist who qualified 7th in Florida, plans to revert back to that set-up for Round 5.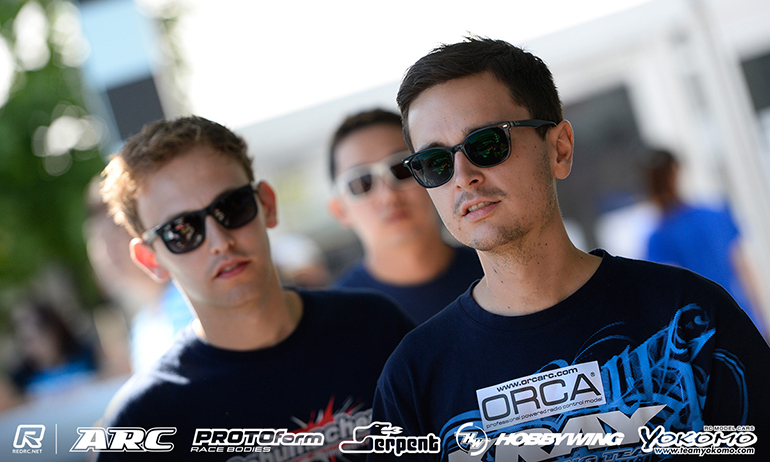 After starting the day with a motor issue but solving it for Q3, Hagberg would suffer further electrical problems.  The Xray driver said changes to his chassis gave him a 'much better' car but after 3-minutes he 'had no power'.  Asked what the problem is he said the electric are 'overheating' and this 'probably cost me 2nd place'.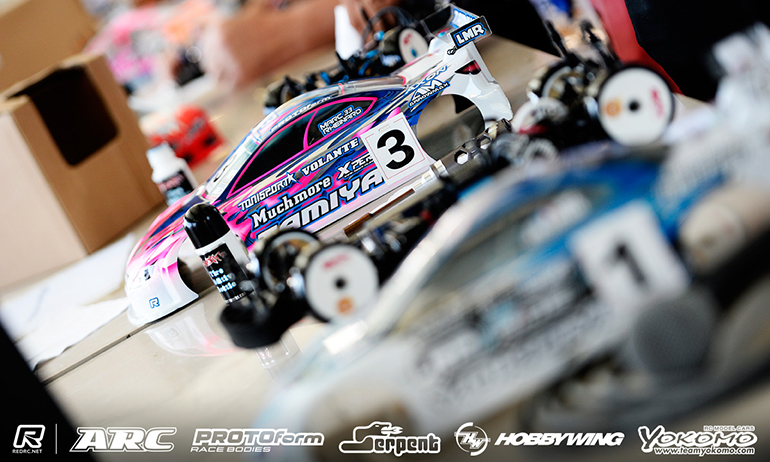 A somewhat defeated looking Rheinard said, 'the car is good for the first minute but then it just gets slower'.  Setting the fastest lap of the round, he continued, 'Fischer could close in on me so easy, I just have no grip'.  Looking at the time sheets he said, 'working on 3-laps I'm almost there'.  With Coelho best three consecutive laps 52.772, Rheinard was the only other drive to manage a 52-second pace on 52.810.  It was an improved round for former World Champions with 2012 Champ Jilles Groskamp getting into the Top 10 for the first time with a P8 behind a much improved Awesomatix of Viljami Kutvonen who also posted his first Top 10 run.  Inaugural Champion Atsushi Hara, who was seeded fifth, managed to round out the Top 10 however former team-mate & 2006 Champion Andy Moore, now team-mate of Groskamp at Team Infinity, couldn't keep his run of P8s going, a mistake leaving him 13th fastest.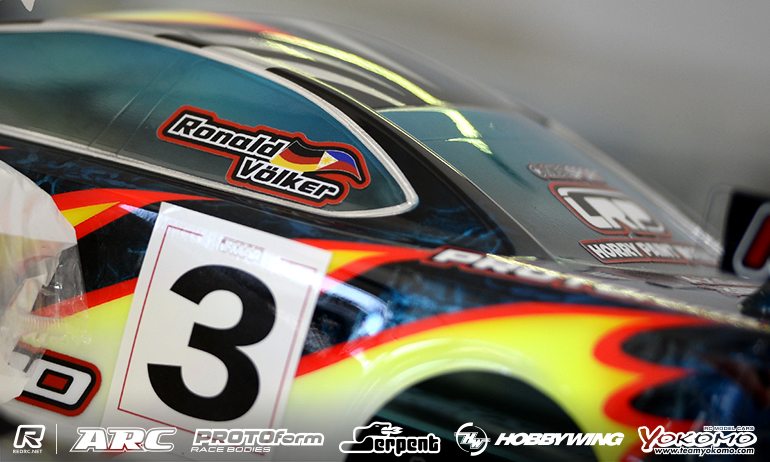 Talking after the round, Volker said, 'we were head to head but half way the car started to understeer'.  He continued, 'I felt close again', his fastest lap marginally quicker than Coelho's. Asked about his error, the European Champions said, 'the last lap I jumped the curb slightly and something broke and I lost second'.  Afterwards Volker's race engineer Yukijiro Umino confirmed the prototype BD8 suffered a broken c-hub.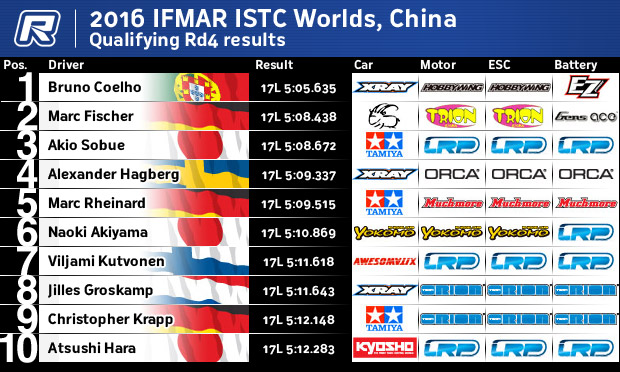 View our event image gallery here.

---