1. Jared Tebo – Kyosho/Orion – 10/7:33.897
2. Ty Tessmann – HB/OS Speed – 10/7:39.789
3. Cody King – Kyosho/Reds Racing – 10/7:40.754
4. David Ronnefalk – Kyosho/Orion – 10/7:43.211
5. Austin Blair – Kyosho/RB – 10/7:50.036
6. Ryan Lutz – Durango/Alpha – 10/7:54.214
7. Barry Pettit – Mugen/OS Speed – 9/7:00.867
8. Renaud Savoya – Xray/Orion – 9/7:01.840
9. Mark Pavidis – TLR/OS Speed – 9/7:02.247
10.Drew Moller – Mugen/Novarossi – 9/7:02.962
11.Tyler Vik – Xray/FX – 9/7:03.220
12.Josh Wheeler – Xray/OS Speed – 9/7:03.664
Saturday, February 22, 2014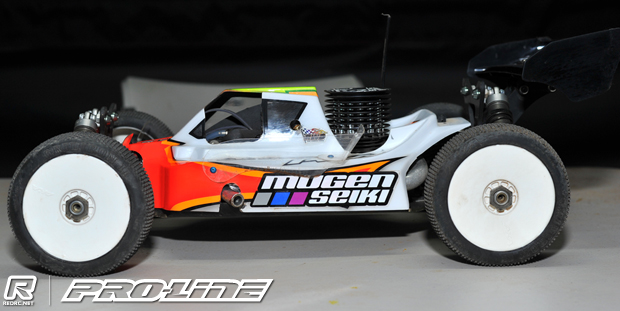 Chassis: Mugen MBX7
Engine: OS Speed
Tires: AKA
Radio/Servos: Futaba
Remarks – The newly signed American driver is having a great start to the 2014 nitro season with his MBX7, sitting second after two rounds of qualifying on his racing debut with the car. Having paid a lot of attention to the aerodynamics, Carson chose to use a Bittydesign Force body with the addition of his own spoilers on both the front upper arms and the body sides to increase the overall downforce. His first race with his new ride he is playing around quite a bit with the set-up but in terms of tires he has chosen AKA Grid Irons in soft compound as he believes the Supersoft compound doesn't behave that well on the bumps, preferring consistency over a possible quicker choice.
Image Gallery
Saturday, February 22, 2014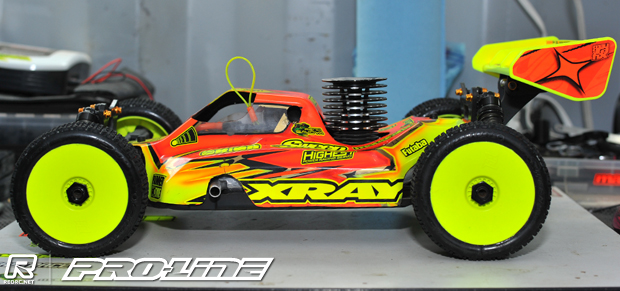 Chassis: Xray XB8
Engine: Orion RS
Tires: Sweep
Radio/Servos: Futaba
Remarks – The Xray factory driver is running the newly released XB8 buggy, using a variation of his standard setup. To deal with the track conditions he has played a bit with the diff oils going 7k-7k-3k, and switched to a 2.5mm front sway bar. He is also using brass weights (15g) on both the front and rear hubs to help settle the car over the bumps. Having raced silver Hexagons, his plan is to try some different tires for the third and final round of qualifying.
Image Gallery
Saturday, February 22, 2014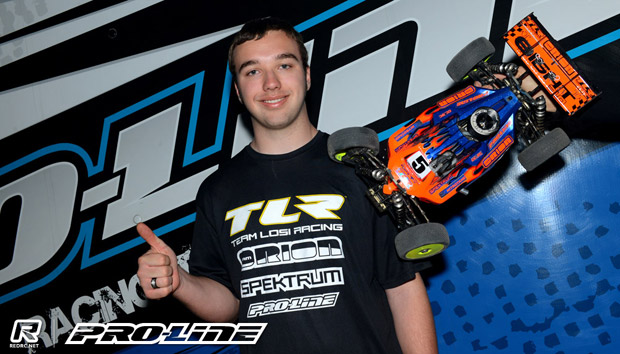 Dakotah Phend has wrapped up early the overall Buggy TQ honours for the 15th Annual Dirt Nitro Challenge in Phoenix, Arizona, as he again stamped his authority on qualifying at the Fear Farm. Having best mastered the slippery conditions of Q1, the Team Losi Racing ace would master the totally different track drivers faced in Q2 to take the round by over 4-seconds from the Mugens of Carson Wernimont and Taylor Peterson. Having suffered a DNF in Q1, defending champion Ryan Maifield claimed a fifth for the round, the Associated driver much happier with his package the second time of asking.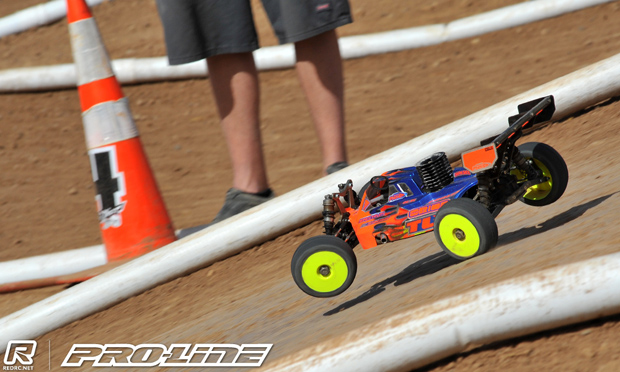 His first time to TQ at Joey 'The Dirt' Christensen's World famous signature event, a pleased Phend said track conditions were 'a lot better' second time round with there being 'a lot more traction'. Leaving his buggy and tyres the same as he ran in Q1, the 17-year-old said the run started off well but got rough for a few laps but luckily he was able to 'pull it back together by the end'. With pole position for Sunday's 1-hour final in the bag he plans to use the final qualifier to test a bigger pin tyre to gauge how it works, the main event set to take place in similar cool after-dark conditions as in Q3. Having run Pro-Line M3 Holeshot tyres for both his TQ runs he will use Blockade for the final round.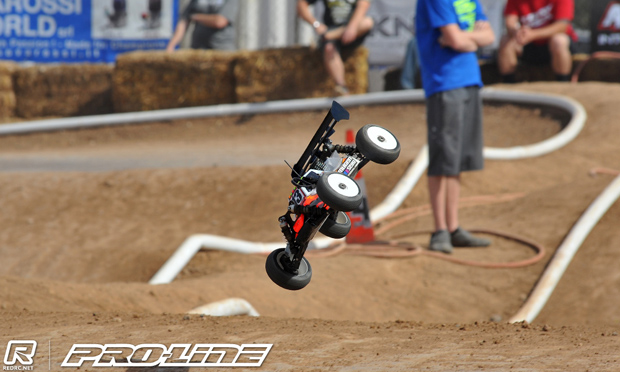 Describing conditions as 'more normal this time', Wernimont echoed Phend's views on the track saying it had 'a lot more grip'. Also leaving his OS Speed powered Mugen the same as he ran it in the opening qualifier, he said the buggy, which is new to him for the 2014 season, seems to be good in 'any condition thrown at it'. 'Super easy to drive', he said this should help him put in a solid drive in the final. Planning to leave the set-up as is for the last heat he said he might try a different tyre but he will make that call based on how the track looks nearer to the time.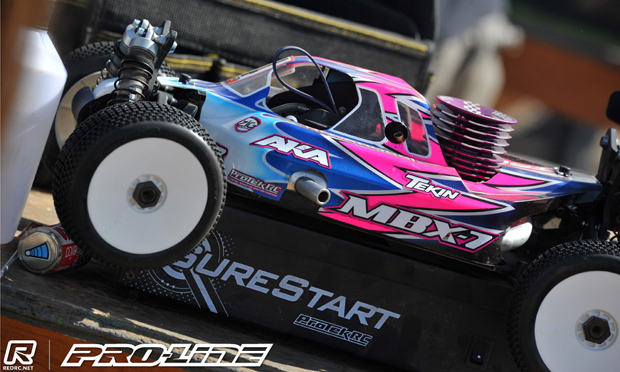 'Finally finished one', that was how World Championship finalist Petersen summed up his Q2. Suffering 'a mechanical in Q1′ and having had a tough time in Truggy qualifying yesterday, the 24-year-old joked he now had 'showed up for the race'. 6-seconds off Phend's time, he said said his buggy wasn't the fastest but he 'just didn't crash' and from that approach he came away with a good result. Running soft AKA Grid Iron tyres on his Novarossi powered MBX7 he said he will stick with them for the final round, the only change planned being to fit a stiffer clutch.
Mugen team-mate Barry Pettit would take his OS Speed example to the fourth fastest time. The 21-year-old said he went down on the centre diff oil for Q2 giving him more forward bit. Able to run 'clean laps' he said he felt 'comfortable' with the buggy and with two good runs, him 8th in Q1, he would use the last qualifier to test a bigger pin tyre in preparation for the final.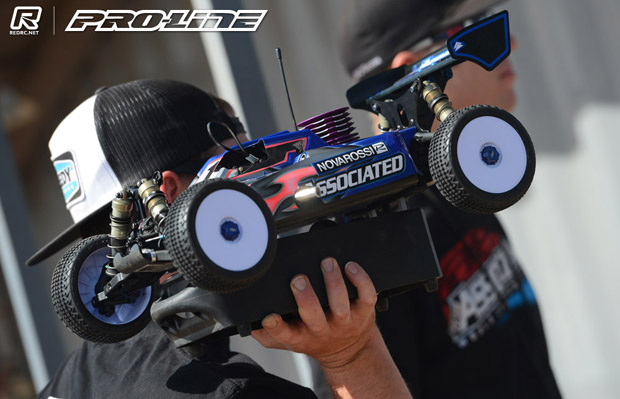 Despite two crashes, one which required his prototype RC8 to be marshalled, Maifield was happy with how Q2 went. Having suffered a flame out in Q1 he fitted another Novarossi engine adding he was 'super impressed' by how it ran. Also changing to a softer compound JConcepts Metrix tyre he said the car was 'easy to drive' although they did experience an issue with the servo saver becoming loose but he said with a new car such small gremlins are par for the course. The Arizona ace said he now has 'a lot of confidence for the next one'. Team-mate Ryan Cavalieri, who posted the 8th fastest time said he drove better second time round adding he felt the buggy was better too but he would lose time due to traffic issues. Also suffering from a loose servo saver, he said it wasn't a big issue other than the steering feeling a little less precise than he would normally like it.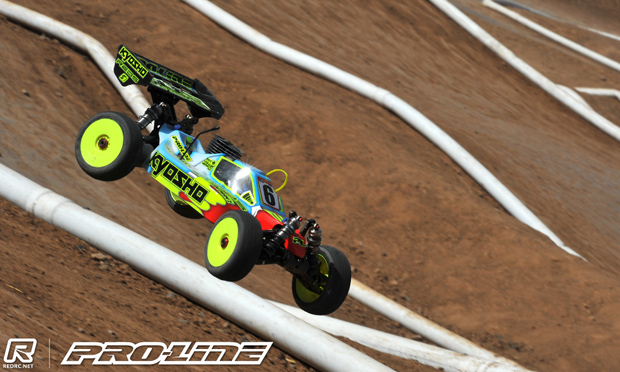 Completing the Top 6, Cody King described the track as 'scary' adding that it 'doesn't like r/c cars much'. The 2010 World Champion said overall the run was 'much better' than Q1 when he 'crashed a lot'. Going around the track 'super slow' he said he watched everyone 'crash & tumble' allowing him to come away with a good round. For his final qualifier the Kyosho driver has a few ideas for set-up changes wanting to try to make his Reds Racing powered MP9 easier to drive. Finishing less than 1/10th of a second behind King was his team-mate and last year's Top Qualifier Jared Tebo who found himself the victim of others crashes over the 7-minutes.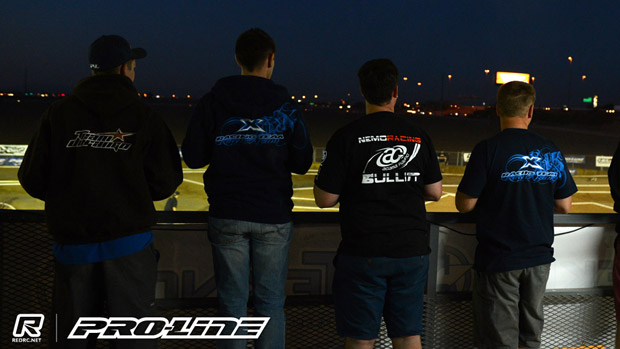 With David Ronnefalk suffering a bad last lap to finish 12th, his Kyosho ending up on its roof, Renaud Savoya was the fastest European in Q2 setting the ninth fastest time. The Xray driver ran everything the same as in Q1 adding that he track changed a lot. Aiming for a clean round and running a potential TQ time in the B heat, he said he still managed to put his XB8 'upside down once'. With a starting position in the A-Main now safe, the French ace said he will test tyres in Q3. If the track is watered he will run Sweep's Battlestar tyre but if dry he will try their new Cubix tyre which has a bigger pin and should be better for the increasingly bumpy track.
View our event image gallery here.
Saturday, February 22, 2014
1. Dakotah Phend – TLR/Orion – 10/7:36.434
2. Carson Wernimont – Mugen/OS Speed – 10/7:40.714
3. Taylor Petersen – Mugen/Novarossi – 10/7:42.609
4. Barry Pettit – Mugen/OS Speed – 10/7:43.617
5. Ryan Maifield – Associated/Novarossi – 10/7:44.457
6. Cody King – Kyosho/Reds Racing – 10/7:44.577
7. Jared Tebo – Kyosho/Orion – 10/7:44.664
8. Ryan Cavalieri – Associated/Orion – 10/7:45.350
9. Renaud Savoya – Xray/Orion – 10/7:45.730
10.Josh Wheeler – Xray/Os Speed – 9/7:00.023
11.Joseph Quagraine – JQ/Reds Racing – 9/7:00.891
12.David Ronnefalk – Kyosho/Orion – 9/7:01.512
Saturday, February 22, 2014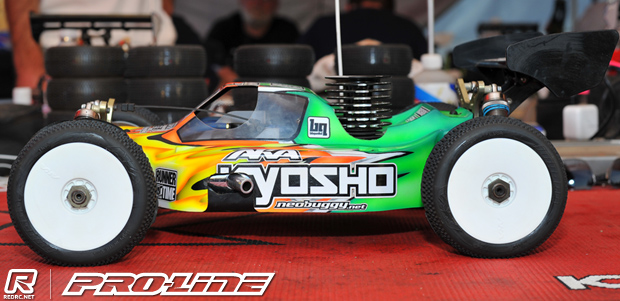 Chassis: Kyosho MP9 TKI III
Engine: Orion RS
Tires: AKA
Radio/Servos: KO Propo
Remarks – The reigning European Champion kicked off qualifying here at the DNC with a very convincing third using his stock setup. The only changes he has done to his buggy since arriving at the Fear Farm have been to use thicker shock oil to deal with the different temperatures and 1.3mm front piston holes instead of the usual 1.2mm. For Q2 he will try a softer clutch that is intended to help smoothen the engine powerband in the slippery conditions.
Image Gallery
Saturday, February 22, 2014