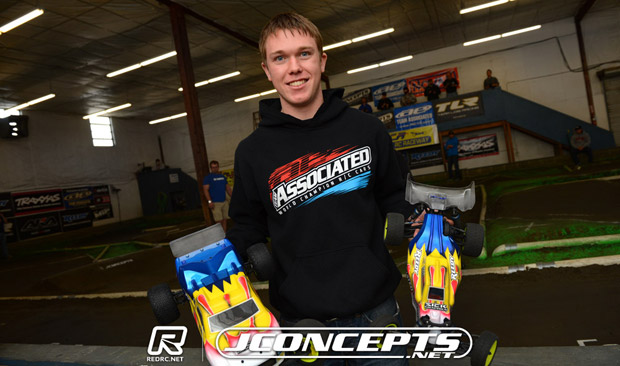 Having topped timed practice yesterday at the JConcepts Spring Indoor Nationals in Washington State, local ace Michael Schoettler backed it up with a TQ run in the opening round of 2WD Buggy qualifying at Tacoma RC Raceway.  The Associated driver dominated the round running a time almost 5-seconds quicker than fellow local Luke Smith.  Winner of the opening race of the series in St.Louis Tanner Denney was the best of the visitors the Associated team driver opening qualifying with 3rd for the round.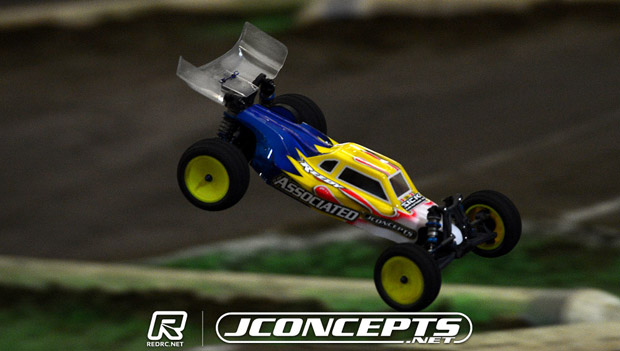 Pleased with his TQ run which proved very popular with onlookers, Schoettler said the run was the best his B5M has been all week.  Raising the rear inside ball set and switching to a softer front spring, to get the buggy to stay more on its nose rather than collapse on the rear, the 18-year-old said the two changes worked perfectly and he was very happy with the run.  Posting the fastest lap of the round with a 14.905, he will leave the car as is for Q2.  Running JConcepts Dirt Web tyres fitted with the company's new closed cell foam insert he will also continue with the same set of tyres.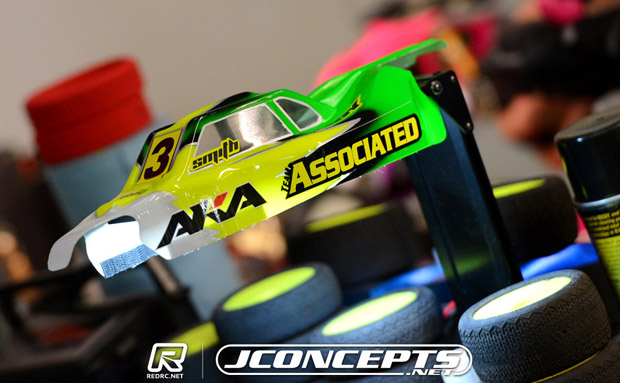 Switching from AKA Typo to their new Deja Vu tyres, Smith said his B5M was 'a lot better than practice'.  With this in mind, for Q2 the 20-year-old plans to run a fresh set of Deja Vu tyres so to have a second set broken in for the rest of the event.  In terms of his chassis set-up he said with the car working well he will leave everything as is for now.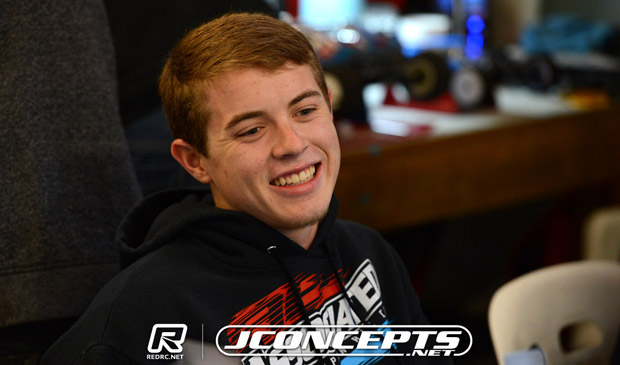 'Better than yesterday but wouldn't say magical' was how Denney summed up his opening qualifier.  The 18-year-old says he is still lacking steering despite some changes made after last nights timed practice to make the rear end more loose. Not sure exactly what he will change he said he will focus now on making a change to the front end of his Reedy powered B5M.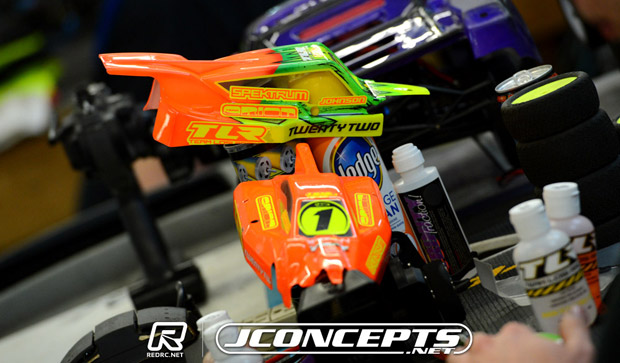 Setting the fourth fastest time was JC Johnson.  Driving his TLR22, the local racer said his aim for the round was 'just not to wreck' and overall it was 'a good safe run'.  Happy with his AKA Typo equipped buggy he plans to run it as is for Q2 and just drive a little harder.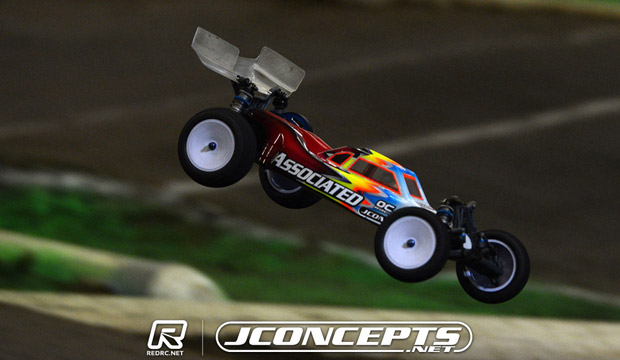 The second fastest of the visitors, Steven Hartson took his LRP powered Associated to the 5th fastest time after he 'crashed a few times'.  The 4WD World Champion said he was a little off the pace, lacking consistency.  Able to do 'a couple of fast laps but not every lap' he felt he overdrove a little and for Q2 his plans is to 'slow it down a little'.  In terms of his B5M he said he is happy with how its working and he has no plans to change anything for the moment.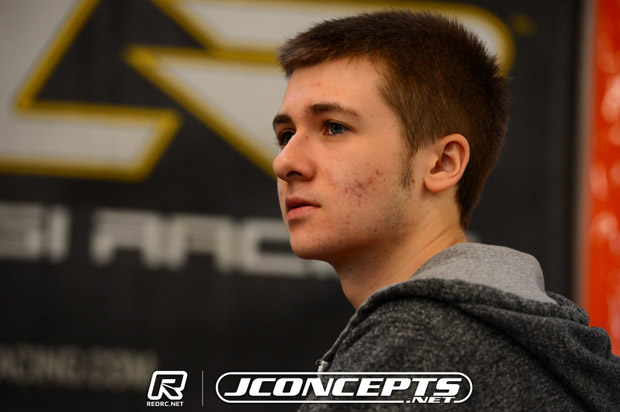 Driving a Kyosho RB6, Ryan Matesa described his opening qualifier to the sixth fastest time as 'bad'.  The 18-year-old felt he drove too conservatively adding that he was also a little put off by his position on the drivers stand.  Happy that his car is good he said for his next run he will try to get a better spot on the stand and push harder.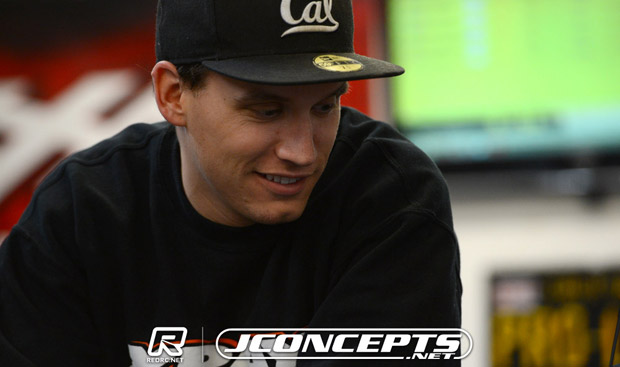 Posting the 7th fastest time Xray's Tyler Vik also felt he drove too conservatively.  Running in the lowest heat after missing the seeding run feeling a good nights sleep, after getting up a 4am to catch his flight to Seattle, would be better than any set-up changes, he said he had nothing to gauge himself against in the five car heat.  For Q2 his plan is to push harder after which a reseed of the heats should see him better positioned for Q3 & 4.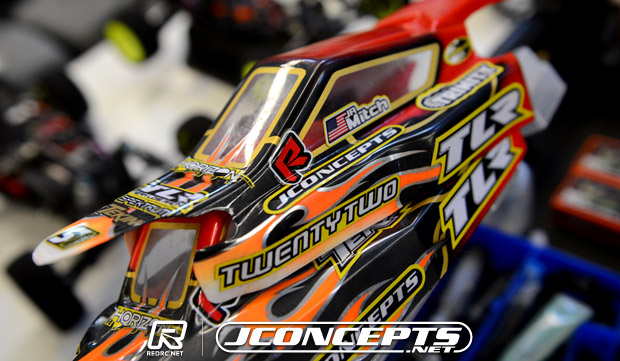 Team Losi Racing's JR Mitch completed the Top 8.  Making a shock set-up change ahead of the heat which he just got done in time, Mitch said he didn't get time to work on his TLR22′s slipper and it was too loose for the qualifier.  Having to drive wide lines to make the bigger jumps he lost time but the shock changes made the car a lot better with it not rolling as much and having much more side grip from the JConcepts' Dirt Web tyres.  For Q2 he said with a proper slipper setting he should be able to make a big improvement over Q1.
2WD Mod Buggy Qualifying Round 1
1. Michael Schoettler – Associated – 20/5:04.634
2. Luke Smith – Associated – 20/5:09.510
3. Tanner Denney – Associated – 20/5:11.057
4. JC Johnson – TLR – 20/5:12.247
5. Steven Hartson – Associated – 20/5:13.948
6. Ryan Matesa – Kyosho – 19/5:00.028
7. Tyler Vik – Xray – 19/5:00.462
8. JR Mitch – TLR – 19/5:01.249
9. Mike Brown – Schumacher – 19/5:04.798
10.Chris Gould – X-Factory – 19/5:05.943
View our event image gallery here.
Saturday, April 12, 2014 - add a comment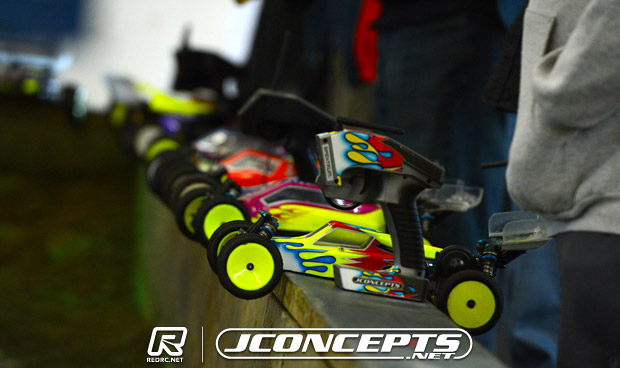 Qualifying makes up the schedule for today's action at the JConcepts Spring Indoor Nationals at Tacoma R/C Raceway with 34 heats to get through per round.  With 2 of 4 rounds to count for the final grid order, three of those will be run today with the fourth & final round set to run tomorrow morning. With the heats seeded on a driver's 5-lap average in a single round of timed practice last night a second reseed will be done after Round 2 of qualifying.
Saturday, April 12, 2014 - add a comment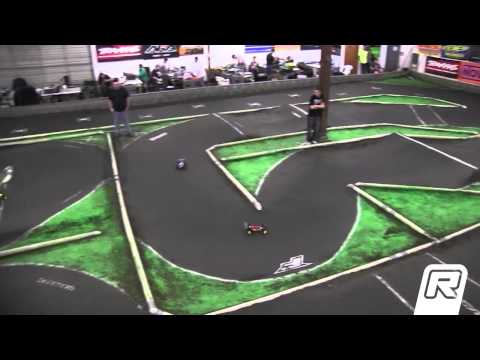 Saturday, April 12, 2014 - add a comment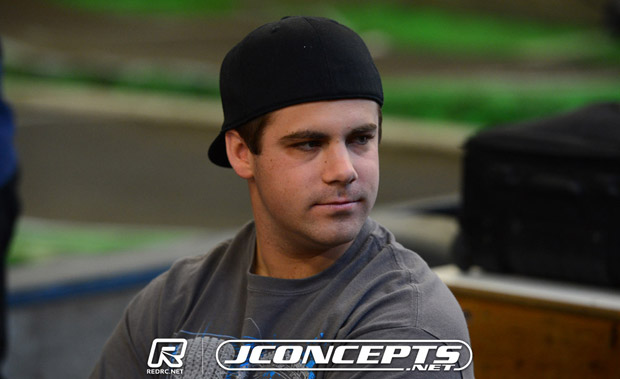 While there was no surprise at World Champion Steven Hartson topping 4WD Buggy practice at the JConcepts Spring Indoor Nationals at Tacoma R/C Raceway, local driver Michael Schoettler caused a bit of a surprise with an impressive timed practice run that makes him top seed for tomorrow's 2WD Buggy qualifying.  Overall it was a good finish to today's practice for local racers as they put their track knowledge to good effect to fill four of the Top 6 times based on each drivers 5-lap average time.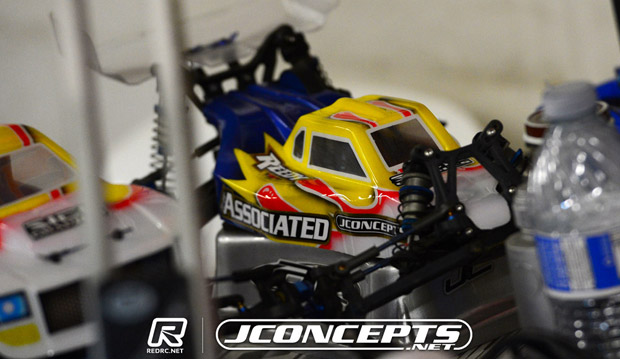 Driving an Associated B5M, Schoettler said his buggy ran well throughout the day and overall he was pleased with his performance among the high quality field.  With the surface offering plenty of traction, for tomorrow's qualifying the 18-year-old plans on make a few adjustments to his set-up as he looks the make the car less edgy.  Running JConcepts Dirt Webs, a tyre he said would be his regular choice for his home track, today he also ran JConcepts new Dirt Tech closed cell insert adding they 'worked really well',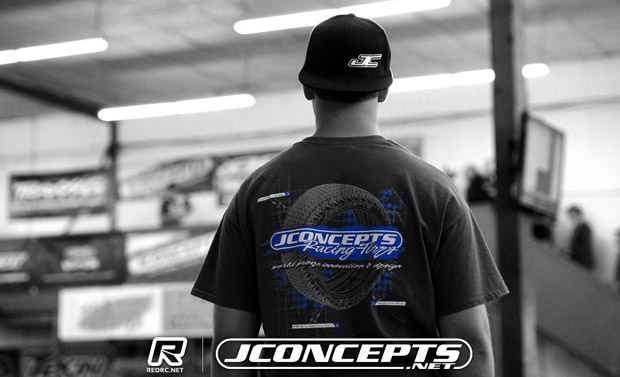 Hartson said his 2WD run was good but added he didn't have the speed of Schoettler.  With plenty of grip and steering from his B5M, the Californian driver plans to leave the JConcets Dirt Web equipped Associated the same for Q1 and just focus on making a clean run.  Despite topping 4WD seeding times from Associated team manager Brent Thielke, he described his B44.2 as only 'OK'.  Feeling it can be made to work better he is planning on switching to geardiffs for Q1 along with making a change to the oil in his front shocks.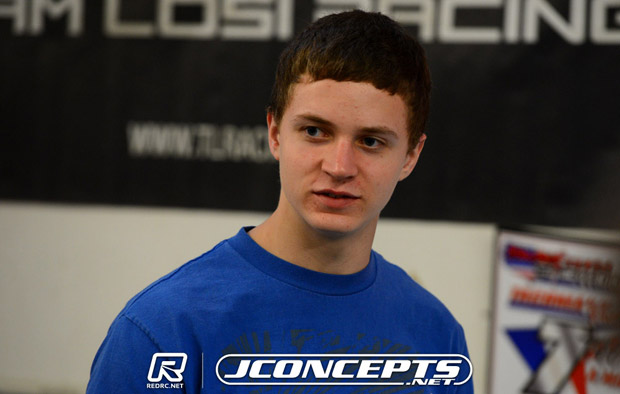 Setting the third fastest time with his B5M, Luke Smith said he has still work to do with the focus being on his tyre prep.  Another local driver, the 20-year-old said his car could do with more rear traction which in turn would help make it more predictable around the track. Running AKA Typos tires all round he said he will continue to use these feeling they will improve with the more running they get. 'Really decent' was how Thielke summed up how his B5M performed as he ran the fourth fastest time. Enjoying the track layout and its 'clean lines', he said in the run he experienced his first traction roll of the day and so for qualifying he will make a small camber adjustment.  Posting the second fastest time in 4WD Buggy, the Associated team manager said his B44.2 was 'not nearly as good as his 2WD'.  'Not as comfortable to drive' he plans to think overnight about what changes he needs to make, adding less rear droop is one such idea he is most likely to try.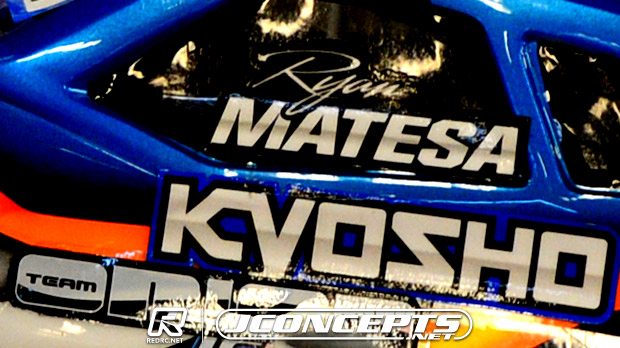 Behind Thielke we had the first non Associated 2WD with Kyosho driver Ryan Matesa posting the 5th fastest time.  Running an Orion powered RB6,  the local 18-year-old said it felt good and the plan is to run it as is for Q1 and instead 'just drive it better'.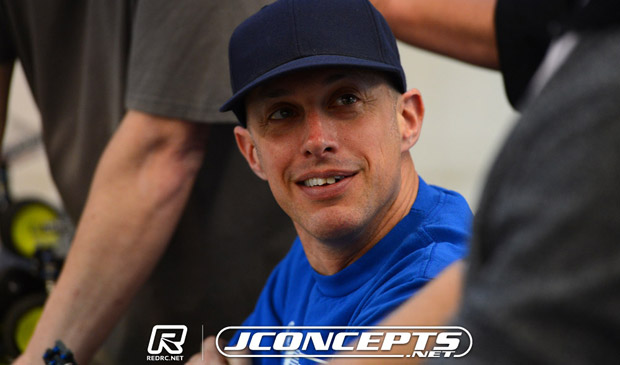 Another local racer looking to better his driving for qualifying is John Valentia.  Describing his run to the sixth fastest time as 'alright', he said just needs the driver to improve for tomorrow.  Running a JConcepts Dirt Webs equipped B5M in the timed practice he will fit another pair of the same tyre combo for Q1 using his targeted safe run to bring the tyres to the same level as the set he currently has so he has a back-up set available should anything go wrong.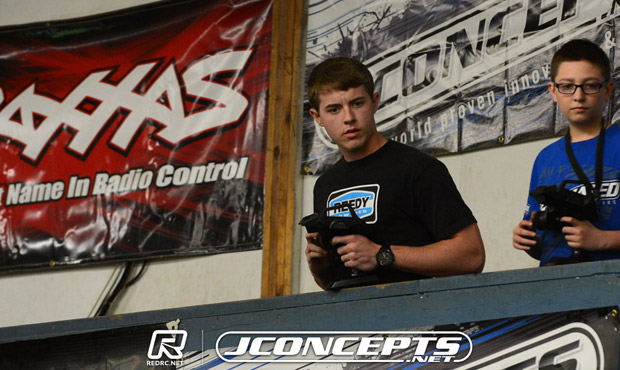 Winner of the season opener in Missouri, Tanner Denney didn't have a strong showing when it counted most and he ended up only 7th fastest.  Suffering a lack of steering on his B5M due to the huge rear end grip the buggy has he plans to make a set-up change to try free up the rear end a little.  Tanner had a similar run with his 4WD ending up 6th fastest.  Describing his B44.2 as 'hard to drive' he is considering running no tyre additive for first qualifier.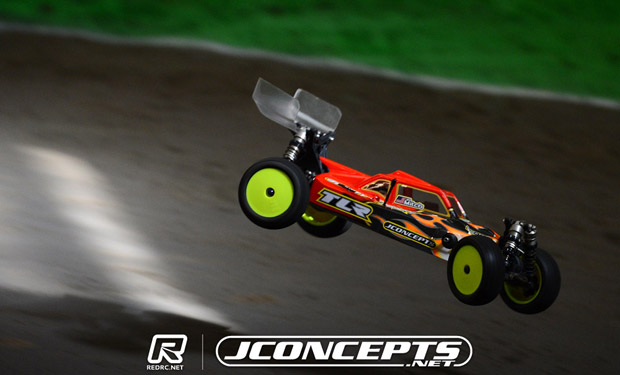 Third fastest in 4WD Buggy, JR Mitch was pleased with his run.  Happy with the feeling of his TLR22-4, he said the laps are 'not blisteringly fast' but they are consisent. Set to leave his chassis set-up unchanged for Q1 the Winter Indoor Nationals winner said he hopes to find some improvement in pace from his driving.
Behind Mitch in the 4WD Buggy reseed it was fellow TLR driver JC Johnson.  Another local racer, he said he was not representing that fact very well so far with 4th. With his TLR22-4 difficult to drive and lacking consistency he also feels he lost time changing between AKA and JConcepts tyres and for Q1 he will start of the day back on AKA.
View our event image gallery here.
Saturday, April 12, 2014 - add a comment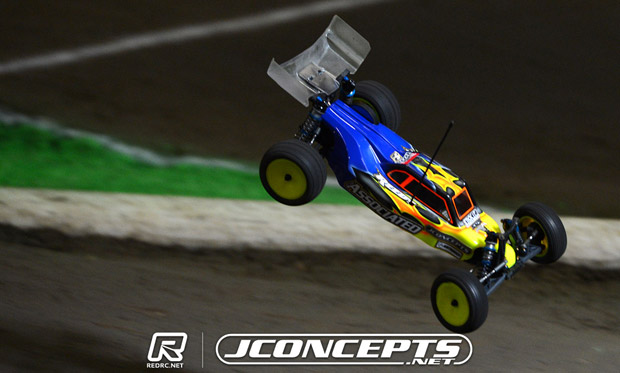 Playing host to its first ever JConcepts Indoor National Series race and being the first time for all of the series' front running drivers to visit Scott Brown's Tacoma RC Raceway in Washington State, drivers have used the day to get accustomed to the track. Having run a day of open practice, drivers have had plenty of opportunity to get in a lot of track time but it won't be until this evening's single round of controlled practice that will determine the seeding of the heats for tomorrow's qualifying that we will get an indication of drivers true form.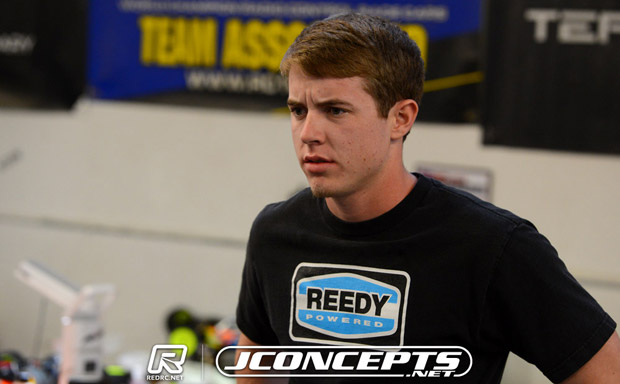 The biggest winner at the opening round of the series, the JConcepts Winter Indoor Nationals in St.Louis, when he took the first big race win for Associated's new B5 chassis, Tanner Denney has focused his attentions on his 2WD.  Describing his B5M as 'pretty solid', the 18-year-old said if he had any complaints about the car was that it was 'probably too hooked up'.  Making some small chassis changes most of his work over the day has been on tyres with him running JConcepts' Dirt Web tyre fitted with their new closed cell insert all round which he said is so far working out really well.  His first time to race at Tacoma R/C Raceway, he was complimentary of the layout and the consistency of the dirt but added that the triple section in front of the very high drivers stand is even after many runs 'still tricky'.  Having run his 4WD Buggy a few times over the day he said it is fast but he is not comfortable with it and he needs to work on it for qualifying.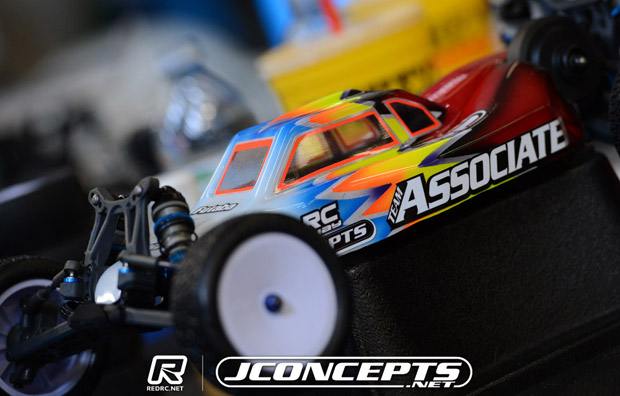 Splitting his attentions equally between his 2WD and 4WD Buggies, Steven Hartson said overall he was pretty happy with how his Associated's feel on track adding that he'll have a better idea of where he's at when the seeding run is complete.  Focusing on getting tyres ready for qualifying he said he has changed little or nothing on his set-ups saying the track has improved over the day with the narrow racing line starting to widen up by the end of the open practice.  Running gold compound Dirt Webs on his 2WD and the rear of his 4WD with Gold Barcodes on the front, he said they feel good but the World Champion feels that once qualifying starts tyre wear could get high and so he may need to change from this.
Winner of 4WD Buggy at the season opener, Team Losi Racing's JR Mitch said both his 4WD Buggy and Short Course were running good but it was his 2WD buggy that was the 'problem child'.  Changing the set-up on his TLR22 every run the Florida driver said while he can get one fast lap out of it he needs to find more consistency. Asked about the track he said having been a friend of Scott Brown for over 20-years it was great to finally come and race at his track which he said is 'pretty fun' to drive with the triple/chicane section in front of the drivers stand throwing up a bit of a challenge.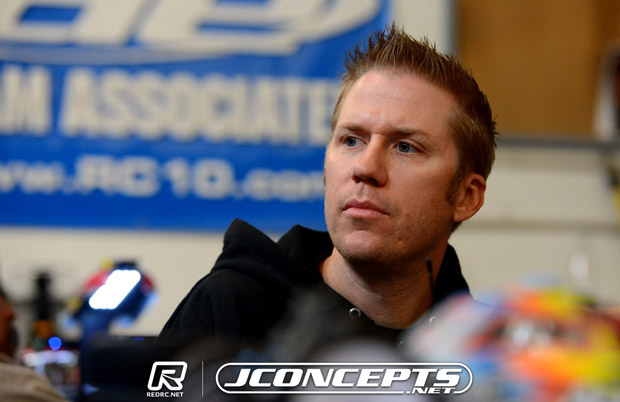 Associated Team Mananger Brent Thielke was pleased with the amount of running he managed to fit in with his B5M saying its the first real opportunity he's had to do multi runs with the new car.  Working mainly on tyre prep for qualifying and on getting a feel for JConcepts' new Dirt Tech closed cell insert, he said he is 'pretty happy' with how both his buggies are running, him also running 4WD Buggy.  Commenting on the track he said he 'love(s) it' adding that it has 'nothing stupid' yet its 'still challenging' and in terms of the surface its proving really consistent.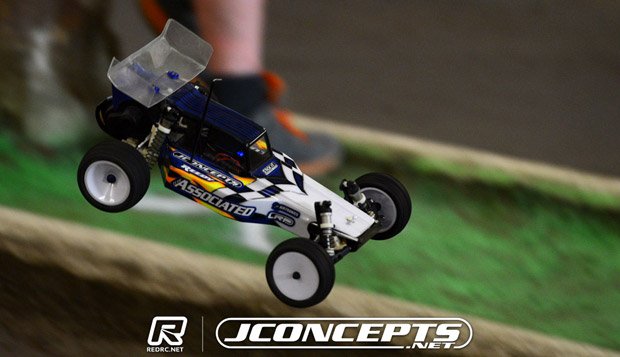 The founder of JConcepts, Jason Ruona is back again racing in his own series having enjoyed his outing at the season opener so much.  'Racing for fun', turning up with just his car & radio with Thielke charging his batteries for him, the former top international racer is running in 2WD Buggy and 2WD 'Classic' and is happy with how both cars have been running.  Describing the track as 'fun' he said while he is used to high driver stands back home in Florida this one is extremely high and it makes the judgement of the front section tough.  Talking about his company's new insert he said they have have made a step forward with Dirt Tech in terms of durability.  On a track like this where wear is low meaning tyres will be used more than normal he said this is good test for the new insert.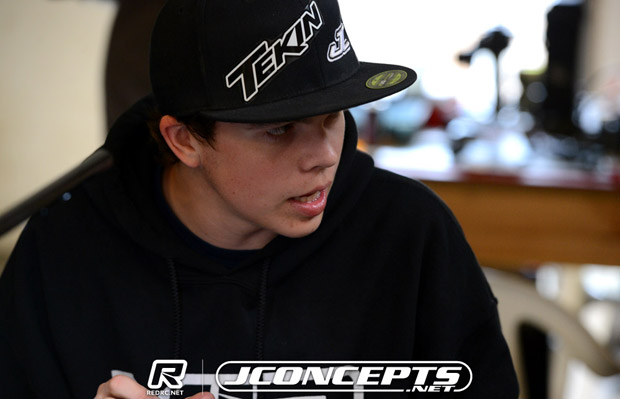 MIP/Schumacher driver Matt Olson is another on his first visit to the track and he was happy with how his day's practice had gone.  A multiple JConcepts Indoor Nationals 4WD Short Course race winner, he said his MIP Pro4mance truck is good but still learning his Schumacher Cougar SV2 ride he said it was 'phenomenally good'. With only 10 battery packs through the buggy since signing to run the British company's buggies he said despite its looks, him describing the non cab forward bodyshell as looking like it 'waffle stomped', the mid motor buggy is running really well and its now a game of tyres.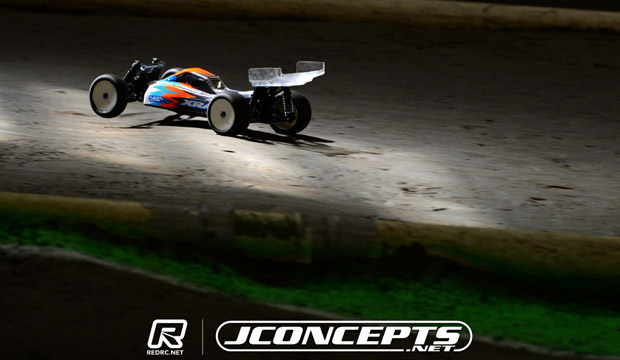 'Surprisingly good' was how Xray's Tyler Vik summed up his practice.  Trying 'to run as much as (he) can', he said both his 2WD and 4WD chassis felt really good all day.  Running a ball diff in his 2WD, he said he would also like to try the ball diff in his XB4 which he has been running with kit supplied gear diff.  Using AKA's new Deja Vu tyre on the rear of both buggies with the new Pin Stripe on front of the 4WD and Typo on his 2WD, he is pleased with how they are working.  While 'fun to drive' he said racing could get 'pretty scary' due to the tight racing line.
View our event image gallery here.
Saturday, April 12, 2014 - add a comment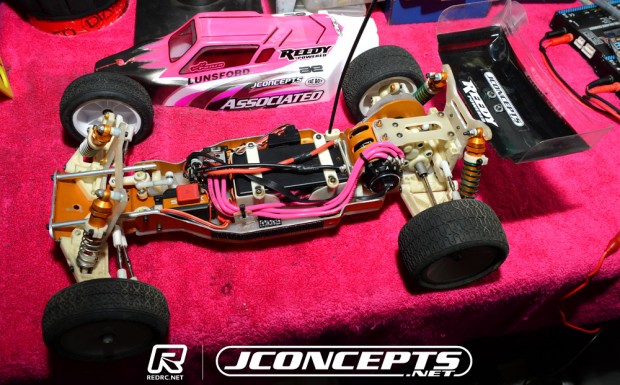 The brainchild of Dan Lopez, this mid motor Associated RC10 took a month of long hours to produce and is made using an original 1985 RC10, with a later stealth transmission, as the donor. The rear transmission has been rotated 180 degrees around the drive line and using a new custom chassis plate with side plates donated from the '85 car, as well as a longer layshaft to allow the motor to be mounted closer to the centre line, the car was made. The new chassis allows the use of the shorty, in linear, horizontal or even a saddle pack and Dan finished the car off with a JConcepts Finnisher body.
Image Gallery
View our event image gallery here.
Saturday, April 12, 2014 - 3 comments