October 13, 2007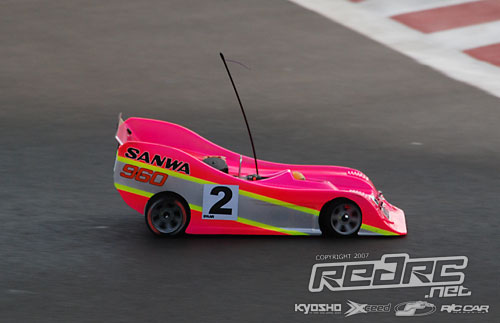 An amazingly competitive round of finals that started off with the even final that was won by Steven Cuypers who managed to come home ahead of Serpent team mate Scotty Gray as both drivers were able to pass early leader Bruno Coelho who ran out of fuel at the half way mark. The young Portugese Mugen racer dominated the early half of the race and would have come out the clear winner had he not stopped. It was Cuypers however came out won easily at the end with a margin of 9 seconds from Gray who was being heavily pressured by Coelho at the end, with the pair finishing only 1 second apart.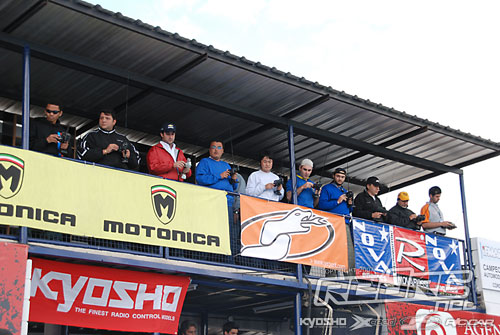 In the 2nd 1/8th final, it was Paolo Morganti that came from nowhere after a terrible start and anaged to take the win by 2 seconds at the end of the 20 minute final. The 2nd position belonged to Carlos Peracho, the Spanish Shepherd racer inherited the lead after long time race leader Vincent Jackson ran out of fuel and even though he fought back and actually passed the eventaul 3rd place, it wasn't enough for the young American and he ended up 3 tenths of a second behind 3rd place finisher Kazuya Yuruki. After the final however it was found that the fuel tank of Yuriki was too big and then Jackson, who would take his place, was also found to have his fuel tank to large and this allowed Takayoshi Tanaka to inherit the last bump up position.
1/8th Even Top 3
1. Steven Cuypers – 64 Laps 20:03.210
2. Scotty Gray – 64 Laps 20:12.234
3. Bruno Coelho – 64 Laps 20:13.584
1/8th Odd Top 3
1. Paolo Morganti – 63 Laps 20:04.648
2. Carlos Peracho – 63 Laps 20:06.753
5. Takayoshi Tanaka – 62 Laps 20:00.661
One big name racer to unfortunately be out already is Rick V, whose car didnt look on the pace and he retired at the half way point from a mid field position.
Racing is completed for the day and tomorrow will see the running of the quarters, semis and the all important 1 hour long main final, which at the end we will see who the new World Champion is.
Click here for the results from today (.txt) and here for the overall sorted results after todays finals (.xls).
We will be adding more pictures from today to our gallery so check back often.
---