July 24, 2008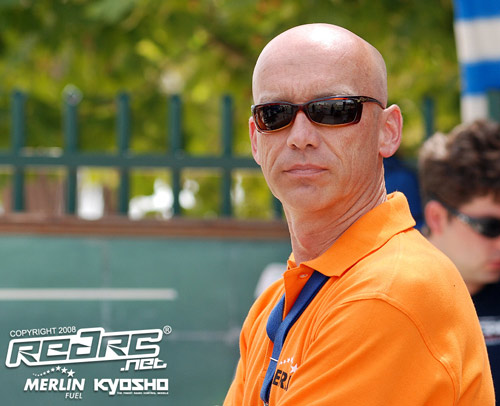 Michael Salven is the quickest driver over five minutes as the first round of timed practice has just been completed here in extremely hot conditions. The Serpent driver recorded 17 laps in 5:04.728 and had another 3/4 of a lap in reserve after the run. The German says his car was not as good as this morning with the chassis feeling a little stiff but hesome changes planned for the next session.
Mugen driver Andrea Pirani was second fastest 0.9 of a second behind the former European Champion. Running the same set-up as he ran at the Warm Up race, the Italian thinks an 18 lap run is possible but only in the morning or the last run of the evening when the temperatures are lower. Leaving the car the same for his second timed run this evening the youngster will change engine running a Collari so as to save the factory Novarossi unit he just ran.
Daniele Ielasi took third but reckons the times are not a true indication of everyone's pace as the difference in driver levels in the unseeded 15 car sessions at this stage is too big and the top drivers are having to be cautious. In fact Massimo Fantini and Adrien Bertin clashed during their run as they both tried to pass a back marker.
Big surprise of the run was former European B Champion Jernej Vuga who clocked the fourth fastest time with his Novarossi powered Mugen. The talented Slovenian has had very limited running this season and did make a few mistakes during the run but overall appears to have found a nice rythm and is pleased with the balance on his MRX4. Running large diameter tyres he will try smaller tyres for his final run of the day.
Mark Green was happy with fifth saying he was running one of his less powerful engines so as to save his good Mega for qualifying. Andrea Cristiani completed the Top 6 ahead of Walter Salemi and Belgian Champion Robin D'hondt.
While 5 minute run time was less of a problem for the field one or two leading drivers didn't make it including Shepherd ace Robert Pietsch, Italian Motonica driver Stefano Solaroli and reigning Spanish Champion Oscar Cabezas.
View our image gallery here.
---