August 16, 2008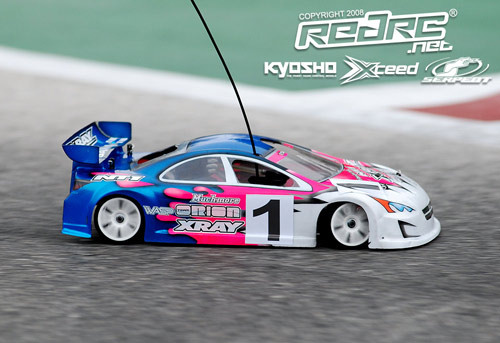 Defending World Champion Keisuke Fukuda will take no further part in the 2008 World Championship after finishing outside the top 3 in the 1/4 Final B. With the Japanese driver not progressing to the next final it means, weather permitting, that this evening we will have a new World Champion.
The 1/4 Final B was dominated by electric touring ace Teemu Leino who lead from start to finish under the guideance of double World Champion Adrien Bertin and his super fast pitman. Behind the Finn it was another Scandanavian who drove a faultless race as Sweden's Roland Storm took second.
The big battle of the race was for third between Hideo Kitazawa and local driver Filipe Costa. Entering for their final pit stop together it was Kitazawa who had the faster stop allowing him to get passed Costa to take the final bump position. After the race Costa, who was the top Portuguese qualifier, was clearly heart broken to have come so close to making the Semis.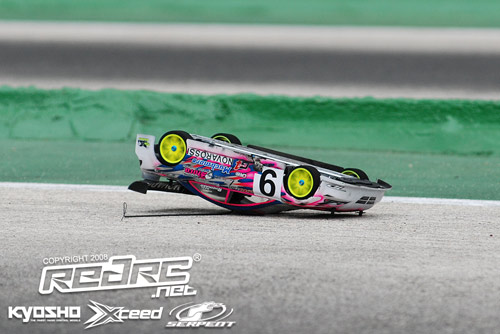 For the second time in a row Fukada missed the start after his Ninja engine cut but 8 minutes in his race was to come to an end after he was given a Stop & Go penalty for an incident with fellow countryman Kitazawa. Team-mate Rick V also saw his World's come to an early end when his suffered terminal engine problems. Another big casualty of the 20 minute final was current Electric Touring European Champion Marc Rheinard, who looked to have pace for a Top 3 result, but the German rolled his Team Magic three minutes in having worked his way from ninth on the grid up to fourth.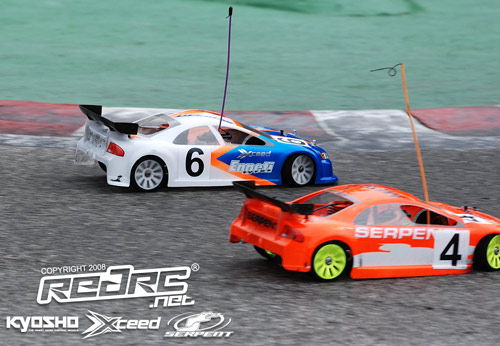 The 1/4 Final A saw a pretty frantic start to the race. Basile Concialdi took the early lead but rolled back to last on the third lap. With Spanish driver Oscar Cabezas taking up the lead, which he would hold till the end, the big battle behind was for second. In the very tightly packed group Mark Green was given a Stop & Go penalty for contact with Josue Artiles which dropped him to last. Although the British ace recovered to fourth its an early exit for the star of the 2006 Worlds in Brazil. Walter Salemi eventually took second followed closely by American ace Josh Cyrul ensuring that both go through to the Semis.
Another big casualty of the quarter finals was local racer and Off road ace Miguel Matias, who was in a bump up position until problems meant he dropped down to 7th by the end of the race.
1/2 Final – A starting order
1. Balestri Dario (IT) – Team Magic/Novarossi/ATS
2. D'Angelo Giuseppe (IT) – Mugen/Novarossi/ATS
3. Martin Christensen (DNK) – Xray/Sirio/Matrix
4. Robert Pietsch (DE) – Xray/Novarossi/ATS
5. Peter Jovanovic (AUS) – Xray/Novarossi/LRP
6. Adrien Bertin (LUX) – Kyosho/Orion/Matrix
7. Ralph Burch (USA) – Xray/Max Power/Jaco
8. Oscar Cabezas (ARG) – Serpent/Mega/Enneti
9. Walter Salemi (IT) – Mugen/GRP/GRP
10. Josh Cyrul (USA) – Xray/Novarossi/Jaco
1/2 Final – B starting order
1. Takaaki Shimo (JPN) – Kyosho/OS/Kyosho
2. Martin Lissau (DNK) – Xray/GRP/GRP
3. Mazzeo Alessio (IT) – Serpent/Max Power/Enneti
4. Paul Lemieux (USA) – Xray/Max Power/Jaco
5. Martin Hudy (SK) – Xray/Max Power/Xray
6. Dirk Wischnewski (DE) – Xray/Novarossi/Xray
7. Yuya Sahashi (JPN) – Serpent/Mega/Kawahara
8. Teemu Leino (FIN) – Xray/Orion/Xray
9. Roland Strom (SE) – Kyosho/GRP/GRP
10. Hideo Kitazawa (JPN) – Mugen/OS/Kawahara
The top 4 qualifiers are currently wrapping up their 1 hour long practice and following this we shall get straight into the Semi finals.
View our image gallery here.
---